Whether you have a layover, overnight sleepover or you are just quickly passing through, our Copenhagen Airport Guide is a great place to start planning your visit.  Here, you'll find information on services and facilities available inside the airport – including details about airport lounges, WiFi, mobile charging points, lockers, 24-hour food options, nearby hotels, and everything in between.
Best airport sleeping experience ever! – Norm
CPH Airport Overview
To help you plan your layover or overnight sleepover, here is a quick run-down about what to expect during your time at Copenhagen Kastrup International Airport.
What to Expect
Copenhagen Kastrup Airport (Code: CPH) is made up of two terminals, Terminals 2 and 3, which share a common airside passenger concourse, as well as an arrivals section that is physically located in Terminal 3. The airport offers a reasonable selection of shops, eateries and services, though most shops are located airside. WiFi is available and charging areas are located throughout the airport. For a more comfortable layover, economy class passengers can pay to access one of several first class lounges. See our Airport Lounges section for locations and rates.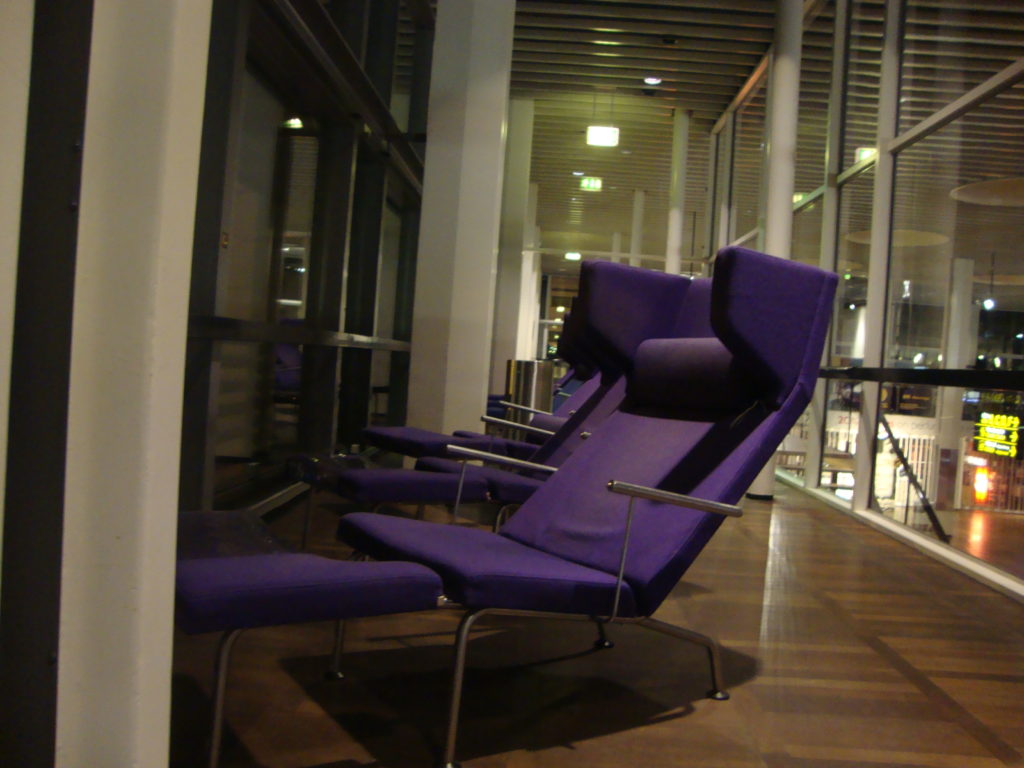 Sleeping in Copenhagen Airport
Staff and security are generally tolerant of airport sleepers, and travellers report that the airport has numerous spots and nooks conducive to good sleeping, especially on the airside. Reviewers note because the airport can get crowded, overnight sleepers should stake out their spots prior to 11:00 PM. Among spots mentioned by travellers were: bed-like seats in Terminal 3; comfortable seating near Gate D1; quiet areas near Gates A and B; couches and low lighting in a corner nook near the Gates C2 and C3 transfer area; padded benches near Gate C10; and secluded space between Gates A18 – A34 with three-piece padded leather bed-like structures. They also note that it can get cold at night, so try to carry a sweater or travel blanket. For those seeking uninterrupted sleep, there is a hotel connected to Terminal 3 and a couple of other nearby hotels within an easy shuttle ride from the airport. See the Airport Hotels section below for more info or read some traveller airport reviews for more tips.
To help us keep this guide up-to-date, you can add or update information or write a review to submit airport tips and photos. You can also visit the airport's web site for current information.  For more airport information continue scrolling down to explore more in our Copenhagen Airport Guide.
In this guide we may refer to locations as "landside" and "airside". Landside is the public area of the terminal located in the non-secure zone, before security. Airside is the secure area of the terminal that you must reach by going through security.  For more information on Europe's Schengen Area, click here.
Airport Lounges
Pay-per-use, Single Visit Passes & Lounge Memberships
Regardless of what class of service you are flying, there are lounges that you can enter by paying at the door, purchasing a lounge pass or through a lounge membership program. Visit the individual lounge page for more details about the lounge itself and to also find out how you can gain lounge access with just an economy class ticket!
Terminal 2
Terminal 3
Primeclass Lounge – Location: Terminal 3, Airside, Non-Schengen departures, Pier D, 2nd Floor, next to Gate 101. Lounge Access: Pay at the Door • Lounge membership programs.
SAS Lounge – Location: Terminal 3, Airside, near Gate C10. Showers are available. Lounge Access: Pay at the door.
Airline Lounges
If you are a First or Business Class traveller you may have access to the lounges listed below. For more information, check the airline's website.
SAS Gold Lounge – Location: Terminal 3, Airside. Lounge Accessible by gold members of the following: EuroBonus • Star Alliance.
Related Pages: Copenhagen Airport Lounges
Airport Hotels
If sleeping in the airport sounds like a nightmare, there is a hotel connected to the terminal and other hotels the airport:
Hotel at Copenhagen Airport
Clarion Hotel Copenhagen Airport – Connected to Terminal 3 by covered walkway. No airport shuttle. Day rooms are available according to availability.  » Check Rates
Hotels near the airport
Zleep Hotel Copenhagen Airport – No airport shuttle.   » Check Rates
Crowne Plaza Copenhagen Towers – No airport shuttle.  » Check Rates
Best Western Plus Airport Hotel Copenhagen – No airport shuttle.  » Check Rates
For more options, visit Tripadvisor to see a list of hotels near Copenhagen Airport that can be sorted by price, distance, traveller rating and popularity.
Airport WiFi/Internet
Free WiFi is available throughout the airport. Connect to the " CPH Airport Free WIFI" network, go to any website to agree to the terms and conditions, then start surfing the web!
More Services, Facilities & Things To Do On A Layover At The Airport
Business Services
Workstations – If you have a quick meeting or work errands, workstations are available.
Communications
Family Services
Baby Care Facilities – If you are travelling with an infant, there are rooms for diaper-changing and nursing next to many of the bathrooms both landside and airside in Terminal 2 and Terminal 3.
Children's Play Area – When you want to ensure your kids burn off all their energy before their flight, take them to the children's play area. Ideal for children 10 years old and under. Location: Terminal 2, airside, near entrance to Gates A2-17 • Terminal 2, airside, near entrance to Gates B2-B19 • (2) Terminal 2, airside, Gates B2-19 Hall • Terminal 2, airside, near Gate C10.
Stroller Rentals – BRIO brand rental strollers are available for use in the airport, right up to the gate! Strollers can be picked up at a designated area in the International Departures Hall (right after security), or near the Information Desk in the transit area.
Food & Drinks
Drinking Water – A reader (August 2018) tells us that you can refill your water bottles from drinking water taps in the washrooms at D1. Keep your eyes open for more water stations.
Food & Drinks – Food concessions throughout the airport operate with varying schedules with some open as early as 4:30AM. These options are open 24 hours: Burger King (T3, Landside) • Mikkeller (T2, Airside).
Information
Information Desk – Need help finding your way? Visit one of the airport information desks for assistance. Locations: Terminal 2, airside, in the center hall • Terminal 3, landside, Check-in Hall, near Burger King. Hours: unknown.
Luggage
Luggage Storage & Lockers – The airport offers 116 luggage lockers which accommodate small backpacks, large suitcases or skis/golf bags. Location: Parking garage P4. Rates: Small – DKK 60/4 hrs or DKK 80/24 hours • Large – DKK 80/4 hrs or DKK 100/24 hours • Skis/Golf Bags – DKK 100/4 hrs or DKK 120/24 hours. Storage is possible to a maximum of 7 days.
Luggage Trolleys – Need a hand with your bags? Baggage carts are available free of charge throughout the airport.
Medical Services
Medical Services – For urgent or emergency medical issues, a medical doctor is available at the airport. The doctor can also provide check-ups, vaccines (with prior appointment) and prescription renewals. Please note that some services are subject to payment, but a valid boarding pass does provide passengers with a discount. Location: Terminal 2, landside, 1st Floor, room 66. Hours: 24 hours.
Pharmacy – The Airport Pharmacy is located in Terminal 2, Landside. Hours: 9:00AM – 4:00PM daily.
Mobile Charging
Mobile Charging – There are plenty of outlets available throughout the airport to charge phones and computers.
Money
ATMs / Cash Machines – ATMs in the airport dispense Danish Kroner, but some also dispense Euro and British Pounds. Here are their locations: T2, airside, Piers A and B (DKK/EUR/GBP) • T2, airside, at the American Express Bureau de Change (DKK/EUR/GBP) • T2, landside, at Check-In (EUR only) • T3, landside, at staircase to the Metro (DKK/EUR/GBP) • T3, airside, at the American Express Bureau de Change near Baggage Claim (DKK only) • T3, landside, Arrivals Hall.
Banking Services – Full-service banking and currency exchange are available at Danske Bank. Locations: T2, landside, Ground Floor (Hours: 6:00AM – 8:30PM) • Terminal 2, airside, 1st Floor, near Pier B (5:00AM – 10:00PM).
Currency Exchange – Global Exchange has five locations in the airport: T3, landside, The Arcade • T3, airside, Baggage Reclaim, near Belts 4 and 7 • T3, airside, at SAS Lounge • T3, airside, Transfer Center. Hours: vary by location.
Rest & Relaxation
Hotels – see "Airport Hotels" above.
Lounges – see "Airport Lounges" above.
Massage – Massage chairs can be found throughout the airport. Acupuncture, therapeutic massage and more are available at the Physiotherapy CPH clinic. Location: Terminal 2, 2nd Floor.
Rest Zones – There are no dedicated sleeping areas, quiet areas or rest zones. If this information has changed, click here to update this guide.
Shopping
Duty Free & Shopping – TAX FREE duty-free shops are available, along with a wide variety of retail shops. If you are travelling with kids, be sure to check out the Lego store! The majority of the stores are open from 6:00AM – 9:00PM.
Showers, Salon & Spa
Showers – Shower facilities are available in some of the airport lounges.  See Airport Lounges above.
Spa – The Ni'mat Spa has a saltwater pool, aroma steam bath, massages and a Garra Rufa fish pedicure spa. Location: Clarion Hotel, connected to Terminal 3. Rates: access to the spa and relaxation area is 250 DKK for non-hotel guests (Mon – Fri, non-guests not accepted on weekends).
Airport Hours
The airport is open 24 hours.
Airlines
Copenhagen Kastrup airport is served by the following airlines: Aegean Airlines • Air Baltic • Air Cairo • Air Canada • Air China • Air France • Air Greenland • Air India • Air Serbia • Alsie Express • Atlantic Airways • Austrian Airlines • British Airways • Brussels Airlines • Corendon • Croatia Airlines • Danish Air Transport • Delta Airlines • EasyJet • Egyptair • Emirates • Eurowings • Finnair • Flyr • Freebird Airlines • Iberia Express • Icelandair • Iraqi Airways • Jet Time • KLM • Laudamotion • LOT • Lufthansa • Luxair • Middle East Airlines • NiceAir • Novair • Play • Pegasus Airlines • Qatar Airways • Royal Jordanian • Singapore Airlines • Sunclass Airlines • Sun Express • Swiss • TAP Portugal • Thai Airways • Titan Airways • Transavia • TUIFly • Turkish Airlines • Ukraine International Airlines • Vueling • Widerøe • Wizz Air.
Airport Transportation: Getting To/From The Airport
Bus
Movia public transportation network offers bus service between CPH airport and Copenhagen via Buses 5A, 35 and 36. For information on routes, timetables and the different types of tickets and travel cards, go to the Din Offentlige Transport (DOT) website.
Connections to Århus, Malmø Centrum in Sweden and other locations in Sweden are also available from a variety of bus companies. For more information, visit the Copenhagen Kastrup Airport website.
Additionally, there is Terminal Bus available free of charge, to help passengers move quickly and easily throughout the entire airport. See below for more information.
Car Rentals
The following car rental agencies are located in the Car Rental Center which can be reached by the Inter-terminal bus. The center is open daily from 7:00AM – 11:00PM. The following rental agencies operate at within the center: Avis • Budget • Enterprise • Europcar • Hertz • Sixt.
Hotel Shuttles
At the time of this update there were no hotels that provided an airport shuttle.  See also Airport Hotels above.
Inter-Terminal Shuttle
Copenhagen Airport offers a shuttle terminal bus runs from P1 to Terminals 2 and 3 and on to the train station in Terminal 3 and to car parks P15 and P17. Buses run every 10 -20 minutes depending on the time of the day. Timetables and a complete list of shuttle stops are available on the Copenhagen Airport website.
Metro
Lufthavnen Metro station is located at the end of Terminal 3, covered by the roof of the terminal. The Metro runs at 4–6 minute intervals during the day/evening and at 15–20 minute intervals at night. It takes 15 minutes from Nørreport Station to the airport by metro. Fares are based on the zone of the rider's destination. For more information on zones, Metro stops and timetables, go to the Copenhagen Metro website.
Taxi
Taxi ranks are located outside of the Arrivals area of Terminals 1 and 3. Passengers needing a taxi to Sweden must take a taxi from the dedicated Sweden taxis rank outside of Terminal 3. Taxi fares include tip and can be paid for with cash or credit card.
Train
There is a railway station in Terminal 3 at CPH Airport. Trains travel between the airport and central Copenhagen in 10 minute intervals. The railway station is also served by trains from Elsinore, Bornholm and other Danish cities, as well as trains from Swedish cities such as Malmö, Ystad and Göteborg/Kalmar. For more information on trains serving the airport, visit the Copenhagen Airport website.
Last updated: 2023-03-23
This guide is for informational purposes only to assist with your planning.  All information, including rates and hours, is subject to change at any time without notice.   The information in this airport guide is based on information collected and/or received from the airports, lounges, hotels, transportation providers, and their websites. We are not representatives of any of the above-mentioned service providers. To report errors or to add/update any items mentioned in the guide: update the airport guide or  write a review.