A long layover can be a blessing in disguise, especially if it's at Copenhagen Kastrup Airport. Regularly voted one of Europe's best airports in our annual Best Airports survey, Copenhagen Airport boasts a wide variety of facilities for both leisure and business travellers.
Tired? Take a power nap at any of the comfortable chairs and benches dotting the airport. If you're a foodie, you may be interested to know that Copenhagen Airport's food hall has won industry awards for its design and variety of offerings.
Keep reading to learn what else you can do on a layover at Copenhagen Airport.
1. Enjoy a meal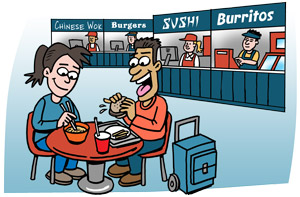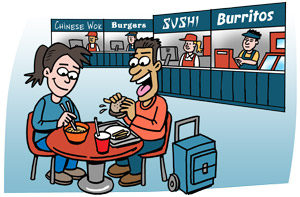 Hungry travellers never enjoy layovers, so set yourself up for success. Over 30 dining options ensure you can find something you'll like during your layover. For a leisurely sit-down meal, check out PatePate Winebar & Tapas, Le Sommelier, or the Caviar House & Prunier. More casual options serve up Danish fare plus Irish, sushi, Italian, French, and plenty of healthy meals. International chains include Starbucks, Pret a Manger, McDonald's, and Joe and the Juice. A Burger King in Terminal 3 (pre-security) and Mikkeller in Terminal 2 (post-security) are open 24-hours.
2. Chill out in a lounge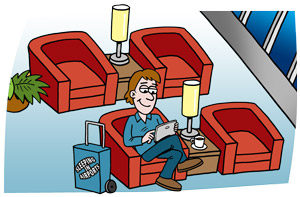 Good news! Airport lounges are no longer the exclusive enclave of First and Business Class flyers. In fact, several lounges here offer access to any traveller, regardless of your flight class or airline. Simply pay a one-time fee to gain access to unlimited food and drinks, WiFi, TV, and comfortable seating. Two lounges even have shower facilities for freshening up! Reserve your spot online or use your lounge membership program to gain entry. See our Copenhagen Kastrup Airport Guide for details.

3. Go shopping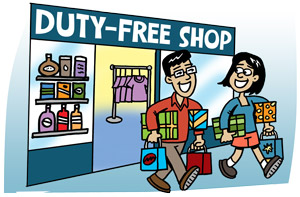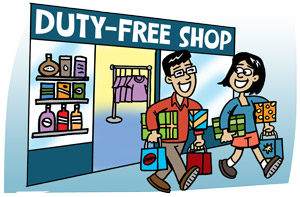 You'll find a whole host of shops here, ranging from pharmacies and newsstands to local shops and higher-end boutiques, plus the ever-ubiquitous Duty Free shops. We especially like the many local and unique options, like Royal Copenhagen, a local porcelain maker since the 1770s and Peter Beier Chokolate for delicious souvenirs. Danish clothing brands here include Ole Lynggaard, Ole Mathiesen, and Illums Bolighus. For more edible goods, check out AC Perch's Thehandle and Delicious by Nordic.
4. Get pampered
Airport spas usually offer a few salon and spa treatments, but the spa inside the nearby Clarion Hotel is quite an upgrade. The Ni'mat Spa has a non-guest package for 350 DKK that includes access to a saltwater pool and aroma steam bath. Massages and a Garra Rufa fish pedicure (!) are additional options.
5. Get a massage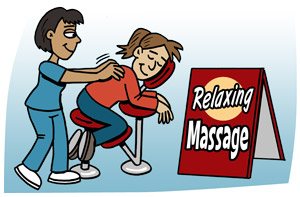 If that last flight left you with a kink in your neck, head to the Physiotherapy CPH clinic. They offer acupuncture, therapeutic massages, and other relaxation service. Open Monday-Friday, 10:00 AM – 4:00 PM in Terminal 3. Massage chairs, located throughout the terminals, offer a more affordable option for some relaxation.
6. Go sightseeing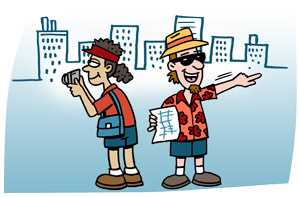 The airport is located just 12 kilometers southeast of Copenhagen, so your best option for passing your layover may be leaving the airport behind. As long as you have at least 6 hours before your next flight, exploring the city is definitely doable, easy, and fun!
Your most efficient options to Copenhagen are the metro of the train. Terminal 3's train station has frequent trains and metros, departing every 4-6 minutes during the day. Both options will have you downtown in 15 minutes! For more direct service, opt for a taxi outside of the terminal – the ride will take about 20 minutes.
Once in Copenhagen, head to Nyhavn, the picturesque harbor known for its architecture, boats, and local seafood restaurants. Burn off some energy at the Tivoli Gardens, one of Europe's first amusement parks. Visit Christiansborg, a sprawling castle with charming gardens, or swing by the Rosenborg Castle. Exit the European Union altogether when you visit Freetown Christiania, an independently-governed, intentional-living area in the city centre. For a truly local experience, rent a bike and get around in dedicated bike lanes.
Pay attention to the time, so you can get back to the airport and clear Security before that next flight!
7. WiFi
Browse your layover away thanks to free, unlimited WiFi.
8. Sleep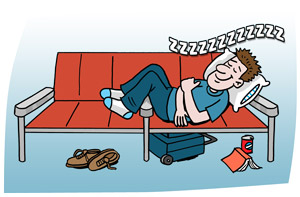 Catching up on sleep is a completely acceptable way to pass a layover, especially on this airport's Secure sides, where there are a range of sleeping spots. Comfortable seating is located at various gates, including bed-like seats, benches, and couches. If you prefer the floor, bring an extra layer or two for cushion. If you prefer a hotel room, the Clarion Hotel Copenhagen Airport is connected to Terminal 3, and day rooms are available. A couple more hotels are located within a 7-minute drive of the airport. Locations and details are listed in our Copenhagen Kastrup Airport Guide.
These are just a few things to do on a layover at Copenhagen Airport. Visit our Copenhagen Airport Guide for more information about more services and facilities available, such as food, WiFi, mobile charging, luggage storage, nearby airport hotels, and much more.