Whether you have a layover, overnight sleepover or you are just quickly passing through, our Houston Airport Guide is a great place to start planning your visit.  Here, you'll find information on services and facilities available inside the airport – including details about airport lounges, WiFi, mobile charging points, lockers, 24-hour food options, nearby hotels, and everything in between.
the announcement are incredibly annoying…all night long. The security woke me up by kicking my backpack (which was my pillow). -wezzard
IAH Airport Overview
To help you plan your layover or overnight sleepover, here is a quick run-down about what to expect during your time at Houston George Bush International Airport.
What to Expect
Houston George Bush International Airport (Code: IAH) consists of five separate terminals (Terminals A through E) interconnected by Subway (Landside) and the Skyway (Airside), allowing passengers with inter-terminal connections to transit without having to re-clear security. Perhaps due to its large size and busy nature, many reviewers describe the airport as being dirty, chaotic, inefficient, and as having long lines, limited seating and rude airport/airline staff. While there are plenty of shops and eateries throughout the different terminals, many close early in the evening. The airport offers free WiFi, and all terminals have charging areas and/or outlets for charging mobile devices. For additional comfort while you wait, economy class passengers can pay to use one of the first-class airport lounges. See Airport Lounges in the guide below for locations and rates.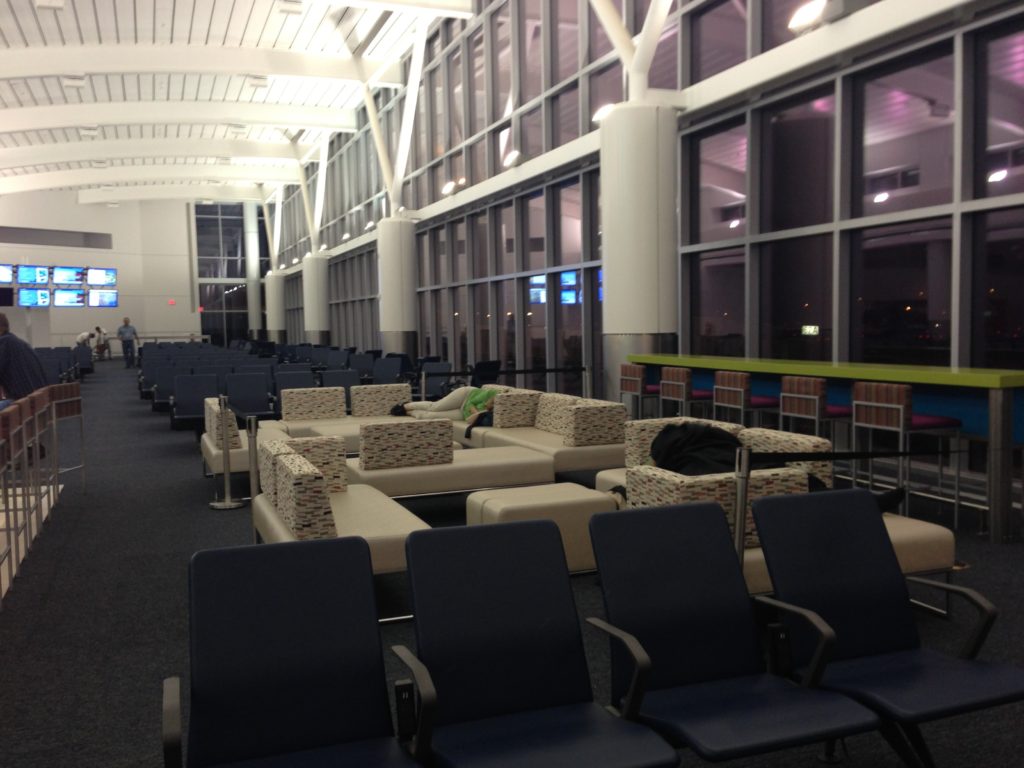 Sleeping in Houston Airport
Airport seating is limited and almost all seating throughout the airport includes armrests. While the airport is generally not conducive to sleeping, some travellers reportedly find workable nooks, with Terminal D (try the chapel) getting the most mentions, followed by Terminal C. With seating so bad throughout, travellers recommend a travel mat for floor sleeping. Also strongly recommended are eyeshades, earplugs/noise-cancelling headphones and a sweater or travel blanket. Explore our guide to sleeping in Houston Airport or read some traveller airport reviews for more tips.  For uninterrupted sleep, there is an airport hotel connected to all terminals via the Subway, and numerous other hotels within a quick shuttle ride away. See locations in the  Airport Hotels section below.
Good to Know
Travellers report that although the massage chairs located throughout the airport look comfortable, security staff do not let people sleep in them.
Covid-19 Update
Due to the current Covid-19 pandemic, all services and times listed below are subject to change. Some services and facilities may remain closed or operate with reduced hours.  Airport tips and suggestions in this guide and elsewhere on the site were written before March 2020 and may no longer be valid. If you are planning to sleep in the public area of the terminal overnight, have a back-up plan! We've heard from a few travellers at other airports and they were not permitted to stay overnight. We're not sure if that will apply to this airport, until a reader lets us know the current situation. We will start updating all of our guides in October 2021.  To help us with this massive update, you can add or update information or write a review and submit photos and airport tips.
For more airport information continue scrolling down to explore more in our Houston Airport Guide.
In this guide we may refer to locations as "landside" and "airside". Landside is the public area of the terminal located in the non-secure zone, before security. Airside is the secure area of the terminal that you must reach by going through security.  For more information on Europe's Schengen Area, click here.
Airport Hotels
If sleeping in the airport sounds like a nightmare, there are hotels near Houston Bush Airport that provide free airport shuttles:
With Covid restrictions constantly changing, we recommend that you confirm shuttle availability prior to booking and/or prior to your arrival.
For more options, visit Tripadvisor to see a list of hotels near Houston Airport that can be sorted by price, distance, traveller rating and popularity.
Airport Lounges
Pay-per-use, Single Visit Passes & Lounge Memberships
Regardless of what class of service you are flying, there are lounges that you can enter by paying at the door, purchasing a lounge pass or through a lounge membership program. Visit the individual lounge page for more details about the lounge itself and to also find out how you can gain lounge access with just an economy class ticket!
Passes  Air France Lounge – Location: Terminal D, Airside, opposite Gate D12. Lounge Access: Prepaid lounge pass • Lounge membership programs.
Centurion Lounge – Location: Terminal D, Airside, near Gate 6. Showers are available. Lounge Access: American Express® Card Members • Lounge membership programs.
Passes  KLM Crown Lounge – Location: Terminal D, Airside, near Gate D8. Lounge Access: Prepaid lounge pass • Lounge membership programs.
United Club – Multiple Locations – (1) Terminal A, (1) Terminal B, (2) Terminal C and (1) Terminal E.  Lounge Access:  Pay at the Door with proof of United Airlines ticket • United Club Membership.
Military Lounges
USO Lounge – The USO offers a lounge that is free of charge to active members of the US military and their families. Location: Terminal D, Airside, across from D-2.
Related Pages: Houston Airport Lounges
Airport WiFi / Internet
Free WiFi is available at Houston Airport. Connect to the "Free Airport WIFI" network.
More Services, Facilities & Things To Do On A Layover At The Airport
Communications
Family Services
Baby Care Facilities – Most of the restrooms (ladies, mens and family) include baby changing tables.
Nursing Rooms – Designated rooms with rocking chairs and baby cribs are available. Locations: Terminal B, near Gates B85 – 88 • Terminal D, opposite Gates D8 – D9 (this location has a private washroom).
Lactation Rooms – Providing a private place to breastfeed. Locations: Terminal A (near Gate A2 • Near Gate A17) • Terminal C (near Gate C4 • inside the lady washroom near Gate C4).
Food & Drinks
Drinking Water – Thirsty? Touch display water bottle refill stations are available free of charge. Locations: throughout the terminals. Near Gate D7 you will also find a hot water dispenser.
Food & Drinks – Food concessions throughout the airport operate on varying schedules, with many open as early as 5:00AM. At the time of this update there are no restaurants open 24 hours. Vending machines are available in all terminals. There is Texas Monthly News selling newspapers, drinks and snacks, in the Food Court, near Gates A17-A30 which is open 24 hours.
Information
Information Desk – Visitor Information Centers offer airport and local tourism information and assistance daily from 8:00AM – 6:00PM. Four locations: Terminal A, landside, Baggage Claim • Terminal C, landside, Baggage Claim • Terminals D/E, airside, International Arrivals Hall • Terminal E, landside, just after security checkpoint. Airport Volunteer Ambassadors can be spotted around the airport in their red shirts.
Traveler's Aid – Traveler's Aid is a non-profit organization that assists stranded and distressed passengers. Volunteers assist passengers with general airport and destination queries to assisting with situations such as transportation assistance, lost or stolen money, wiring money, emergency housing, etc. Location: Unknown. Hours: 6:00AM – 9:00PM.
Luggage
Baggage Carts – Need a hand with your luggage? Baggage carts are available in the baggage claim and drop-off areas of all terminals. Rate: unknown but cash (no coins) and credit cards are accepted.
Luggage Storage & Lockers – Not available.
Luggage Wrapping – Protect your bags and get them secure wrapped. Services are available in each of the ticketing areas. Fees: unknown.
Mobile Charging
Mobile Charging – Free power stations are located in all terminals. Rapid Charger Machines offer super fast charging and USB ports for a fee. Fuel Rod chargers are also available in all Terminals. Purchase a portable Fuel Rod which includes the cable, charge your device and swap the empty charger for a full one. Unlimited swapping is included in the upfront cost.
Money
ATMs / Cash Machines – Need cash? ATMs are available. Fees may apply, so be sure to check your bank's fee schedule and your daily withdrawal limit if you are travelling internationally. You may also want to notify your bank of your travel plans. Locations: Landside (5 locations) and Airside (12 locations).
Currency Exchange – International Currency Exchange offer services at six different locations in Terminals B, C, D and E. Hours: vary by location with most open from 7:30AM and the D Gates locations close the latest at 12:00AM.
Prayer
Chapels – The Airport Interfaith Chapel offers a quiet place to collect your thoughts. Two locations: Terminal C, airside, near Gates C29-33 • Terminal D, airside, near Gate D8. Open: 24 hours.
Rest & Relaxation
Cots – In the event of bad weather or massive flight cancellations, this airport has a limited supply of cots for stranded travellers. Availability may have been affected by Covid.  If you are stranded during a weather delay, contact an airport employee to find out when the cots are located.
Hotels – see "Airport Hotels" above.
Lounges – see "Airport Lounges" above.
Massage Chairs – Sit back and enjoy a 5-minute deep-tissue massage for a small fee. Locations: Ticketing lobby (landside), the food court (airside) and the gated areas of Terminals A, B, C, D and E.
Rest Zones – There are no dedicated sleeping areas, quiet areas or rest zones. If this information has changed, click here to update this guide.
Shopping
Duty Free & Shopping – Duty Free is available in all Terminals except Terminal C. In addition to the airport's retail shops, various items can be purchased 24/7 from automated kiosks placed throughout the airside areas of the airport. There is Texas Monthly News selling newspapers, drinks and snacks, in the Food Court, near Gates A17-A30 which is open 24 hours.
Showers, Salon & Spa
Showers – Showers are available in the Centurion Lounge (Terminal D).  [ see Airport Lounges above ]
Spa – Xpress Spa offers spa services which take less than 30 minutes. Location: Terminal A, near Gate A17. Hours: 5:00AM – 10:00PM.
Smoking
Smoking – Smoking is not permitted inside the airport. You must use designated smoking areas outdoors at least 25 feet from exit doors.
Things to do & see
Art in the Airport – Art exhibitions and daily scheduled live music shows are available throughout the airport.
Airport Hours
While the airport is open 24 hours, it only remains open to ticketed passengers already within the terminal who have been stranded or arrived late at night and await connecting flights in the morning.
If you are a traveller looking to spend the night inside the airport prior to an early morning flight, the terminal doors are locked to outsiders. According to a review we received on March 25, 2016 from a traveller at Terminal C it was not possible to enter overnight. The reviewer tells us " You say that the airport is open 24h. It is just not true. They close the doors for the night hours. If you are already in, its OK, but from the outside you can't get in during these hours. If your ticket is for the next calendar day, they don't let you in and have to wait until 4:00 AM. In this case, you should be prepared to wait outside the terminal or make other arrangements.
Keep in mind that airline check-in and baggage drop hours vary according the flight schedule. Check these hours with your airline. If you are in the public area of the terminal (landside) you will not be able to get through to the secure area of the terminal (airside) until the morning. The TSA security screening checkpoint hours vary according to terminal:
Terminal A North: 4:00AM – 7:00PM
Terminal A South: 3:15AM – 11:00PM
Terminal B: 5:00AM – 9:05PM
Terminal C North: 4:15AM – 10:00PM
Terminal C South: 5:00AM – 7:30PM
Terminal D: 4:00AM – 1:00AM
Terminal E: 4:00AM – 12:00AM
Airlines
Houston Intercontinental airport is served by the following airlines: Aeroméxico • Aeroméxico Connect • Air Canada • Air China • Air France • Air New Zealand • Alaska Airlines • American Airlines • All Nippon Airways • Avianca • bahamasair • Boutique Air • British Airways • Delta Air Lines • Emirates • EVA Air • Frontier Airlines • Interjet • KLM • Lufthansa • Qatar Airways • Singapore Airlines • Spirit Airlines • Turkish Airlines • United Airlines • Vivaaerobus • Volaris • WestJet.
Airport Transportation: Getting To/From The Airport
eBus Service – Houston Metro
IAH Airport is served by Houston METRO public bus 102, which runs between the south side of Terminal C (baggage claim level) and the downtown Metro station. For fares and route information, visit the Houston METRO website.
Car Rentals
Onsite car rental agencies operate from Consolidated Rental Car Facility, a separate building located east of JFK Blvd on airport grounds, and only 5 minutes from the airport terminals. The facility can be reached from the terminals via maroon and white shuttle buses marked "Rental Car Shuttle". From Arrivals, follow the Rental Car signage to the shuttle stops. The following agencies are located onsite in the facility: Advantage, Alamo, Avis, Budget, Dollar, Enterprise, Firefly, Hertz, National and Thrifty.
Hotel Shuttles
Several area hotels offer free airport shuttle service as a convenience for their guests. Contact your hotel of choice for shuttle service availability and information. You can use the courtesy telephones in the baggage claim area to request airport pickup. Here are a few hotels that offer airport shuttle: Best Western Intercontinental Airport Inn   •   Comfort Suites Bush Intercontinental Airport   •   Country Inn & Suites by Carlson Houston Intercontinental Airport South   •   Doubletree Houston Intercontinental Airport   •   Hampton Inn & Suites Houston – Bush Intercontinental Airport   •   Hilton Garden Inn Houston/Bush Intercontinental Airport   •   Holiday Inn Express Houston Bush Intercontinental Airport East   •   Holiday Inn Houston Intercontinental Airport   •   La Quinta Inn & Suites Houston Bush Intercontinental Airport East   •   Marriott Houston Airport at George Bush Intercontinental   •   Sheraton North Houston at George Bush Intercontinental   •    SpringHill Suites Houston Intercontinental Airport   •   Super 8 Intercontinental Houston.
See also Airport Hotels above.
Shared-Ride Service
SuperShuttle is an authorized shared ride service provider, offering door-to-door shared ride or exclusive ride service between the airport and destinations in the Houston metropolitan area, including William P. Hobby Airport. Rides can be booked online, via phone or upon arrival at the airport at the SuperShuttle kiosk located in the baggage claim area.
Taxis
Taxis can be hailed with the assistance of Ground Transportation staff on the ground floor outside of each terminal. All rides within Houston city limits are charged a flat rate or assessed by meter, whichever is less. A flag drop fee of $2.75 is added to the trip, along with a late night surcharge of $1 per trip if applicable (8:00PM – 6:00AM). Two or more passengers ride on the same fare, and senior citizens receive a 10% discount. TAXIPASS and major credit cards are accepted by all taxis. At the time of this update, an average one-way fare between the airport and Downtown is $53.50.
Last updated: 2022-03-01
This guide is for informational purposes only to assist with your planning.  All information, including rates and hours, are subject to change at any time without notice.   The information in this airport guide is based on information collected and/or received from the airports, lounges, hotels, transportation providers and their web sites. We are not representatives of any of the above mentioned service providers. To report errors or to add/update any items mentioned in the guide: update the airport guide or  write a review.