Whether you have a layover, overnight sleepover or you are just quickly passing through, our Los Angeles Airport Guide is a great place to start planning your visit.  Here, you'll find information on services and facilities available inside the airport – including details about airport lounges, WiFi, mobile charging points, lockers, 24-hour food options, nearby hotels, and everything in between.
the facilities remain pretty sub-standard – except in the newly refurbished Tom Bradley International Terminal. Still nowhere to sleep within the airport, and local hotel day rooms are getting pricier and pricier. No provision is made for transit or layover passengers – it remains a grin and bear it airport. – a traveller
LAX Airport Overview
To help you plan your layover or overnight sleepover, here is a quick run-down about what to expect during your time at Los Angeles Airport (Code: LAX) .
What to Expect
The massive U-shaped LAX Airport is a major hub for North American and international travel. It has 9 terminals: 1, 2, 3, 4, 5, 6, 7, 8 and the Tom Bradley International Terminal (TBIT), which has a north and south end. The entire airport is connected by a landside shuttle bus, and Terminals 4, 5, 6, 7, 8 and TBIT are connected by airside walkways. There is considerable variation in terms of the quality, comfort and operating hours of each of the terminals.
Overall, there are a good number of restaurants and shops; however, none are open 24-hours, so you'll want to come prepared with snacks or change for vending machines if you're here late into the evening. WiFi is also available, and mobile charging is available near the gates.  For those looking for a little added comfort, there are first class lounges that economy class passengers can pay to access.  See Airport Lounges in the guide below for locations and access information.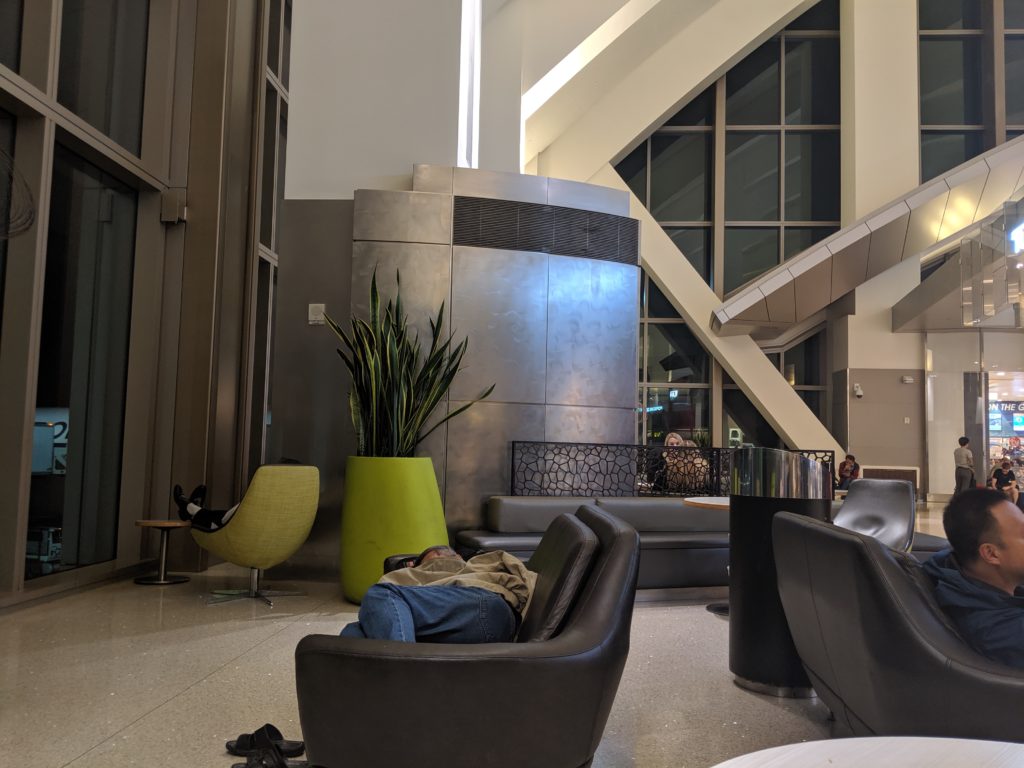 Sleeping in Los Angeles Airport
While seating is plentiful – so are the armrests. This means travellers should expect to sleep on sections of carpeted floor. Many sleepers also lament the constant construction at LAX, and the frequent announcements. Noise cancelling headphones or earplugs are a must if you're hoping to catch some shuteye.
That said, there are a few benches and couches scattered throughout the terminals. In Terminal 1, there is a long bench just past security at the top of the stairs. In the Arrivals Hall of Terminal 6, there are armrest-free benches – though it can be particularly bright and loud here. There are chairs in triangle configurations in Terminals 4 and 7 that are decent for a rest. Gate 148 of TBIT also has a few couches. Snag something when you see it, as options are few and far between.  The terminals are very cold.  Have a blanket and dress for the terminal temperatures.  Explore our guide to sleeping in Los Angeles Airport or read some traveller airport reviews for more tips.  If you're looking for uninterrupted sleep, there are hotels nearby that provide free airport shuttles.  See Airport Hotels in the guide below.
Good to Know
LAX has a limited supply of cots and blankets available for stranded or delayed passengers when major flight cancellations occur.
To help us keep this guide up-to-date, you can add or update information or write a review to submit airport tips and photos. You can also visit the airport's web site for current information.  For more airport information continue scrolling down to explore more in our Los Angeles Airport Guide.
In this guide we may refer to locations as "landside" and "airside". Landside is the public area of the terminal located in the non-secure zone, before security. Airside is the secure area of the terminal that you must reach by going through security.  For more information on Europe's Schengen Area, click here.
Airport Lounges
Pay-per-use, Single Visit Passes & Lounge Memberships
Regardless of what class of service you are flying, there are lounges that you can enter by paying at the door, purchasing a lounge pass or through a lounge membership program. Visit the individual lounge page for more details about the lounge itself and to also find out how you can gain lounge access with just an economy class ticket!
Terminal 4
Terminal 5
Terminal 6
Terminal 7
Tom Bradley International Terminal
Airline Lounges
Delta Sky Club – Location: Terminals 2 and 3, Airside. Showers are available at the Main Club. Lounge Access: Lounge membership programs.
More lounge options for first/business class flyers are located in TBIT: Star Alliance Business Class Lounge • Star Alliance First Class Lounge • Etihad Airways First & Business Class Lounge • oneworld International Business Lounge • The Emirates Lounge • Air New Zealand Priority One Lounge.
Military Lounge
USO Lounge – The USO offers a lounge that is free of charge to active members of the US military and their families. Location: Arrivals Level, across the roadway between Terminals 1 and 2.
Related Pages: Los Angeles Airport Lounges
LAX Airport Hotels
Quick Facts
Nearest Hotel:  Within 5 minutes from the airport
Sleep Cabins & Pods: No
Day Rooms: Yes
Nearby Hotels with Free Shuttles: Yes
When the prospect of sleeping on the floor or in a chair is giving you nightmares, there are many hotel options for those of you who are looking to sleep at LAX Airport in comfort.   If you are on a layover, unfortunately, you will have to pass through security/immigration, as LAX has neither a transit nor an on-site hotel.  Most nearby hotels provide free airport shuttles.
Hyatt Regency Los Angeles Airport –  This is the closest hotel to the airport that is accessible by foot or free airport shuttle.   » Check Rates
Courtyard Los Angeles LAX/Century Boulevard – Free 24-hour airport shuttle is available.   » Check Rates
Sheraton Gateway Los Angeles Hotel –  Free 24-hour airport shuttle. Day use rooms from 9:00AM to 6:00PM, based upon availability.   » Check Rates
Shuttle Pick-up: look for the red "Hotel and Courtesy Shuttle" sign outside of baggage claim.
For more options, visit Tripadvisor to see a list of hotels near LAX Airport that can be sorted by price, distance, traveller rating and popularity.
Airport WiFi / Internet and Mobile Charging
WiFi
Free WiFi is available at LAX for an unlimited number of 45-minute sessions. Connect to the "_LAX Free WiFi" network, and watch a 15 – 30 second advertisement in order to begin a new session. Premium high-speed, commercial-free internet access is available with a Boingo membership.
Mobile Charging
There are mobile charging stations in all terminals. Power outlets located in a variety of spots: below boarding gate seats, at work stations, and stand-alone charging stations.
Airport Services and Facilities & Things To Do On A Layover At The Airport
Art in the Airport – Rotating and permanent art exhibits are on display throughout the airport. If you're lucky, you'll also catch a live performance!
Duty Free & Shopping – Duty-free shopping is available in all terminals of LAX. In addition, a wide variety of retail stores, gift shops, and newsstands are available throughout the airport.
Communications
Family Services
Baby Care Facilities – If you are travelling with an infant, there are nursing rooms for breastfeeding. Locations: T1, Gate 13 • T2, between Gates 21B & 23 • T3, near Gate 33 • T4, by Sunglass Hut • T5, by the food court • T6, Gate 64B • T7/8, by Ashland Hill • TBIT, near Gate 150.
Food & Drinks
Food & Drinks – At the time of this update there were no 24-hour food or beverage concessions. Vending machines are available throughout the airport. However, if there is a flight delay, concessions near the gates (Terminal 1, 2, 3, 6 and TBIT) will remain open until the flight boards.
Drinking Water – A traveller tells us there "one water vending machine in terminal 7."
Pro-Tip: Ron tells us "It may be worth noting that in Terminal 7's lower level there are vending machines with snacks and drinks. The vending machines take $1.00, $5.00, coins, and Credit/Debit Cards. They are the only place to get these items after 1:00 AM. The water I got there was a life saver."
Information Desk – Volunteers are stationed at Information booths on the Arrivals Level of each terminal. Customer Service representatives are available in all terminals. Hours: 6:00AM – 12:00AM.
Luggage
Luggage Storage – There is no luggage storage available at "due to safety reasons". However, there is a company off-site that will pick up your luggage from LAX curbside and store it for you. When you need your luggage back, you call them and they deliver it back to the airport. Rates: from $7 – $13 per item for storage plus the $5.00 pick up and $5.00 drop off fee. Hours: open 24-hours. Contact LAX Luggage Storage. (This is not an endorsement of their service, so let us know if you have any problems).
Luggage Carts – Need a hand with your luggage? Luggage carts are available from Smarte Carte. Fee: $5.00 (Cash and card payments are accepted). Locations: Arrivals Level of all Terminals and also in the Check-in Area of the TBIT.
Medical Services
Defibrillators – Devices are strategically located throughout the airport.
Medical Services – A first aid office is located on the Upper/Departure Level of the TBIT. Hours: 10:00AM – 10:00PM. This is not a staffed location, use one of the phones outside the office and they will send assistance.
Mobile Charging – see "Airport WiFi / Internet and Mobile Charging" above.
Money
ATMs / Cash Machines – Need cash? ATMs are available. Fees may apply, so be sure to check your bank's fee schedule and your daily withdrawal limit if you are travelling internationally. You may also want to notify your bank of your travel plans. Locations: on the departures and arrival levels in all terminals at LAX.
Currency Exchange – International Currency Exchange (ICE) booths are located on the Departures Level of Terminals 2, 3, 4, 5, 6, 7 and TBIT • Arrivals Level of Terminals 2, 5, 6 and TBIT. Hours of operation vary per location.
Observation Deck – Relax and watch planes taking off and landing from the vantage point of the airport's observation deck. Location: in the middle of the Central Terminal. Hours: 9:00AM – 5:00PM (open the second weekend of each month).
Pets
LAX PUPS – The LAX PUPS (Pets Unstressing Passengers) Program is one of the nation's largest airport-run, therapy-dog programs aimed at providing a less stressful airport environment. All PUP volunteers and dogs are registered with Therapy Dogs, Inc., a national organization that registers, insures, and supports members involved in volunteer animal-assisted activities. The dogs and handlers – both in red vests with the PUP logo — help to create a positive and friendly airport experience.
Pet Relief Area – Most terminals provide an Airside pet relief areas. Landside locations are outside between T1 & T2 and outside T5.
Rest & Relaxation
Cots – At times when there are major flight delays and cancellations, the airport has a limited supply of cots. Availability may have been affected by Covid.  If you are stranded during a weather delay, contact an airport employee to find out when the cots are located.
Hotels – see "Airport Hotels" above.
Lounges – see "Airport Lounges" above.
Rest Zones – There are no dedicated sleeping areas, quiet areas or rest zones. If this information has changed, click here to update this guide.
Shoeshine – If you are departing from T1, T4 or T7, head to Marvin's Shoe Shine for a free shine.
Showers – LAX does not offer shower facilities for the general travelling public. There are a few lounges that have showers and the USO offers showers to military members.  [ see Airport Lounges above ]
Smoking – Permitted outside on both the Lower/Arrivals Level and Upper/Departures Level at designated areas.
Spa – Treat yourself to a massage or maybe a manicure before your flight at XpresSpa. Locations: TBIT South Concourse (Hours: 9:00AM – 12:00AM) • Terminal 5, Airside (Hours: 6:00AM – 10:30PM). Be Relax. Location: Terminal 1, Airside (Hours: 6:00AM – 11:00PM).
WiFi – see "Airport WiFi / Internet and Mobile Charging" above.
Work Stations – Set up your own office space at one of the work stations available for passengers. Locations: throughout the terminals.
Related Pages: Things to do on a layover at Los Angeles Airport
Airport Hours
While LAX is open 24 hours, the terminals have their own operating hours:
Terminal 1: 4:00AM – 11:00PM
Terminal 2: 4:30AM – 2:00AM
Terminal 3: 4:15AM – 1:00AM
Terminal 4: 4:00AM – 1:00AM
Terminal 5: 4:00AM – 1:30AM
Terminal 6: 4:30AM – 1:30AM
Terminal 7: 4:00AM – 12:00AM
TBIT South: 6:00AM – 1:00AM
TBIT North: 8:00AM – 1:00AM
LAX is currently closed to the general public.  You must be a passenger or personnel to enter.
Airlines
Los Angeles airport is served by the following airlines: Advanced Air • Aer Lingus • Aeroflot • Aeroméxico • Air Canada • Air China • Air France • Air New Zealand • Air Tahiti Nui • Air Transat • Alaska Airlines • All Nippon Airways • Allegiant Air • American Airlines • Asiana Airlines • Austrian Airlines • Avianca • British Airways • Cathay Pacific • China Airlines • China Eastern Airlines • China Southern Airlines • Condor • Copa Airlines • Delta Air Lines • El Al Israel Airlines • Emirates • Etihad Airways • EVA Air • Fiji Airways • Finnair • French Bee • Hainan Airlines • Hawaiian Airlines • Horizon • Iberia • InterJet • ITA Airways • Japan Airlines • JetBlue • KLM • Korean Airlines • LATAM • Level Airlines • LOT • Lufthansa • Norse • Philippines Airlines • Qantas • Qatar Airways • Saudia Airlines • SAS • Sichuan Airlines • Singapore Airlines • Southern Airways • Southwest Airlines • Spirit Airlines • Sun Country • Swiss • Turkish Airlines • United Airlines • Virgin Atlantic/Australia • Vivaaerobus • Volaris • WestJet • Xiamen Air • ZIPAIR.
Airport Transportation: Getting To/From The Airport
Buses
The LAX FlyAway is a popular scheduled non-stop bus service between all LAX terminals and Van Nuys, Union Station, Westwood, Santa Monica and Hollywood. Buses are marked according to route and no reservation is required. As of this update, one-way fare starts at $9.75 per person (up to two children under 5 years old may travel for free per paying adult).
A number of companies operate services between LAX and other parts of Los Angeles. Passengers should contact the companies for information beforehand. These scheduled buses are available on the lower/arrival level islands in front of each terminal.
Car Rentals
The following rental car companies operate at LAX: Alamo • Avis • Budget • Dollar • Enterprise • Fox • Hertz • National • Payless • Sixt • Thrifty • Zipcar. Location: look for the purple "Rental Car Shuttles" sign on the Lower/Arrivals Level islands outside baggage claim.  Visit our travel partner at Tripadvisor to search for car rentals deals.
Hotel & Parking Lot Shuttles
Many area hotels and private airport parking lots provide courtesy airport shuttle service:  Aloft El Segundo – Los Angeles Airport •  Courtyard Los Angeles LAX/Century Boulevard   •   Courtyard Los Angeles LAX/El Segundo   •   Crowne Plaza Los Angeles International Airport Hotel   •   Embassy Suites by Hilton LAX North   •   Fairfield Inn & Suites Los Angeles LAX / El Segundo  •  Four Points by Sheraton Los Angeles International Airport   •  H Hotel Los Angeles, Curio Collection by Hilton  •   Hilton Los Angeles Airport  •  Hilton Garden Inn LAX/El Segundo  •  Holiday Inn Express Los Angeles-LAX Airport   •  Hyatt Regency Los Angeles International Airport  •   Los Angeles Airport Marriott   •  Renaissance Los Angeles Airport Hotel  • Residence Inn by Marriott Los Angeles LAX / Century Blvd   •   Sheraton Gateway Los Angeles   •   Sonesta Los Angeles Airport LAX  •  Sonesta Select Los Angeles LAX El Segundo  •  Travelodge Hotel at LAX   •   Travelodge LAX South  •   The Westin Los Angeles Airport
These buses operate from an area in front of each terminal on the Upper/Departures Level, marked by a red overhead sign that says "Hotel & Parking Lot Shuttle".
See also Airport Hotels above.
Inter-Terminal Shuttle
LAX Airport offers a free shuttle service that operates throughout the airport grounds. These shuttles can be picked up in front of each terminal on the Lower/Arrivals Level, in a designated area marked by an overhead blue sign that reads "LAX Shuttle & Airline Connections".
LAX-it Shuttle
Taxis and rideshares (Lyft, Opoli, Uber, etc) now depart from LAX-it, adjacent to Terminal 1.  A free shuttle departs each terminal from the Lower/Arrivals Level every 3 to 5 minutes.   Shuttles are equipped with WiFi, so you can connect with your ride while en-route.  Walking times are 3-8 minutes from Terminals 1 and 7 and 19 minutes  from Terminals 4 and 5.
Public Transportation
There are free shuttle buses that connect the airport with the Metro Green Line Aviation Station and Lot South/LAX City Bus Center.  At the Metro Green Line Aviation Station, you can connect to the Metro C (Green Line).  At the Lot South/LAX City Bus Center, you can connect to L.A. Metro, Culver City Bus Lines, Santa Monica Big Blue Bus, Torrance Transit and Beach Cities Transit.   Passengers should wait at the Pink LAX Shuttle and Airline Connections sign outside each terminal. For more information, visit the Los Angeles Airport website.
Ride Apps
Lyft, Opoli, and Uber are authorized to pick up passengers from LAX.  The pick-up location is the LAX-it lot, next to Terminal 1.
Shuttles
Shared ride vans pick up passengers in front of each terminal on the Lower/Arrivals Level in an area marked by an overhead orange sign that says "Shared Ride Vans". Prime Time Shuttle and SuperShuttle are the authorized shared ride service providers for LAX, and provide door-to-door service in all southern California counties.
Taxis
Taxis are located at LAX-it, adjacent to Terminal 1.  Walk or take a free shuttle from the Green LAX-it signs located in front of each terminal on the Lower/Arrivals Level islands. Authorized taxis display the official seal of the City of Los Angeles Department of Transportation, and are the only taxis allowed to service LAX.
Last updated: 2022-10-31
This guide is for informational purposes only to assist with your planning.  All information, including rates and hours, is subject to change at any time without notice.   The information in this airport guide is based on information collected and/or received from the airports, lounges, hotels, transportation providers, and their websites. We are not representatives of any of the above-mentioned service providers. To report errors or to add/update any items mentioned in the guide: update the airport guide or  write a review.