Here are 8 Things to do on a layover at Los Angeles Airport.
1. Grab a bite to eat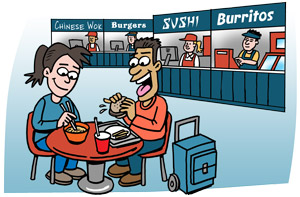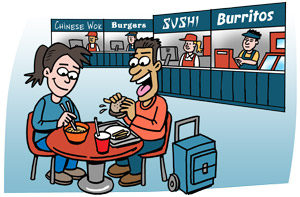 While there are a number of dining options at LAX, the quality really runs the gamut depending on your terminal. Some terminals have more to-go and fast food options, with a couple sit-down bars or restaurants. Other terminals, like the International Terminal, have more in terms of quantity and quality. LA favorites include Shake Shack, Cole's, Lemonade, and The Border Grill for Mexican fare, plus plenty of healthy juice and salad options. Unfortunately, no 24-hour options exist, so plan ahead if you'll be there overnight.
2. Hang out in a lounge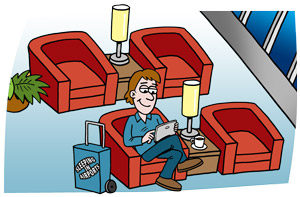 Did you know that economy class travellers can actually use airport lounges? We're used to lounges catering exclusively to First or Business Class passengers, but at LAX, several airline lines will allow access to any traveller – no matter the class of service flown. The entry fee may just be worth passing your layover in a more comfortable environment, with drinks, food, and other amenities included. Simply pay at the door, purchase a pass online or use a lounge membership program. For locations and amenities, see our Los Angeles Airport Guide.

3. Hit the shops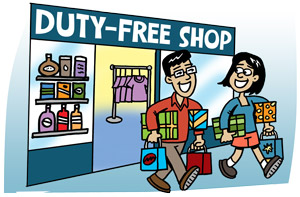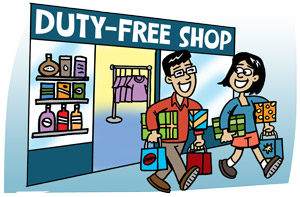 Like the dining options, the shops are sufficient but won't particularly wow too many travellers. Browse common airport stores like bookstores, technology shops, and outposts of skin care, makeup, and travel luggage and good. This is LA, though, so you'll also spot plenty of Hollywood-themed souvenir shops, plus some surf and sports stores. A few boutiques like Fred Segal, Hugo Boss, and Bulgari are located in the International Terminal, which is also home to plenty of Duty Free shops – it's by far the best place for shopping inside LAX.
4. View some art
The LAX Art Program adds some creative flair to the terminals, and a good way to explore is to see how many installations you can spot. Look for permanent public art plus rotating exhibitions. There may even be some live music – from individual singers to bands and choirs playing.
5. Relax at a spa
Got a kink in your neck? Need your nails touched up? Two locations of XpresSpa and a Be Relax Spa offer salon services like mani/pedis and facials, plus massage and reflexology treatments.
6. Check out LA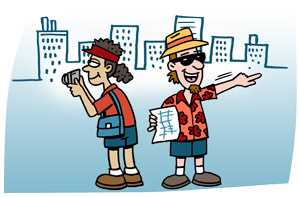 Whatever you think of the facilities inside LAX, the nice thing is the airport's proximity to the beach and many neighborhoods worth exploring. You'll want to have at least 6 hours between flights to have enough time to check out an attraction or two without missing your flight.
First things first – exiting the airport. There are public bus routes that connect the airport to city spots, but LA is a sprawling city and non-stop traffic can make this a huge time suck. Shelling out the cash for a taxi or car-sharing service will likely get you more time away from the airport. Renting a car for the day – as long as you're comfortable driving yourself around – could be the most cost effective way to get around and store your luggage.
There is no on-site storage for luggage, so pack lightly or check your bags. A nearby storage company can pick up your luggage while you're on a layover.
Short Layover
If you're short on time, head to Manhattan Beach, just south of LAX. Relax on the beach, soak in some sun (don't forget the sunscreen), and dip your toes in. If it's warm enough, chase the waves or rent a surfboard. El Segundo, just across from LAX, has a nice main street with good restaurants and shopping. Or, stay really close to the airport and watch the flights come and go from iconic burger joint In-n-Out – just be prepared for long lines.
Longer Layover
If you've got a longer layover, head to famous spots like Venice Beach and Santa Monica. Both offer great beach views plus excellent dining and shopping options, perfect for strolling. Off the beach, explore Beverly Hills or Hollywood – check out the Walk of Fame, just don't be surprised by the hordes of tourists. Downtown LA (DTLA) is becoming a hip locale in its own right, with brand new entertainment, shops, and restaurants sprouting up around the Staples Center. There are plenty more neighborhoods and activities to explore.
With LA's notorious traffic, leave plenty of time to get back to the airport and process through Security for your next flight.
7. Get Connected
Stay connected to friends and family, update your social media accounts or surf the internet during your layover. WiFi is free at the airport, but it does timeout after 45 minutes. Reconnect as many times as you want by watching a brief advertisement. Upgraded options are available for a fee.
8. Sleep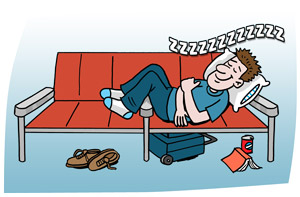 Sleeping here should be no problem, with travellers coming and going throughout the day and night. There's a decent amount of seats and benches, though most have armrests. The floors near gates tend to be carpeted, so at the very least, you can spread out on the floor. Travellers have recommended a few sleep-friendly areas: Terminals 4 and 7 group chairs in triangle configurations, which creates some privacy, and Terminal 6's Arrivals Hall has benches without armrests. Wherever you land for some shuteye, note that announcements and noise are common no matter the time, so bring along earplugs or noise-cancelling headphones. If you'd rather spend some cash to ensure better quality sleep, several hotels are located within a few minutes' drive of the airport. Most provide airport shuttle service and some offer day rooms. For locations, see our Los Angeles Airport Guide.
These are just a few things to do on a layover at Los Angeles Airport. Visit our Los Angeles Airport Guide for more information about more services and facilities available, such as food, WiFi, mobile charging, luggage storage, nearby airport hotels, and much more.