Whether you have a layover, overnight sleepover or you are just quickly passing through, our Manila Airport Guide is a great place to start planning your visit.  Here, you'll find information on services and facilities available inside the airport – including details about airport lounges, WiFi, mobile charging points, lockers, 24-hour food options, nearby hotels, and everything in between.
if your layover is long, do most of your waiting on 4th floor before final security check as food choices and overall surroundings much more pleasant than at the gate – a traveller at terminal 3
MNL Airport Overview
To help you plan your layover or overnight sleepover, here is a quick run-down about what to expect during your time at Manila Ninoy Aquino International Airport.
What to Expect
Manila Airport (code: MNL) is a large, and often frustrating, airport. It consists of 4 terminals (T1, T2, T3 and T4), which are allegedly connected by shuttle bus. However, many travelers report that this bus is often unoperational, forcing you to take a taxi at an inflated price. T3 is the largest and newest terminal, and T1 has had some recent renovations. Combined, they handle most of the major airlines.
While travelers do report slight improvements at NAIA from year to year, you can still expect to wait in numerous long lines as you make your way to your flight. The airport does have a number of shops and restaurants; however, many are cash only, requiring you to find an ATM inside the airport. The airport reputedly offers free WiFi, but many report issues when they actually try to connect.  For those looking for added comfort, there are first class lounges, some of which have showers, that economy class passengers can pay to access.   See Airport Lounges in the guide below for locations and access information.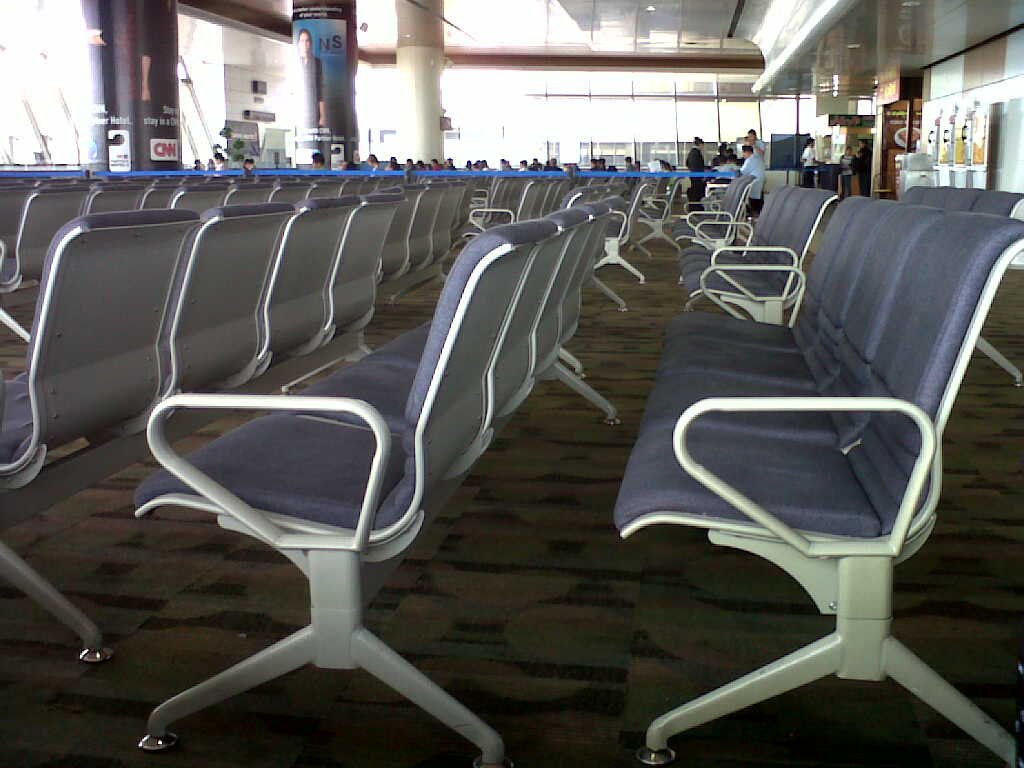 Sleeping in Manila Airport
Past travellers do not recommend others sleep at Manila Airport unless they absolutely have to. While there are a number of chairs without armrests, most of the seating is made of metal. Terminal temperatures also seem to fluctuate between extremes, making it difficult to know whether you'll need more layers – or less. If you must sleep here, T3 is apparently more comfortable than the others. One traveller also reports finding an unmarked lounge on the ground floor of Terminal 2, where they have leather loveseats and reclining chairs. However, be sure to pay attention to signage, as there are some areas in the airport that prohibit sleeping and penalize the weary with hefty "fines".  Explore our guide to sleeping in Manila Airport or read some traveller airport reviews for more tips.  If you would prefer to sleep in comfort and privacy, there are sleep rooms in Terminals 1 and 3, and several other nearby hotels connected by shuttles.   See Airport Hotels in the guide below.
Good to Know
Beware of scams and take extra care of your belongings at Manila NAIA. There are a number of reports about bullet-planting scams, demands for bribes, broken CCTVs and a general theft.
To help us keep this guide up-to-date, you can add or update information or write a review to submit airport tips and photos. You can also visit the airport's web site for current information.  For more airport information continue scrolling down to explore more in our Manila Airport Guide.
In this guide we may refer to locations as "landside" and "airside". Landside is the public area of the terminal located in the non-secure zone, before security. Airside is the secure area of the terminal that you must reach by going through security.  For more information on Europe's Schengen Area, click here.
Airport Lounges
Pay-per-use, Single Visit Passes & Lounge Memberships
Regardless of what class of service you are flying, there are lounges that you can enter by paying at the door, purchasing a lounge pass or through a lounge membership program. Visit the individual lounge page for more details about the lounge itself and to also find out how you can gain lounge access with just an economy class ticket!
Terminal 1
Marhaba Lounge – Location: Airside, International departures, near Gate 9, West Satellite.  Hours:  3:00AM – 1:00AM.  Lounge Access: Prepaid lounge pass • Lounge membership programs.
PAGSS Premium Lounge – Location: Airside, East Concourse, next to Gate 2. Lounge Access: Lounge membership programs.
PAGSS Lounge (Gate 7) – Location: Airside, East Concourse, next to Gate 7.  Lounge Access: Pay at the Door.
PAGSS Lounge (Observation Level) – Location: Airside, 4th Floor (Observation Level), next to Hariraya Restaurant. Lounge Access: Pay at the Door.
Terminal 3
Related Lounges: Manila Airport Lounges
Manila Airport Hotels & Day Rooms
Quick Facts
Nearest Hotel:  Inside the Airport
Sleep Cabins & Pods: Yes
Day Rooms: Yes
Nearby Hotels with Free Shuttles: Yes
When the prospect of sleeping on the floor or in a chair is giving you nightmares, there is good news for those of you who are looking to sleep at Manila Airport in comfort.   If you are on a layover, depending which terminal you are in, you may not need to leave the secure area to find a bed.  On the landside, sleep capsules and private can be found in Terminal 3.  Off-site, a number of nearby hotels offer free airport shuttles.
Inside the Airport
Passengers Lodging Facility – Transiting passengers who wish to relax and freshen up at the airport can do so in Terminal 1. There are 9 air-conditioned rooms available for rent on the 4th floor next to the Sampaguita Lounge, and additional day rooms are currently being built. Rooms are 3x3m and feature private bathroom/shower facilities. Rates start at PHP 1680 for 24hr period. In Terminal 3, the Wings Transit Lounge offers 17 sleep capsules, 16 twin rooms and a family room, showers and a spa and massage area. Location: Terminal 3, Airside, 4th Floor. Rates: from P900 to 3,200 including a light meal and shower. Hours: open 24 hours. Cash only, no credit cards.
Hotels near Terminal 3
For more options, visit Tripadvisor to see a list of hotels near Manila NAIA Airport that can be sorted by price, distance, traveller rating and popularity.
Airport WiFi/Internet
Free WiFi is available at Manila Airport.  A reader tells us that the WiFi is available in 30 minute sessions. At the end of the 30 minutes you can reconnect. There is no limit to the number of re-connections you can make.
More Services, Facilities & Things To Do On A Layover At The Airport
Communications
Post Office – Send your last minute postcards to friends and family from the airport's post office. Locations: T1, Arrivals Lobby – West Wing • T2, Arrivals Lobby – South Wing, near the Passport Control Office. Hours for both locations: 8:00AM – 5:00PM (Mon-Fri). Mailboxes are also available here and accessible 24 hours a day to send off those last minute postcards.
SIM Cards – A reader tells us "do not purchase at the airport. These are extremely over priced and not the best value. Once you leave the airport, purchase one at a convenience store." (September 2022)
WiFi – see "Airport WiFi/Internet" above.
Family Services
Baby Care Facilities – Nursing rooms located throughout the airport offer cribs, playpens, bottle warmers, formula, diapers and more. Locations: T1, Departures area, opposite the Transit lounge • T2, airside, International/North Wing Gate 1 • T2, airside, Domestic/South Wing Gate 17 • T3, International pre-departure area, near Gate 108 • T3, Domestic pre-departure area, near Gate 119 • T4, pre-departures area. Additionally, diaper changing tables are also available in all restrooms in Terminals 1, 2, 3, and in female restrooms in Terminal 4.
Children's Area – Fun and colorful Kiddie Traveller's Lounges have playhouses, slides, toys, books, and TVs with children's programming. Kiddie lounges are staffed, so you can relax and have a little "me" time while your kids play (Children aged 3 years and under MUST be accompanied by a guardian at all times). Locations: T1, airside, Transit Lounge (Hours: 6:00AM – 10:00PM) • T3, airside, one each at Domestic and International pre-departures areas • T4, airside, Pre-Departure Hall, near Gate 5. (Open 24 hours).
Food & Drinks
Food & Drinks – Food concessions throughout the airport operate with varying schedules. At the time of this update, we are unable to confirm the availability of any 24-hour dining options. Terminal 3 will be the best location for food, it is the newest terminal and boasts a four level mall with lots of restaurants on the 4th level.
Information
Information Desk – If you have any questions visit one of the information desks for assistance. Location: Domestic and International Wings. Hours: unknown.
Luggage
Baggage Trolleys – Need a hand with your luggage? Baggage trolleys are available free of charge throughout the airport. NAIA Porters are also stationed in designated areas of the airport to assist with your bags if needed. Porter service is $1.00 per bag, and must be paid at the porterage counter. Some reviewers have mentioned extortionist porter rates, so if you plan to use this service have the money ready and do not show larger bills or expect change when you do present a large bill. Porters are not allowed inside of the baggage claim area, and there is a "no tipping" policy.
Luggage Storage & Lockers – Luggage and More offers left luggage storage at the following rates: Small luggage / items – ₱150 for the first 3 hours and every 3 hours after or ₱300 per day • Large luggage / items – ₱200 for the first 3 hours and every 3 hours after or ₱350 per day. Location: T3, landside, Arrivals Hall.
Medical Services
Medical Services – Urgent and emergency medical care is available 24-hours a day at any of the medical clinics located throughout the airport. Locations:

Terminal 1:

Ramp level, across the Pass Control Office (Main clinic) • 2nd location – Arrival level, next to the Customs and Quarantine Offices (Arrivals-level clinic).

Terminal 2:

Basement of the Rotunda, accessible via elevator.

Terminal 3:

International Arrivals conveyor in the South Wing Terminal.

Terminal 4:

Arrivals Area.

Pharmacy – Yes.
Mobile Charging
Mobile Charging – A reader mentioned that free mobile charging stations are scattered throughout Terminal 2. We do not have information about availability in the other terminals.
Money
ATMs / Cash Machines – Need cash? ATMs are available throughout all terminals. Fees may apply, so be sure to check your bank's fee schedule and your daily withdrawal limit if you are travelling internationally. You may also want to notify your bank of your travel plans. Note: there seems to be more ATM's Landside, plan ahead.
Currency Exchange – Several banks offer full-service banking and currency exchange in the airport. You can find banks and money changers throughout the Departures and Arrivals levels of all four terminals. Hours vary per location. Carren's Money Changer in Terminal 4 (Arrivals) is open 24 hours.
Prayer
Prayer Areas – Looking for a quiet place for prayer or meditation in a spiritual setting?
»

Christian chapels

– Scheduled masses are available, along with confession (upon request, before and after mass). Locations: T1, 4th Level – West Wing • T2, Departure Level, North Wing – beside the Rotunda • T3, Mezzanine of the North Head House • No chapel in T4.
»

Muslim prayer rooms

– Locations: T1, 4th Level – West Wing, next to the Christian chapel • T2, landside, Ground Floor – South Wing • T3, airside, Departures – North, 3rd Floor, near NG 301 comfort room • No prayer room in T4.
»

Our Lady of the Airways Parish Church

– Scheduled masses are available on a daily basis. Location: 500m from T1.
Rest & Relaxation
Shopping
Duty Free & Shopping – Duty-free shopping is available in T2 and T3. There is also a 4 level shopping mall that connects Terminal 3 and the Parking Building.
Showers, Salon & Spa
Showers – Freshen up before your flight.  Showers are available in the Day Rooms (Terminals 1) and Wings Transit Lounge (Terminal 3). Hours: open 24 hours. [ see Airport Hotels above ].
Smoking
Smoking – Locations: T1, near the transit lounge in the Arrivals area • T2, The Tinderbox, Departures Level, between the North and South Wings • T3, airside, 3rd Floor, there are (2) smoking lounges near the Domestic boarding gates and (1) smoking lounge near the International boarding gates • T4 has no indoor smoking lounges.
Airport Hours
The airport is open 24 hours. However, there have been reports that travellers will not be permitted to enter the terminals until 3 hours prior to departure. The airport has denied this in news reports, so I really don't know what to advise here. If you are in transit you should have better luck, especially if you do not have to transfer terminals.
Airlines
Manila airport is served by the following airlines: Air Asia • Air China • Air New Zealand • Air Niugini • All Nippon Airways • Asiana Airlines • Cathay Pacific • Cebu Pacific • China Airlines • China Eastern Airlines • China Southern • Delta Air Lines • Emirates • Ethiopian Airlines • Etihad Airways • EVA • Gulf Air • Japan Airlines • Jeju Air • Jetstar • KLM • Korean Air • Kuwait Airways • Malaysia Airlines • Oman Air • PAL Express • Philippines Airlines • Qantas • Qatar Airways • Royal Brunei Airlines • Saudia • Singapore Airlines • Skyjet • Thai Airways • Turkish Airlines • United Airlines • Xiamen Airlines.
Airport Transportation: Getting To/From The Airport
Car Rentals
The following car rental companies are available at Manila Airport: Alamo • ASSI • Avis • Budget • Diamond • El Sol Tours • Europcar • Hertz • JS Travel • National • Nissan • Orix • Pacific Blue Transport. Location: Terminal 1 • Terminal 2 • Terminal 3. International Driver's License or English-language Driver's License is required, along with a photocopy of the license.
Hotel Shuttles
At the time of this update we were unable to find any hotels offering an airport shuttle.  See also Airport Hotels above.
Inter-Terminal Transportation
MNL airport runs a free 24-hour shuttle bus service that travels the airport complex, picking up and dropping off passengers at Terminals 1, 2 and 3. According to many reviewers, the service is not always reliable with long wait and journey times worsened by Manila traffic. Many travellers cite taking a taxi instead.
Public Transportation
Metro Rail: Passengers taking the Metro-Rail Transit line may disembark at the EDSA-Taft station. An airport shuttle terminal is located beside the MRT station.
Bus: Those travelling by city bus routes may take a bus plying the EDSA-MIA route. These buses pass Terminals 1 and 2. Additionally, you can take the airport shuttle between terminals.
Taxis
The airport is close to Manila's main commercial business districts so metered cabs, hotel drivers and chauffeur services are available from the terminals. Take only official, metered or pre-booked taxis.
Do not accept rides from people that approach you in the terminal. Taxis charge around 150-200 Pesos (6USD-8USD) to central Manila hotels. It will take about 20-60 minutes for the trip, depending on traffic.
Drivers here are notorious for overcharging passengers with rigged meters called a Batingting. In recent years there has been a crack down on cabbies using these devices, but you should be forewarned. For the least amount of hassle it is recommended that you pre-book a taxi with a reliable operator recommended by your hotel or friends/family.
Last updated: 2022-10-28
This guide is for informational purposes only to assist with your planning.  All information, including rates and hours, is subject to change at any time without notice.   The information in this airport guide is based on information collected and/or received from the airports, lounges, hotels, transportation providers, and their websites. We are not representatives of any of the above-mentioned service providers. To report errors or to add/update any items mentioned in the guide: update the airport guide or  write a review.