A long layover in Manila may not be the best use of your time, but you can make the most of it with these 5 things to do on a layover at Manila Airport.
1. Grab a bite to eat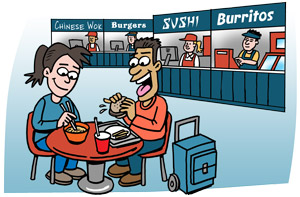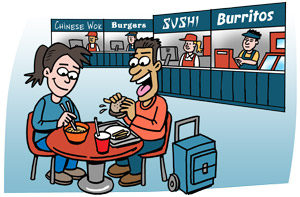 Your range of eating options depends on the terminal you're in, with most travellers agreeing you'll have the most variety in Terminal 3. Most eateries are very casual, serving to-go food. Fare is mostly Filipino, but you'll also find some Chinese, Japanese, and noodle outlets, plus Western chains like Wendy's, Subway, and Starbucks. Most, if not all, vendors only accept cash, so do plan ahead or stop by an ATM.
2. Visit a lounge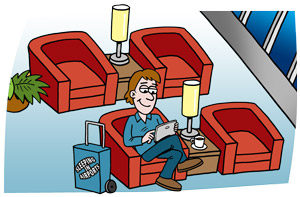 Airport lounges are a good way to pass some time, especially if you just want to relax or catch up on work. For a single fee, you get food and drinks, WiFi, and news, all in a comfier, quieter lounge. (One lounge also offers shower facilities.) Any traveller, no matter your airline or flight class, can pay to enter several lounges here. Simply book in advance or use your lounge membership program. See our Manila Airport Guide for details.

3. Take a shower
Freshening up with a between-flights shower might be the best way to improve your layover. You can pay to use the shower facilities in Terminal 1's Passengers Lodging Facility or the Wings Transit Lounge in Terminal 3.
4. WiFi
WiFi is free here, though some travellers have reported issues logging on.
5. Sleep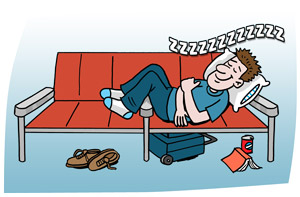 Because of safety issues and on-going complaints from travellers, we don't recommend spending the night here. If you decide to go for it, Terminal 3 is probably the best spot for comfort, though privacy is definitely lacking. Metal seats are aplenty, and many are armrest-free. Dress in layers as the airport temperatures range from very hot to very cold. Do pay attention to where you lay your head, as posted signs indicate where sleeping is not allowed – the airport may even fine you. If you're in need of serious Z's, you're better off heading to in-airport sleep pods or nearby hotels. In Terminals 1 and 3, private day rooms and sleep capsules are available, though you'll likely have to book in person and pay in cash. Three hotels are located directly across from T3, with free shuttle service, and a couple other hotels are nearby. See our Manila Airport Guide for locations and details
These are just a few things to do on a layover at NAIA Airport. Visit our Manila Airport Guide for more information about more services and facilities available, such as food, WiFi, mobile charging, luggage storage, nearby airport hotels, and much more.