Whether you have a layover, overnight sleepover or you are just quickly passing through, our New York City JFK Airport Guide is a great place to start planning your visit.  Here, you'll find information on services and facilities available inside the airport – including details about airport lounges, WiFi, mobile charging points, lockers, 24-hour food options, nearby hotels, and everything in between.
The TSA agent told me about the 24-hour Dunkin Donuts in the baggage claim area, as well as making some suggestions of where I can grab a snooze. – TheInfamousJ
JFK Airport Overview
To help you plan your layover or overnight sleepover, here is a quick run-down about what to expect during your time at New York City's John F. Kennedy International Airport (code: JFK).
What to Expect
JFK Airport has six terminals, which are connected by the free AirTrain landside (pre-Security). Each terminal is big, so expect a lot of walking to reach your gate and other facilities. Your experience will vary depending on your terminal. For instance, Terminal 4 is the newest and shiniest, with plenty of amenities, but Terminal 8 is cold and sparse (no seats and a single cafe) until you're inside the Secure area. Note: Terminals are numbered 1-8 but skip Terminals 3 and 6 which have been demolished.
Airside in most terminals, you'll have a decent selection of shopping, dining, and services. For 24 hour eats, however, you're limited to Terminals 1 and 4. The airport has free and unlimited WiFi, a significant upgrade from their previous 30-minute limit. The biggest complaint from travellers is the lack of seating. Other complaints are the cold temps, noise, long security lines, and seemingly never-ending construction, so an extra layer and noise-cancelling headphones or earplugs are essential for a decent experience. If you're willing to pay for more comfort, several lounges are open to Economy class travellers, and a few even offer shower facilities! See Airport Lounges in the guide below for locations and rates.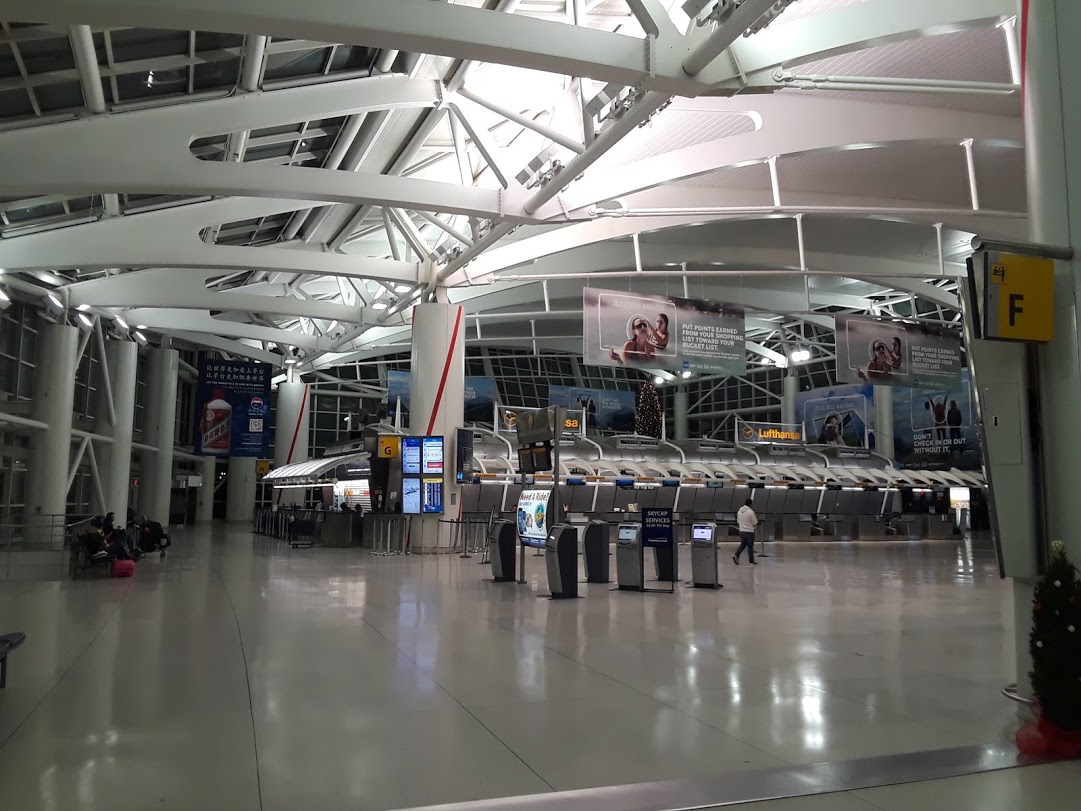 Sleeping in JFK Airport
Long layovers are common at this major transit hub, and so are weather-related delays. While you won't be the only one seeking privacy, the airport's open layout and the sheer number of travellers means you'll likely have to make-do with a spot on the floor. Metal benches and seats with armrests comprise what little seating there is. Explore our guide to sleeping in New York JFK Airport or read some traveller airport reviews for more tips. For uninterrupted sleep, the TWA Hotel is now open (Terminal 5) and area hotels run free shuttles to and from the airport. See Airport Hotels in the guide below for more info.
To help us keep this guide up-to-date, you can add or update information or write a review to submit airport tips and photos. You can also visit the airport's web site for current information.  For more airport information continue scrolling down to explore more in our JFK Airport Guide.
In this guide we may refer to locations as "landside" and "airside". Landside is the public area of the terminal located in the non-secure zone, before security. Airside is the secure area of the terminal that you must reach by going through security.  For more information on Europe's Schengen Area, click here.
Airport Lounges
Pay-per-use, Single Visit Passes & Lounge Memberships
Regardless of what class of service you are flying, there are lounges that you can enter by paying at the door, purchasing a lounge pass or through a lounge membership program. Visit the individual lounge page for more details about the lounge itself and to also find out how you can gain lounge access with just an economy class ticket!
Terminal 1
Terminal 4
Terminal 7
Terminal 8
Airline Lounges (members only)
If you are a First or Business Class traveller you may have access to the lounges listed below. For more information, check the airline's website.
Military Lounge
USO Center – The USO offers a lounge that is free of charge to active members of the US military and their families. Location: Terminal 5, across from baggage carousel 3.
Related Pages: JFK Airport Lounges
JFK Airport Hotels, Day Rooms & Sleep Pods
Quick Facts
Nearest Hotel:  Inside the Airport
Sleep Cabins & Pods: Yes
Day Rooms: Yes
Nearby Hotels with Free Shuttles: Yes
When the prospect of sleeping on the floor or in a chair is giving you nightmares, there is good news for those of you who are looking to sleep at JFK Airport in comfort.   For a quick cat nap, there are sleep pod/cabin options in Terminals 5 and 4 (coming soon), while an onsite hotel at Terminal 5 offers day rooms and overnight rates.  Most nearby hotels offer free airport shuttles.
Sleep pods and hotels at JFK airport
Sleep Pods – Travellers in Terminal 5 will find some GoSleep pods in the Airside area.  Exact location and rates are unknown.  If you know, click here to update this airport guide.
TWA Hotel – Take the AirTrain to Terminal 5.  The hotel is located outside of the secure area, so you will need to pass through immigration and security to access.  There are no guided tours of the iconic hotel, but visitors are welcome to tour the property on their own.  You can also grab a drink at the infinity pool or get a day pass for the gym and showers (US$ 25).  Day rooms are available from 7:00AM – 11:00AM; 8:00AM – 8:00PM and 10:00AM – 4:00PM; 12:00PM – 6:00PM. Day room rates are $149 +taxes (4-6 hours) or $209 + taxes (12 hours). » Check Rates
Minute Suites – opening in the future – Location: Terminal 4, airside.  This micro-hotel will provide small rooms that can be rented for a few hours or overnight. Shower packages (with or without room rentals) will also be offered. Details will be added closer to completion date.
Hotels near JFK Airport with shuttle service
For more options, visit Tripadvisor to see a list of hotels near JFK Airport that can be sorted by price, distance, traveller rating and popularity.
Airport WiFi / Internet
Free and unlimited WiFi is available at New York JFK Airport. Connect to the "_Free JFK WiFi" network.
More Services, Facilities & Things To Do On A Layover At The Airport
Communications
Family Services
Baby Care Facilities – If you are travelling with small children, these services are available.
Nursing Stations can be found in these locations (Airside only): T1 (near Gate 1) • T2 (Gate C70) • T4 (near Gate A3, Gate B31 and West Retail Hall) • T5 (near Gate1, Gate 12 and Gate 27) • T7 (adjacent to Gate 10 • T8, near Gate 14, Gate 42 and 3rd Floor Hallway). Hours: unknown. Family washrooms can be found both Landside and Airside in T4, T5, T7 and T8.
Food & Drinks
Food & Drinks – There are many dining options landside and airside, but only a few 24-hour options.

 Terminal 1 – Dunkin Donuts (airside)
Terminal 4 – McDonalds (airside) •  Central Diner (landside, Arrivals Hall)
Vending Machines – Vending machines can be found in Terminal 4, Arrivals Hall East • Retail Hall East • Airside, Gate B23.
Information
Information Desk – If you have any questions, Information Centers and Welcome Centers are available to provide assistance. Locations: T1 (outside Arrivals Area) • T2 (outside Arrivals Area) • T4 (Arrivals Hall) • T5 (outside Arrivals Area) • T7 (outside Arrivals Area) • T8 (outside Arrivals Area). Hours: unknown.
Traveler's Aid – Travelers Aid is a non-profit organization that assists stranded and distressed passengers. Volunteers assist passengers with general airport and destination queries to assisting with situations such as transportation assistance, lost or stolen money, wiring money, emergency housing, etc. Landside locations: Terminal 1 – Arrivals • Terminal 4 – East Arrivals Hall • Terminal 5 – Arrivals, Welcome Center • Terminal 7 – Arrivals • Terminal 8 – Arrivals & Departures. Hours: unknown.
Luggage
Luggage Storage & Lockers – Short-term luggage storage is available at the locations listed below.

Terminal 1, Arrivals (Landside) – Baggage Storage by SmartCarte • Accommodations Plus International
Terminal 4, Arrivals (Landside) – Baggage Storage by SmartCarte • Accommodations Plus International
Terminal 8, Arrivals (Landside) – Meehgan Services

Luggage Wrapping – Protect your bags from theft and damage by having your bags wrapped in plastic by Secure Wrap. Locations: Terminal 5.
Medical Services
Medical Services – If you feel unwell or injure yourself, a medical center is located in Building 22A. Take the free shuttle from the Terminals. Hours: 24 hours.
Mobile Charging
Mobile Charging – Recharge your mobile devices at charging stations located landside and airside.
Money
ATMs / Cash Machines – Need cash? ATMs are available. Fees may apply, so be sure to check your bank's fee schedule and your daily withdrawal limit if you are travelling internationally. You may also want to notify your bank of your travel plans. Locations: throughout all terminals (Landside and Airside).
Currency Exchange – Foreign currency exchange and ATMS can be found in these locations:

Terminal 1 – Landside, Arrivals West • Landside, Departures Level West • landside, Food Court • Airside, Gates 3/4 • Departures Level, West Concourse Gates 1-3.
Terminal 4 – Landside, Arrivals Hall • Departures, Concourse B • Departures, Retail Hall East • Departures, Retail Hall West
Terminal 7 – Arrivals • Departures, near gates 3/4
Pets
Pet Relief Areas – Take your pet for a potty break in these areas:

Terminal 1 – Outside, on the Arrivals level
Terminal 2 – Outside on the Arrivals level (west end) • Indoors, near Gate C60 (airside)
Terminal 4 – Outside, on the Arrivals level (east end) • Indoors, near Gate 31 (airside)
Terminal 5 – Arrivals, Welcome Center • Outside, on the Arrivals level (north end) • Indoors, near Gate 28 (airside)
Terminal 7 – Outside, on the Arrivals level (west end) • Indoors, behind Hudson News at Gates 9 – 10 (airside)
Terminal 8 – Outside, on the Departures level • Indoors, near Gate 38 (airside)
Prayer
Interfaith Chapel –  Terminal 4 – Landside, Departures Level.
Rest & Relaxation
Cots – In the event of bad weather or massive flight cancellations, this airport has a limited supply of cots for stranded travellers.
Availability may have been affected by Covid.  If you are stranded during a weather delay, contact an airport employee to find out when the cots are located.
Hotels – see "Airport Hotels" above.
Lounges – see "Airport Lounges" above.
Rest Zones – There are no dedicated sleeping areas, quiet areas or rest zones. If this information has changed, click here to update this guide.
Shopping
Duty Free & Shopping – Duty-free shopping is available airside in Terminals 4, 5, 7 and 8. In addition, a wide variety of retail stores, boutiques, and newsstands are located throughout the airport.
Showers, Salon & Spa
Showers – Showers are available in the following Pay at the Door Lounges: Delta Club Lounges (T2 and T4) • American Airlines Admiral Club (T8 x 2 locations) and the Wingtips Lounge (T4). [ see Airport Lounges above ]
Spa & Salon Services – Manicures, pedicures, facials, massages and more are available at XpresSpa and BeRelax.

BeRelax – Locations: T5, airside, across from Gates 6 & 7.
XpresSpa – Locations: T1, airside, near Gates 3 and 6.
Smoking
Smoking – Smoking is permitted only in designated areas outside the terminal. There are no smoking facilities inside the terminal.
Things to Do
Roller Skating – TWA Hotel will be offering Roller Skating from April 15, 2022 – November 2022.  Every weekend, you can spin around to retro tunes on a 44ft x 56ft outdoor rink.  Rentals of four-wheeled "quad skates" (patented in 1863) are included with every 50-minute skate session, which costs $20 per adult and $16 per child (under age 12).  Hours: 4:00 – 8:00PM (Fri) and 12:00PM – 8:00PM (Sat – Sun).
Airport Hours
The airport is open 24 hours.
Keep in mind that TSA, airline check-in and baggage drop hours vary according to the flight schedule. Check these hours with your airline. If you are in the public area of the terminal (landside) you will not be able to get through to the secure area of the terminal (airside) until the morning.
Airlines
New York JFK airport is served by the following airlines: Aer Lingus • Aeroflot • Aerolíneas Argentinas • Aeroméxico • Air China • Air Europa • Air France • Air Italy • Air India • Air Serbia • Air Senegal • Alaska Airlines • Alitalia • American Airlines • All Nippon Airways • Asiana Airlines • Austrian Airlines • Avianca Brasil • Azerbaijan Airlines • Azores Airlines • British Airways • Brussels Airlines • Cape Air • Caribbean Airlines • Cathay Pacific • Cayman Airways • China Airlines • China Eastern Airlines • China Southern • Condor • Copa Airlines • Delta Air Lines • Eastern Airlines • Egyptair • El Al Israel Airlines • Emirates • Ethiopian Airlines • Etihad Airways • Eurowings • EVA Airways • Finnair • Flair Airlines • Hawaiian Airlines • Iberia • Icelandair • Interjet • ITA Airways • Japan Airlines • JetBlue • Kenya Airways • KLM • Korean Air • Kuwait Airways • LATAM • LOT • Lufthansa • Neos • Norse Atlantic Airways • Philippines Airlines • Qatar Airways • Royal Air Maroc • Royal Jordanian • Saudi Arabian Airlines • Singapore Airlines • South African Airways • Swiss • Swoop • TAP Portugal • Turkish Airlines • Ukraine International Airlines • Uzbekistan Airlines • Virgin Atlantic • Viva Aerobus • Volaris • WestJet • Xiamen Airlines.
Airport Transportation: Getting To/From The Airport
Airport Shuttles
Go Airlink provides an ride-share airport shuttle between the airport and New York City. Service is available 24-hours per day. Head to the ground transportation desk and present the desk agent with your shuttle voucher. The agent will direct you to your scheduled shuttle. Your shuttle driver will know when your flight is scheduled to arrive.  For more information, visit the Go Airlink
web site.
Additionally, there are a number of shared van services that will get you directly to your destination. Go to the Port Authority Welcome Center, located on the Arrivals level of each terminal, to make arrangements.
AirTrain
AirTrain is an elevated railway system that serves JFK Airport, and connects all airport terminals and parking lots with the Long Island Rail Road and New York City subway lines in Queens. AirTrain service runs 24 hours a day, and is affordable, easy to use and wheelchair-accessible. Three overlapping routes are available: the Howard Beach route, Jamaica Station route and All Terminals loop. Passengers can ride the AirTrain free or charge around the airport, but must pay $8.00 by MetroCard if entering or exiting at Jamaica or Howard Beach Stations. For more information, visit the Airtrain web site.
Buses
A total of 6 bus routes (Q3, Q6, Q7, Q10, Q10 LTD and B15) connect the airport with surrounding metropolitan areas. These buses stop adjacent to Terminal 5, and can be accessed via a free on-airport AirTrain trip to the Terminal 5/6 station. Hours: most of these routes operate 24 hours a day. For more information regarding the bus routes, schedules and fares visit the MTA website.
Car Rentals
The following car rental companies are available at the airport: Advantage • Alamo • Avis • Budget • Dollar • Enterprise • Hertz • National • Payless • Thrifty. Location: Car rental counters or courtesy phones can be found on the arrivals level near the baggage claim in all terminals. To pick-up the car you will take the AirTrain to Federal Circle Station.
Hotel Shuttles
Some area hotels provide airport shuttle service: Best Western JFK Airport Hotel   •  Comfort Inn JFK Airport  •   Crowne Plaza JFK Airport  •   Days Inn JFK Airport   •   Fairfield Inn New York JFK Airport   •  Five Towns Inn  •   Hampton Inn NY – JFK   •   Hilton New York JFK   •   Holiday Inn Express At JFK   •   Hyatt Regency JFK Airport at Resorts World New York  •   JFK Inn  •     Radisson Hotel JFK Airport   •  Super 8 by Wyndham Jamaica North Conduit  •  The Five Towns Inn •   Wingate by Wyndham Far Rockaway JFK Airport.
Passengers can take the AirTrain to the hotel shuttles waiting area at Federal Circle station.
See also Airport Hotels above.
Inter-Airport Transfers
The New York City metropolitan area is served by three major airports: JFK, LaGuardia and Newark Liberty. The NYC Airporter provides service between JFK and LaGuardia or JFK and Newark Airport (via Port Authority Bus Terminal transfer to a partner service). All County Express and ETS Air Shuttles also provide service between JFK and LaGuardia or Newark Liberty Airport.
Taxis
Taxi stands are located outside each terminal. Ignore non-uniformed people offering to assist with baggage. Sample Taxi Fares from JFK Airport: Flat Fare is $52 (or $56.50 during peak time of 4:00PM – 8:00PM) to the first destination (plus tolls and tip). The taximeter and receipt should reflect this is a flat fare.
Train
JFK is connected to the NYC subway station at Jamaica and Howard Beach Stations.  At Jamaica, take the E Train or LIRR.  At Howard Beach, take the A Line.  The fare is $10.75 ($8.00 for the AirTrain + $2.75 subway fare).  For more information, visit the MTA web site.
Last updated: 2022-10-31
This guide is for informational purposes only to assist with your planning.  All information, including rates and hours, is subject to change at any time without notice.   The information in this airport guide is based on information collected and/or received from the airports, lounges, hotels, transportation providers, and their websites. We are not representatives of any of the above-mentioned service providers. To report errors or to add/update any items mentioned in the guide: update the airport guide or  write a review.