Whether you have a layover, overnight sleepover or you are just quickly passing through, our Paris Charles de Gaulle Airport Guide is a great place to start planning your visit.  Here, you'll find information on services and facilities available inside the airport – including details about airport lounges, WiFi, mobile charging points, lockers, 24-hour food options, nearby hotels, and everything in between.
I asked security if its ok to sleep here and they welcomed me warmly. They said that I should just find some isolated corner and I could sleep on the floor in my sleeping bag. I slept next to a huge window and what can I say… Better than the hostels. 😀 -kekkosen
CDG Airport Overview
To help you plan your layover or overnight sleepover, here is a quick run-down about what to expect during your time at Paris Charles de Gaulle Airport (code: CDG).
What to Expect
As one of the world's busiest airports, Paris CDG Airport is large and notorious for its confusing layout, so be prepared to walk a lot. The airport has three terminals (1, 2, and 3). Terminal 2 is the trickiest to navigate, thanks to eight separate satellite terminals. Your experience will vary greatly depending on your terminal and concourse hall. For instance, travellers agree that the new part of Terminal 2E is an airport highlight, but the facilities in Terminal 1 are old and need renovating (or a complete demolition, depending who you ask).
You'll find a bevvy of shops, cafes, and restaurants, though everything closes by 11:30 PM, so purchase midnight snacks ahead of time. A few features travellers appreciate are the free WiFi and free mobile charging boxes. Economy Class travellers who want to upgrade their layover can pay to enter several airport lounges, a few of which have shower facilities. See Airport Lounges in the guide below for locations and rates.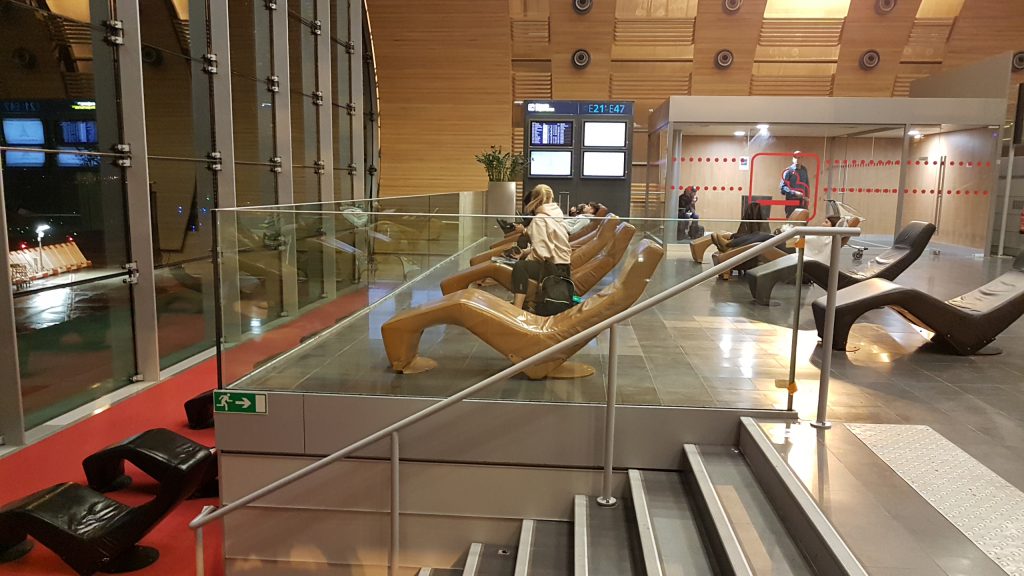 Sleeping in Paris CDG Airport
As a major international airport, you won't be the only one camping out overnight. In general, travellers report feeling safe, but homeless people do wander the pre-Secure areas at night. Consider asking a security guard the best place to rest – it may be wiser to choose an open area instead of a private corner. If you're already inside Security, head to Terminals 2A and 2E for comfortable seating, but do bring layers as cold temps and bright lights are common complaints. Explore our guide to sleeping in Paris CDG Airport or read some traveller airport reviews for more tips.   For uninterrupted sleep, check out the sleep cabins in Terminal 2E or head to several on-site or nearby hotels.  See our Airport Hotels section below for locations.
Coronavirus Update
Due to the current Covid-19 pandemic, all services and times listed below are subject to change. Some services and facilities may remain closed or operate with reduced hours.  Airport tips and suggestions in this guide and elsewhere on the site were written before March 2020 and may no longer be valid. If you are planning to sleep in the public area of the terminal overnight, have a back-up plan! We've heard from a few travellers at other airports and they were not permitted to stay overnight. We're not sure if that will apply to this airport, until a reader lets us know the current situation. If you have some time to spare please write a review, send a tip or share photos to help future travellers.
For more airport information continue scrolling down to explore more in our Paris Airport Guide.
In this guide we may refer to locations as "landside" and "airside". Landside is the public area of the terminal located in the non-secure zone, before security. Airside is the secure area of the terminal that you must reach by going through security.  For more information on Europe's Schengen Area, click here.
Last updated: 2020-10-21
This guide is for informational purposes only to assist with your planning.  All information, including rates and hours, are subject to change at any time without notice.   The information in this airport guide is based on information collected and/or received from the airports, lounges, hotels, transportation providers and their web sites. We are not representatives of any of the above mentioned service providers. To report errors or to add/update any items mentioned in the guide: update the airport guide or  write a review.