Whether you have a layover, overnight sleepover or you are just quickly passing through, our Phoenix Airport Guide is a great place to start planning your visit.  Here, you'll find information on services and facilities available inside the airport – including details about airport lounges, WiFi, mobile charging points, lockers, 24-hour food options, nearby hotels, and everything in between.
I found several pieces of kids play toys which stacked up perfectly to make a great, comfy mattress. -Alison
PHX Airport Overview
To help you plan your layover or overnight sleepover, here is a quick run-down about what to expect during your time at Phoenix Sky Harbor Airport.
What to Expect
Phoenix Airport (Code: PHX) is made up of two terminals (3 and 4). The largest, Terminal 4 is divided into Concourses A, B, C, and D. If you're changing terminals, a covered walkway and the PHX Sky Train people mover connects the two terminals. Do expect some walking, especially in Terminal 4. In fact, the surprisingly long walkway between Concourses A and D is officially known as the Sky Harbor Fitness Trail.
Your experience depends on your terminal, and travellers agree that Terminal 4 has the most comfort and amenities. Take advantage of plenty of dining and shopping options, including a number of local eateries, plus free WiFi. Overnight sleepers are covered with 24 hour eateries in each terminal. Economy class travellers who want to pay for an upgraded experience can check into a few airport lounges. See Airport Lounges in the guide below for locations and rates.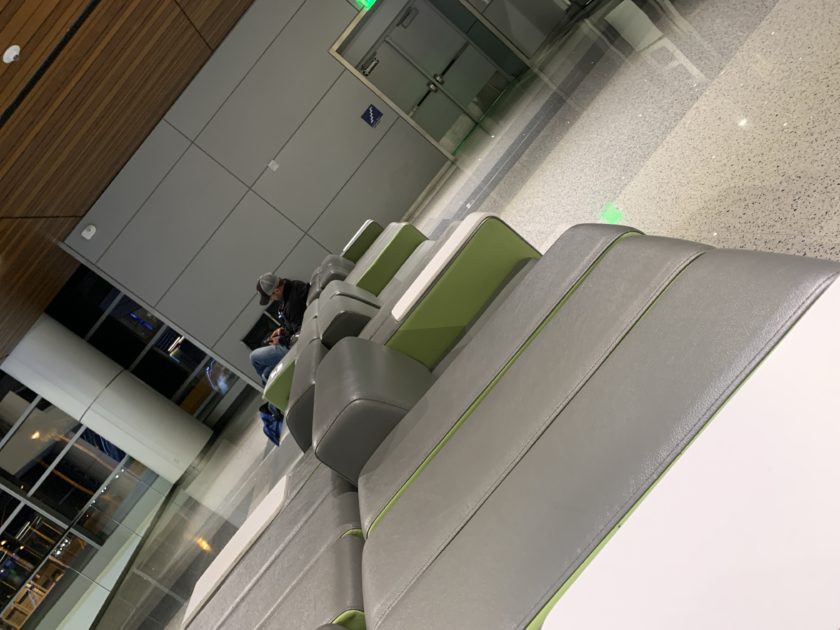 Sleeping in Phoenix Airport
There's rarely a ton of overnight sleepers here, but you likely won't be the only one. While most seats have armrests, there are some flat "sofas" available in Terminal 3. The biggest complaint is the overnight noise, including loud announcements, TVs blaring, and even fire drills, so don't skip out on earplugs or noise-cancelling headphones. Note that we have received reports of homeless people wandering the public areas. Explore our guide to sleeping in Phoenix Airport or read some traveller reviews for more tips.   For uninterrupted sleep, a few nearby hotels offer free airport shuttle service. See our Airport Hotels section below for more info.
Good to know
If you have some time to kill, consider taking the free PHX Sky Train. Accessible from all three terminals, the PHX Sky Train links the airport to the Phoenix Metro Light Rail system, a low-cost and easy way to travel to/from central Phoenix, downtown Tempe and Mesa.
Covid-19 Update
Due to the current Covid-19 pandemic, all services and times listed below are subject to change. Some services and facilities may remain closed or operate with reduced hours.  Airport tips and suggestions in this guide and elsewhere on the site were written before March 2020 and may no longer be valid. If you are planning to sleep in the public area of the terminal overnight, have a back-up plan! We've heard from a few travellers at other airports and they were not permitted to stay overnight. We're not sure if that will apply to this airport, until a reader lets us know the current situation. We will start updating all of our guides in October 2021.  To help us with this massive update, you can add or update information or write a review and submit photos and airport tips.
For more airport information continue scrolling down to explore more in our Phoenix Airport Guide.
In this guide we may refer to locations as "landside" and "airside". Landside is the public area of the terminal located in the non-secure zone, before security. Airside is the secure area of the terminal that you must reach by going through security.  For more information on Europe's Schengen Area, click here.
Airport Hotels
If sleeping in Phoenix Airport does not appeal to you, there are hotels near the airport:
Aloft Phoenix Airport – (5 minutes from the airport) Free airport shuttle (4:00AM – 11:00PM), and also steps away from the PHX SkyTrain and the Metro Light Rail. » Check Rates
Hyatt Place Tempe Phoenix Airport – (8 minutes from the airport) Free shuttle service to the airport and surrounding area (within 5 mile radius), available daily from 5:00AM to 11:00PM. » Check Rates
Hilton Garden Inn Phoenix Airport – (8 minutes from the airport) Free airport shuttle is available on demand. » Check Rates
To see more options there is a list of hotels near Phoenix Airport on Tripadvisor that can be sorted by price, distance, traveller rating and popularity.
Airport Lounges
Pay-per-use, Single Visit Passes & Lounge Memberships
Regardless of what class of service you are flying, there are lounges that you can enter by paying at the door, purchasing a lounge pass or through a lounge membership program. Visit the individual lounge page for more details about the lounge itself and to also find out how you can gain lounge access with just an economy class ticket!
American Airlines Admirals Club – Multiple Locations – (2) Concourse A and (1) Concourse B. Lounge Access: Pay at the Door with proof of American Airlines ticket • Lounge membership programs.
Centurion Lounge – Location: Terminal 4, Airside, near Gate B22.  Lounge Access: American Express® Card Members • Lounge membership programs.
Delta Sky Club – Location: Terminal 3, Airside, near Gate 8. Lounge Access: Lounge membership programs.
Escape Lounge – Location: Terminal 4, Airside, near Gate B22
United Club – coming soon.  The lounge will be relocating to Terminal 3.
Military Lounge
USO Lounge – The USO offers a lounge that is free of charge to active members of the US military and their families. Location: Terminal 4, pre-security on Level 2, East End.
Related Pages: Phoenix Airport Lounges
Airport WiFi / Internet
Unlimited free WiFi is available throughout Sky Harbor Airport. Connect to the "Free PHX Boingo WiFi" network.
More Services, Facilities & Things To Do On A Layover At The Airport
Communications
Postal Services – Drop off your last minute postcards at the airport's mailbox. Available outside the entrance to each terminal.
WiFi – see "Airport WiFi/Internet" above.
Family Services
Baby Care Facilities – Feed and care for your baby in comfortable and privacy at one of the Nursing Stations located in each terminal. Changing tables, sink, comfy seating, and power outlets are available. Locations: T3, landside, Level 5, Baggage Claim • T3, airside, Level 5, near Gate F5 • T4, landside, Level 3 Northwest side, next to the family restroom. Enter between Johnston & Murphy and the i Store • T4, airside, upper level gates of B15-22, next to the family restroom near the British Airways Lounge.
Children's Play Area

Terminal 3 – at the end of the south concourse between Gates 7 & 9 and at the end of the north concourse near gates 15-26
Terminal 4 – close to Gate B19
Fitness
Walking Path – When your idea of airport exercise doesn't include tight connections and frantic running to the next gate, enjoy your time at the airport with a more leisurely stroll or power walk along a designated walking path. The FitPHX in-airport walkway is located in Terminal 4, airside, between Gates A30 and D8.
Food & Drinks
Drinking Water – Thirsty? Drinking water fountains are available free of charge. A reader tells us that the water fountains have a feature to fill water bottles instead of tilting them. Locations: unknown.
Food & Drinks – Food concessions throughout the airport operate with varying schedules. These options are open 24 hours:

Terminal 3 (airside) – Starbucks (Level 4)
Terminal 4 (landside) – Starbucks (at the west end, Level 3) • Wildflower Bread Company (center food court).
Terminal 4 (airside) – Wildflower Bread Company (Gate A9) • La Madeleine (Gate B22).
Information
Airport Ambassadors – If you have questions about the airport or need any assistance, enlist the help of a friendly Sky Harbor Airport ambassador.
Information Desk – T3 – Levels 1 and 2 • T4 – Level 1 (near Door 2), Level 1 (near Door 7), Level 3 (near A and D checkpoints), Level 3 (near B and C checkpoints) • Rental Car Center – Lobby.
Luggage
Luggage Storage & Lockers – Not available.
Mail Back Program – If you have an item that does not meet security requirements you can ship it back to yourself via the Mail Back Program. Ask for assistance at the following Information Desk locations which are equipped with the UPS Safes for deposit: Terminal 2, Baggage Claim • Terminal 3, Baggage Claim • Terminal 4, Level 3, on both ends near each checkpoint.
Medical Services
Medical Center – Covid testing is available at XpresCheck inside Drugs and More.  Location: Terminal 4, Landside, Level 3.
Pharmacy – Drugs & More Pharmacy – Offering prescription services and there is also a medical center located within the pharmacy. Location: Terminal 4, Landside, Level 3. Hours: 8:00AM – 8:00PM (Mon – Fri) and 8:00AM – 4:00PM (Sat & Sun).
Mobile Charging
Mobile Charging – Equipped with power outlets, USB ports and comfortable seating, the airport's charging tables are perfect for charging up your laptop and other electronic devices. The 28 "Get Plugged In" kiosks have six electrical outlets and six USB ports on all three sides. Charging tables (36 sets in total) can be found in the lobbies (landside) of all three terminals, while "Get Plugged In" kiosks are located both landside and airside in each terminal. The airport is also adding more electrical and USB outlets to it's current total of 240 (electrical) and 204 (USB).
Money
ATMs / Cash Machines – Need cash? ATMs are available. Fees may apply, so be sure to check your bank's fee schedule and your daily withdrawal limit if you are travelling internationally. You may also want to notify your bank of your travel plans. Locations: Landside in T2, T3 and T4 • Airside in T3 and T4.
Currency Exchange – Not available.
Pets
Pet Relief Area – Sky Harbor has designated outdoor and indoor pet relief areas available in these locations:

Outdoor – T3, Level 1, west side of the terminal you can find the Paw Pad • T4, Level 1, the Bone Yard can be found on the west side, just outside of baggage claim • the "East Economy Park & Bark" is near the PHX Sky Train Station and the East Economy Parking Garage • the "Park & Play" is at the northwest corner of the 44th Street PHX Sky Train station.
Indoor (airside) – T3, airside, on the South concourse • T4, airside, Gates D1-D8, near the family restroom • T4, airside, near the restrooms at Gate B2.
Prayer
Chapel – An interfaith chapel is open 24 hours a day in T4 (Level 3).
Rest & Relaxation
Shopping
Duty Free & Shopping – Duty-free shopping is available both landside and airside in T4. In addition, you'll find a variety of retail stores, gift shops and newsstands throughout the airport. From phone chargers to Native American jewelry to books, you'll find almost everything you need.
Showers, Salon & Spa
Showers – Not available.
Spa Services – XpresSpa provides spa services at 2 locations in Terminal 4: Airside, Gates B15 – B28 area • Airside, Gates D1 – D8 area. Hours: unknown.
Smoking
Smoking – There are designated areas outside for smokers.  Terminal 3: four areas: on the east; west; north; and south sides of terminal ground level. Terminal 4: 11 areas: four on the north; three on the south on ground level; and two on the north and two on south side of level 2.
Things to do & see
Museums – Location: Terminal 4, Level 3 / Terminal 3, Level 2.
Read & Return Program – There are several bookstores at the airport which participate in the Read & Return Program; after purchasing, simply return your book when finished and receive a credit for your next book purchase. Locations:

Terminal 4 – Desert News & Gifts (Airside, near Gate B4) • CNBC News (Landside, D Concourse).
Airport Hours
The airport is open 24 hours.
Keep in mind that TSA, airline check-in and baggage drop hours vary according to the flight schedule. Check these hours with your airline. If you are in the public area of the terminal (landside) you will not be able to get through to the secure area of the terminal (airside) until the morning.
Airlines
Phoenix airport is served by the following airlines: Advanced Air • Air Canada • Alaska Airlines • American Airlines • Boutique Air • British Airways • Condor • Delta Air Lines • Frontier Airlines • Hawaiian Airlines • JetBlue • Southwest Airlines • Spirit Airlines • Sun Country Airlines • United Airlines • Volaris • WestJet.
Airport Transportation: Getting To/From The Airport
Amtrak Connections
The Amtrak connection is located inside the airport with transport desks located in Terminals 3 and 4.
Bus
Valley Metro city bus route 13 travels between 75th Ave/Buckeye Rd (West Phoenix) and the airport. Bus routes 1, 3 and 44 stop at the 44th Street/Washington Valley Metro Rail station, which is connected to the airport via PHX Sky Train. For fares and information, visit the Valley Metro web site.
Car Rentals
Onsite car rental agencies operate within the Rental Car Center, a facility located just south of the airport complex. The Rental Car Shuttle runs continuously between the airport and the Rental Car Center, stopping to retrieve passengers at the baggage claim level of every terminal. Reservations are highly recommended. The following agencies can be found at the Rental Car Center: Advantage • Alamo • Avis • Budget • Dollar • Enterprise • EZ Rental • Fox • Hertz • National • Payless • Silvercar • Sixt • Thrifty.
Hotel Shuttles
Several local hotels provide free airport shuttle service for their guests. Ask your hotel about shuttle service availability. Some area hotels can be contacted through the Courtesy Telephone Centers located in the baggage claim area of each terminal. Hotel shuttles pick-up outside the Baggage Claim area. Here are some hotels that offer airport shuttle service:
Aloft Phoenix Airport •  Best Western Airport Inn •  Courtyard Phoenix Airport •  Crowne Plaza Phoenix Airport •  DoubleTree Suites by Hilton Hotel Phoenix •  Econo Lodge Airport •  Country Inn & Suites Phoenix Airport •  Hampton Inn Phoenix – Airport North •  Hilton Garden Inn Phoenix Airport •  Hilton Garden Inn Phoenix Airport North •  Hilton Phoenix Airport •  Holiday Inn Express Phoenix Airport (University Drive)
Radisson Hotel Phoenix Airport •  Residence Inn Phoenix Airport.
See Airport Hotels above.
PHX Sky Train
The PHX Sky Train is a free 24-hour automated train that runs between the Terminals 3 and 4, East Economy Parking and the Valley Metro Rail station on 44th Street and Washington Ave. Terminal 2 can be accessed via covered walkway from the Terminal 3 Sky Train station. Trains arrive at each station every 3 minutes during peak time with a total of 5 minutes travel time between each stop. For more information on the PHX Sky Train and its Valley Metro Light Rail and bus connections, visit the Sky Harbor web site.
Shared Ride Shuttle
SuperShuttle provides a door-to-door shared ride shuttle service between the airport and the Phoenix metropolitan area. The shuttles depart every 15 minutes from 9:00AM – 9:00PM, and fares are based on a zone system. SuperShuttles can be found at Terminal 2 (ground level, north curbside), Terminal 3 (ground level, north and south curbside) and Terminal 4 (Level 1, north and south curbside).
Statewide Shuttle
Passengers from all over Arizona rely on Phoenix Sky Harbor, as it is Arizona's largest and busiest commercial airport. Statewide shuttles provide daily service to and from many cities located throughout Arizona. Contact your service provider of choice for rates and information.
Taxi
Taxis are readily available 24 hours a day at Terminal 2 (ground level east, door 8), Terminal 3 (ground level north, door 7 and south, door 6) and Terminal 4 (Level 1 north, door 7 and south, door 6). Only Apache Taxi, AAA/Yellow Cab and Mayflower Cab are authorized to pick up passengers at the airport. Rates are charged according to the meter, and most taxis accept all major credit cards. Wheelchair-accessible taxis are available on request.
Last updated: 2021-10-20
This guide is for informational purposes only to assist with your planning.  All information, including rates and hours, are subject to change at any time without notice.   The information in this airport guide is based on information collected and/or received from the airports, lounges, hotels, transportation providers and their web sites. We are not representatives of any of the above mentioned service providers. To report errors or to add/update any items mentioned in the guide: update the airport guide or  write a review.