Passing a layover at an unfamiliar airport can really suck all the fun out of travel. The good news is a layover at Phoenix Airport offers plenty of ways to avoid boredom. Here are suggestions for 9 things to do on a layover at Phoenix Airport – who knows, you may even enjoy yourself!
1. Enjoy a bite to eat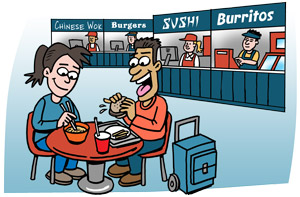 You won't be starved for dining options here. Dozens of eateries are available, ranging from quick to-go kiosks to casual spots and more leisurely sit-down restaurants. Try Mexican food at Blanco Tacos and Tequila, Los Taquitos, and Barrio Cafe. For something fancier, head to Cheuvront Restaurant & Wine Bar. You'll also find plenty of quick options, like Smashburger, Starbucks, Wildflower Bread Company, and other delis and cafes. A couple eateries stay open 24-hours, both before and inside the secured areas.
2. Walk the fitness trail
Look at the positive side: a long layover means you have plenty of time to get in your daily steps. An easy way to do it is following the FitPHX walkway, with connects Gates A30 and D80.
3. Get pampered
Visit one of 2 XpresSpa locations for some relaxing me-time, where manicures, pedicures, chair massages, and more are available.

4. Go shopping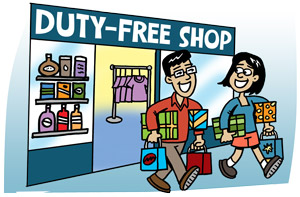 Whether you're a big spender or simply a window shopper, you have plenty of options here. Shops both pre- and post-Security serve up the usual array of convenience, travel goods, books, and souvenirs.
5. Visit the museums
The Phoenix Airport Museum has set up several exhibitions throughout the airport, highlighting area culture and history. Terminal 3 and Terminal 4 feature paintings, fabrics, storytelling, sculptures, and more from local artists.
6. Sightseeing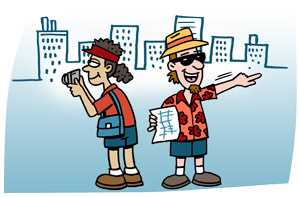 Tired of killing time in the airport? Head out and explore the bustling metropolis of Phoenix. Sky Harbor Airport is located in the middle of it all, just minutes from downtown Phoenix, Scottsdale, and Tempe, home to Arizona State University. Due to travel times to and from the airport, we only recommend this option if you have at least 6 hours before your next flight.
For speedy service, hop on the PHX Sky Train and switch to the Valley Metro Rail to reach downtown Phoenix, where you can visit top museums like the Heard, the Phoenix Art Museum, and the Musical Instrument Museum. Taxis and airport shuttles are available to get to other nearby destinations. Old Town Scottsdale is perfect for strolling, shopping, and getting a bite to eat. The Desert Botanical Garden, in Tempe, is a perfect place to get in touch with nature without going too far. Craving some adrenaline? Hike Camelback Mountain or hit the Echo Canyon Trail.
However your spend your layover, be sure to leave plenty of time to get back to the airport and catch your next flight.
7. WiFi
Catch up on work or your social media thanks to free and unlimited WiFi.
8. Sleep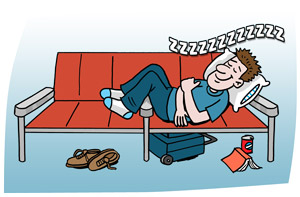 Sleeping isn't much of an issue here, provided you can find a spot to cozy into. Seats and benches abound, but most are fitted with armrests. For a full stretch-out, the floor is probably your best bet. If you're camping out for the night, do expect a lot of noise, especially frequent fire drills blaring between 1:00AM – 4:00AM. If this sleeping style isn't your thing, opt for a hotel. Several are located within a few minutes' drive of the airport, and many offer free shuttle service. Locations and details are listed in our Phoenix Airport Guide.
These are just a few things to do on a layover at Phoenix Airport. Visit our Phoenix Airport Guide for more information about more services and facilities available, such as food, WiFi, mobile charging, luggage storage, nearby airport hotels, and much more.