Whether you have a layover, overnight sleepover or you are just quickly passing through, our Quito Airport Guide is a great place to start planning your visit.  Here, you'll find information on services and facilities available inside the airport – including details about airport lounges, WiFi, mobile charging points, lockers, 24-hour food options, nearby hotels, and everything in between.
we arrived at the airport and found nothing but metal seats with armrests -dot
UIO Airport Overview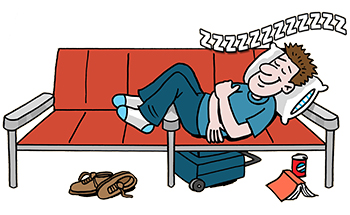 To help you plan your layover or overnight sleepover, here is a quick run-down of what travellers have reported to us during their time at Quito Mariscal Sucre International Airport.
What to Expect
Quito Airport (code: UIO) consists of a single terminal with National and International Departures sections.  Services are limited but, free WiFi is available near the gates. Economy class passengers can purchase entry to three airport lounges (two have showers). See Airport Lounges in the guide below for location and hours.
Sleeping in Quito Airport
There are a lot of seats, but most are metal and have armrests, so it isn't very comfortable.  The terminal is cold and bright, so come prepared with eye shades, warm clothes and a blanket.  Very quiet, with few interruptions overnight.  Staff is tolerant of overnight travellers.  Explore our guide to sleeping in Quito Airport or read some traveller airport reviews for more tips.  For uninterrupted sleep, there is a hotel on airport grounds and several nearby hotels. See the Airport Hotels section below for locations.
To help us keep this guide up-to-date, you can add or update information or write a review to submit airport tips and photos. You can also visit the airport's web site for current information.  For more airport information continue scrolling down to explore more in our Quito Airport Guide.
In this guide we may refer to locations as "landside" and "airside". Landside is the public area of the terminal located in the non-secure zone, before security. Airside is the secure area of the terminal that you must reach by going through security.  For more information on Europe's Schengen Area, click here.
Airport Lounges
Pay-per-use, Single Visit Passes & Lounge Memberships
Regardless of what class of service you are flying, there are lounges that you can enter by paying at the door, purchasing a lounge pass or through a lounge membership program. Visit the individual lounge page for more details about the lounge itself and to also find out how you can gain lounge access with just an economy class ticket!
Sala VIP (International) – Location: International Departures, Airside. Showers are available. Hours: open 24 hours. Lounge Access: Pay at the Door • Prepaid lounge passes • Lounge membership programs.
Sala VIP (Domestic) – Location: National Departures, Airside. Hours: the hours are listed as 24 hours, but a reader in February 2023 wrote to us to tell us the lounge was not open 24 hours.  If you know the hours, click here. Lounge Access: Pay at the Door • Prepaid lounge passes • Lounge membership programs.
Layover Stay – Location: Quito Airport Center, Landside, 2nd Floor, in front of the arrival gates. Showers and reclining chairs for sleeping are available. Hours: open 24 hours. Lounge Access: Pay at the Door • Prepaid lounge passes • Lounge membership programs.
Related Pages: Quito Airport Lounges
Airport Hotels
If sleeping in the airport sounds like a nightmare, there are hotels near Quito Airport:
Wyndham Quito Airport – Located on airport grounds. Free airport shuttle is available. » Check Rates
Holiday Inn Quito Airport – Free airport shuttle is available.  » Check Rates
Quito Airport Suites – 24-hour airport shuttle is available for a fee. Send the hotel your flight details to arrange pick-up. Day use rooms are available for stays from 9:00AM to 9:00PM. » Check Rates
For more options, visit Tripadvisor to see a list of hotels in Quito, search deals and read traveller reviews.
Airport WiFi/Internet
Free WiFi is available at new Quito Airport near the gates. In addition, Carsa offers pay-per-use internet and telephone kiosks. Cash only. Location: Domestic Arrivals Hours: Open 24 hours.
More Services, Facilities & Things To Do On A Layover At The Airport
ATMs / Cash Machines – Need cash? ATMs are available. Fees may apply, so be sure to check your bank's fee schedule and your daily withdrawal limit if you are travelling internationally. You may also want to notify your bank of your travel plans. Location: Landside, Arrivals and Departures levels • Airside, Domestic and International Departures.
Baggage Trolleys – Need a hand with your luggage? Baggage trolleys are available free of charge in the International and Domestic Arrivals areas. Rate: unknown – Cash only.
Children's Play Area – There is an area set-up in the Domestic departures area with games for children to burn off some energy before their flight.
Currency Exchange – Global Exchange – Location: International Departures. Hours: Open 24 hours.
Duty Free & Shopping – Attenza has three duty free shops and a specialized duty free boutique. In addition to duty free shopping, a wide variety of shops are available, with most open 24 hours!
Food & Drinks – Food & Drinks – Food concessions throughout the airport operate with varying schedules. These options are open 24 hours:
» Domestic Departures: Amazonia Cafe
» Domestic Arrivals: Amazonia Cafe • De Volada / To-Go
» International Departures: Amazonia Cafe • De Volada / On The Fly • Famous Famiglia • Johnny Rockets • Outback Steakhouse
» International Departures Hall (landside): Johnny Rockets
Information Desk – Location: Landside, Arrivals /Departures Hall – Hours: open 24 hours.
Luggage Storage & Lockers – Bag Parking Custodia offers luggage storage in the Arrivals Hall. Cash only. Hours: Open 24 hours.
Luggage Wrapping – Secure Wrap offers luggage wrapping service in the Departures Hall (landside). Cash only. Hours: Open 24 hours.
Massage – Fly Massage operates in the Domestic Hall, International Hall and VIP Lounge. Hours: 7:00AM – 11:00PM daily.
Medical Services – If you require medical assistance, there is a Medical Center. Fees are applicable. Location: unknown.
Mobile Charging – Charge your mobile devices for free at charging units in all departure lounges.
Rest Zones – There are no dedicated sleeping areas, quiet areas or rest zones. If this information has changed, click here to update this guide.
Showers – Showers are available in the Salón Mitad del Mundo and Layover Stay Lounges [ see Airport Lounges above ].
SIM Cards – A reader has asked us to include where to buy SIM Cards. If you know, click here to update this airport guide.
Airport Hours
The airport is open 24 hours.
Layover Sightseeing
Do you want to make the most of your stopover or long layover by getting out of the airport to do some sightseeing?  Check out our Quito Airport Layover Sightseeing guide.
Airlines
Quito airport is served by the following airlines: Aeroméxico • Air Europa • Air France • American Airlines • Avianca • Copa Airlines • Delta Air Lines • GOL • Iberia • JetBlue • KLM • LATAM • Plus Ultra Líneas Aéreas • TAME • United Airlines • Wingo.
Airport Transportation: Getting To/From The Airport
The travel time between the new UIO airport and Quito can be 60- 90 minutes depending on traffic.
Buses
Aeroservicios is a shuttle bus service that provides transportation from Quito directly to the New Mariscal Sucre International Airport 24 hours a day, 365 days a year, without intermediate stops. For more details on times, schedules and costs, visit the Aeroservicios web site.
The airport is connected to the public transportation system via bus routes which connect to the South and the North of the city. As of this update, rates are $2 and buses operate between 6:00AM – 9:00PM (approximately and depends on the route). For more information and to plan your route, visit the Quito Airport website.
Car Rentals
The following car rental companies can be found in the public area of the Arrivals Hall: Avis • Budget • Enterprise • Europcar • Localiza • Sixt.
Hotel Shuttles
See also Airport Hotels above.
Taxi
La Cooperativa de Taxis Aeropuerto Mariscal Sucre # 34 and La Asociación de Cooperativas del Valle provide service 24/7, 365 days a year.
Last updated: 2022-10-28
This guide is for informational purposes only to assist with your planning.  All information, including rates and hours, is subject to change at any time without notice.   The information in this airport guide is based on information collected and/or received from the airports, lounges, hotels, transportation providers, and their websites. We are not representatives of any of the above-mentioned service providers. To report errors or to add/update any items mentioned in the guide: update the airport guide or  write a review.