A long layover at Quito Airport doesn't have to be a tedious or frustrating ordeal or just another pit stop before your next flight. Travel smarter with these eight things to do on a layover at Quito Airport.
1. Grab a bite to eat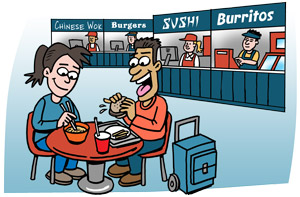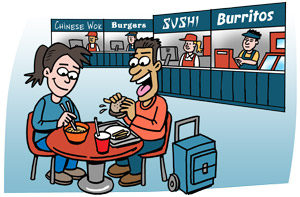 Because no hungry person ever enjoyed a layover, choose from 10 eateries to kickstart your layover. Ecuadorian fare is served at Amazonia Cafe and Darwin's snack bar. New York-style pizza, burgers, chicken, and Tex-Mex are available. Sit-down restaurants include Johnny Rocket's, TGI Fridays, and Outback Steakhouse. For those overnight campers, most eateries stay open 24 hours, both pre-and inside Security.
2. Relax in a lounge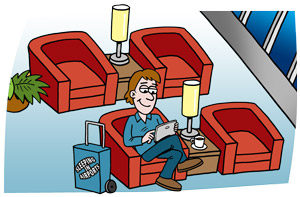 Catching up on work between flights? Want a comfortable spot to hang out? Check into one of the three lounges here. For a single fee, you can take advantage of WiFi, unlimited drinks and food, news and TV, and a quiet environment. Some even offer shower facilities, and one has reclining chairs specifically for napping. The nice thing about these lounges? All travellers can take advantage of them, not just First or Business Class travellers. Pre-book your visit online or use your lounge membership program to get in. Locations and amenities are listed in our Quito Airport Guide.
3. Shop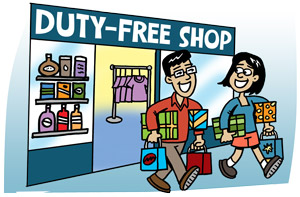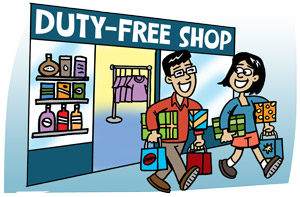 A few shops here provide the basics and must-have souvenirs. Buy local seafood and get it wrapped up for your flight at Camaron a Bordo, or pick up some more traditional souvenirs at Tikuna. Chocolate lovers can't skip the Republica de Cacao, with chocolate sourced entirely from Ecuador. A convenience store offers snacks, newspapers and magazines, and last-minute needs.
4. Get a massage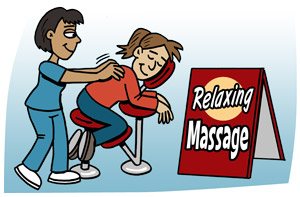 If your last flight left a kink in your shoulders, head to Fly Massage for a custom massage experience. Available in the Domestic and International Halls and the lounges.
5. Go sightseeing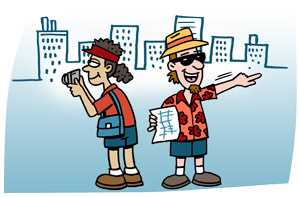 Leaving the airport altogether and opting instead for exploring Quito is a great way to pass a long layover, but you'll want to have plenty of time. The airport is a fair distance from the city center, so we recommend a layover of at least 8-9 hours to make a Quito trip worthwhile.
Official taxis outside of the airport are generally affordable, and they can take 50-75 minutes to reach the city centre. Public transit options are pretty cheap, but they take about 90 minutes to reach Quito, depending on traffic.
Once downtown, head to the Old Town and stroll about. A particular highlight is the Iglesia de La Compania de Jesus, a beautiful church that dates to 1605 and serves up equal parts religious symbolism and mystery. Hop on the Teleferico sky tram for panoramic views of the mountains and valleys surrounding the city. The Guayasamin Museum was the former home of painter Oswaldo Guayasamín and today serves as the main exhibition space for his work and personal collections. The adjacent Capilla del Hombre Museum is the artist's crowning achievement. Visit TripAdvisor for more things to do in Quito.
Leave plenty of time to cover the long distance from the city to the airport. You'll need to pass through Security again before that next flight!
6. WiFi
WiFi is free, so you can spend your whole layover browsing online.
7. Sleep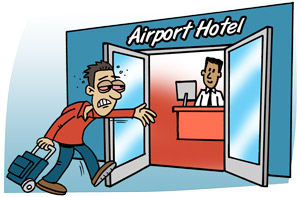 Catching up on sleep here is no problem thanks to the tolerant staff, but the airport furniture isn't exactly comfortable, with metal seats and armrests. Travellers report cold temps and bright lights in the terminal, so bring extra layers and eyeshades. Prefer a proper hotel stay? The Wyndham Quito Airport Gran Condor is located on airport property, and a few more hotels are situated within a 12-minute drive of the airport. See our Quito Airport Guide for details and locations.
These are just a few things to do on a layover at Quito Airport. Visit our Quito Airport Guide for more information about more services and facilities available, such as food, WiFi, mobile charging, luggage storage, nearby airport hotels, and much more.