Whether you have a layover, overnight sleepover or you are just quickly passing through, our Washington Dulles Airport Guide is a great place to start planning your visit.  Here, you'll find information on services and facilities available inside the airport – including details about airport lounges, WiFi, mobile charging points, lockers, 24-hour food options, nearby hotels, and everything in between.
I didn't get a wink of sleep, but I saved a lot of $$$$. –  Paul
IAD Airport Overview
To help you plan your layover or overnight sleepover, here is a quick run-down about what to expect during your time at Washington Dulles Airport.
What to Expect
Washington Dulles Airport (code: IAD) is a busy and often crowded airport, with a main terminal and two concourses (A/B and C/D), connected to each other by the AeroTrain, a shuttle and walkways. Reviewers generally suggest that Concourse B is the nicest area of the airport, with the best shops and restaurants. That said, if you're looking for places open 24-hours a day, your only options are located in Concourse D (NBC4 Travel Shop and the Dunkin Donuts at D5). While amenities and services are limited, the free WiFi should help pass the time. For added comfort while you wait, economy class passengers can pay to access one of the airport lounges. See guide below for locations and access information.
Sleeping in Dulles Airport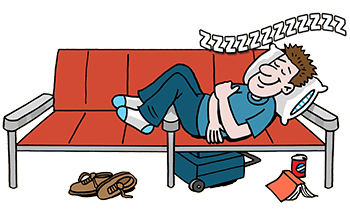 The best sleeping options at Dulles are airside – particularly in Concourses C and D (C20 and D1), where there are plenty of armrest-free benches to stretch out on. Landside, reviewers say that all seats have armrests, and that it's particularly cold and noisy, making it worth your while to clear security before your nap. That said, it's not always warm and quiet airside either; a blanket, layers and earplugs or noise cancelling headphones will go a long way in improving the quality of your sleep. Explore our guide to sleeping in Dulles Airport or read some traveller reviews for more tips.  If you're looking for uninterrupted sleep there are nearby airport hotels nearby that are connected by free airport shuttles.
Covid-19 Update
Due to the current Covid-19 pandemic, all services and times listed below are subject to change. Some services and facilities may remain closed or operate with reduced hours.  Airport tips and suggestions in this guide and elsewhere on the site were written before March 2020 and may no longer be valid. If you are planning to sleep in the public area of the terminal overnight, have a back-up plan! We've heard from a few travellers at other airports and they were not permitted to stay overnight. We're not sure if that will apply to this airport, until a reader lets us know the current situation. We will start updating all of our guides in October 2021.  To help us with this massive update, you can add or update information or write a review and submit photos and airport tips.
For more airport information continue scrolling down to explore more in our Washington Dulles Airport Guide.
In this guide we may refer to locations as "landside" and "airside". Landside is the public area of the terminal located in the non-secure zone, before security. Airside is the secure area of the terminal that you must reach by going through security.  For more information on Europe's Schengen Area, click here.
Dulles Airport Hotels & Sleep Pods
Quick Facts
Nearest Hotel:  Inside the Airport
Sleep Cabins or Pods: Yes
Day Rooms: Yes
Nearby Hotels with Free Shuttles: Yes
When the prospect of sleeping on the floor or in a chair isn't really doing it for you, there is good news for those of you who are looking to sleep at Washington Dulles Airport in comfort.   If you are on a layover, the Sleepbox Lounge provides sleep cabins that can be booked for short-term and overnight stays.  Off-site, there are a nearby hotels within a 10-minute drive that provide free airport shuttles.
Hotels inside the Airport
Sleepbox Lounge – 16 sound-proof rooms that come with a memory foam XL twin-bed, pull out desk, Wi-Fi, Bluetooth speakers, mood lighting, privacy window tint and charging ports.  Rooms can be booked hourly, or in 15 minutes increments after the first hour, through the Sleepbox smartphone app.  Location: Mezzanine level, Airside, between gates A6 and A14, near the AeroTrain in Concourse A.  Rates: $24/hour or up to $120/night. » Check Rates
Hotels near Dulles Airport
Washington Dulles Airport Marriott – Free scheduled airport shuttle is available. For airport pick-up, use the courtesy phone in the baggage claim area. » Check Rates
Westin Washington Dulles Airport – Free airport shuttle service runs to the airport every 30 minutes from 5:30AM to 11:30PM, and upon request after hours. Shuttle picks up at the airport (Arrival Curb 2A and 2H near ground transportation) on the :15 and :45 of every hour, on the lower level outside of baggage claim. » Check Rates
Best Western Dulles Airport Inn – Free airport shuttle is available daily from 4:00AM to 11:00PM. » Check Rates
To see more options there is a list of hotels near Dulles Airport on Tripadvisor that can be sorted by price, distance, traveller rating and popularity.
Airport Lounges
Pay-per-use, Single Visit Passes & Lounge Memberships
Regardless of what class of service you are flying, there are lounges that you can enter by paying at the door, purchasing a lounge pass or through a lounge membership program. Visit the individual lounge page for more details about the lounge itself and to also find out how you can gain lounge access with just an economy class ticket!
Passes  Air France – KLM Lounge – Location: Midfield Terminal, Airside, Concourse A, opposite Gate A22. Showers are available. Lounge Access: Prepaid lounge pass • Lounge membership programs.
British Airways Galleries Lounge – Location: Midfield Terminal, Airside, Concourse B. Showers are available. Lounge Access: Lounge membership programs.
Passes  Turkish Airlines Lounge – Location: Concourse B, Airside, next to Gate B43. Lounge Access: Prepaid lounge pass • Lounge membership programs.
United Club – Multiple Locations – (3) Concourse C and (1) Concourse D.  Lounge Access: Pay at the Door with proof of United Airlines ticket • United Club Membership.
Virgin Atlantic Clubhouse – Location: Concourse A, Airside, near Gate A32. Lounge Access: Lounge membership programs.
Airline Lounges
If you are a First or Business Class traveller you may have access to the lounges listed below. For more information, check the airline's website.
Lufthansa Business Lounge (Location: Concourse B, Airside) • Lufthansa Senator Lounge (Location: Concourse B, Airside) • British Airways The Concourse Dining Room (Location: Concourse B, Airside).
Military Lounge
USO Lounge – The USO offers a lounge that is free of charge to active members of the US military and their families. Location: Main Terminal, Arrivals Level, across from Baggage Claim 11 and 12.
Related Pages: Washington Dulles Airport Lounges
Airport WiFi / Internet
Free WiFi is available at Dulles Airport. Connect to the "FlyDulles" network.
An email and postal/zip code is required for login. International visitors can simply enter "YES" in the postal/zip code field to continue.
More Services, Facilities & Things To Do On A Layover At The Airport
Communications
Family Services
Baby Care Facilities – Nursing rooms provide a secure and private environment with comfortable seating, power outlets and more. Locations: Main Terminal, landside, across from Baggage Claims 2/6/11/14 • Airside, Gates A20, B70 (has a restroom), C11 (has a sink) and D1. For access, go to an Information Desk.
Children's Play Area – When you want to ensure your kids burn off all their energy before their flight, take them to the children's play area. The "Funway" includes airplane-themed elements to climb and slide on, an interactive game system with over 100 games and parents can stay connected and charge their mobiles while watching the kids. Location: Airside, Gate B70.
Food & Drinks
Food & Drinks – There are more than 30 food and beverage concessions at the airport. Here are the dining options that are open 24 hours:

Landside: Cafe Americana • Capitol Grounds • Dulles Gourmet Market • Starbucks • Washingtonian News.
Airside: Bistro Atelier Grab and Go (Concourse D, Gate D14) • Capitol City Ink (Concourse C, Gate C14) • Dulles Gourmet Market (Concourse D, Gate D5) • Dunkin Donuts (Concourse D, Gate D5 and D26) • NBC Travel Store (Concourse D, Gate D1) • Washingtonian News (Concourse B, Gate B38).
Information
Information Desk – Information desks are available at several locations throughout the airport. Hours: unknown.

Landside: Baggage Claim 6 • Baggage Claim 11 • Baggage Claim 14
Airside: Just beyond security • Near Gate A15 • Near Gate B62 • Near Gate C17 • Near Gate D16.
In addition to dedicated information desks you will see Airport Ambassadors roaming the airports.

Traveler's Aid is a non-profit organization that assists stranded and distressed passengers. Volunteers assist passengers with general airport and destination queries to assisting with situations such as transportation assistance, lost or stolen money, wiring money, emergency housing, etc. Locations: Baggage Claim, adjacent to carousel # 6 • Baggage Claim, adjacent to carousel # 12 • Baggage Claim, adjacent to carousel # 14 • East Mezzanine, Airside, just past security • West Mezzanine, Airside, just past security • Roaming Mobile Guides are available in Concourses A, B, C, C7, D. Hours: 7:00AM – 9:00PM (Mon – Fri) • 8:00AM – 8:00PM (Sat – Sun).
Luggage
Baggage Carts – Need a hand with your luggage? Baggage carts are available throughout the airport. Rates: unknown. The carts can be rented using cash or credit cards. Carts are available free of charge to passengers arriving on international flights in the International Arrivals area.
Luggage Storage & Lockers – Not available.
Mobile Charging
Mobile Charging – Free charging stations can be found throughout the gated areas and in the International Arrivals area. Additional charging stations can be found at the B Gates food court near Gate B73 and in C and D Concourses. Restaurants also allow the use of their outlets if you are eating or drinking at the establishment.
Money
ATMs / Cash Machines – Need cash? ATMs, operated by Capital One, are available. Fees may apply, so be sure to check your bank's fee schedule and your daily withdrawal limit if you are travelling internationally. You may also want to notify your bank of your travel plans. Locations: Landside and Airside.
Banking Services – Capitol One Bank offers full banking services. Location: Landside, near Baggage Carousel 5. Hours: 8:00AM – 6:00PM (Mon – Fri) and 8:00AM – 4:00PM (Sat).
Currency Exchange – ICE Currency Exchange offers multiple locations both landside and airside. Hours: vary by location with most open by 7:00AM and closed by 9:30PM.
Pets
Pet Relief – The airport provides dedicated areas if you are travelling with your pet. Locations: Landside at Door 16 United Airlines counter, Door 1 near AeroMexico counter and Arrivals Level, Baggage Claim, near carousel 1 • Airside at Gate A32 and Gate D1.
Prayer
Chapel – Collect your thoughts in a quiet and peaceful environment at the airport's interfaith chapel. Ordained clergy are available on upon request for private guidance. Location: Concourse A, airside, Gate A32 Hours: Open 24 hours.
Rest & Relaxation
Shopping
Duty Free & Shopping – Duty Free Americas has a number stores at the airport. Locations: Gate A14 • Gate A32 • B63 • Gate C4 • Gate C14 • Gate D1 • Gate D12. Hours: 7:00AM – 10:00PM. In addition, mostly news and gift shops are available to pass the time.
Showers, Salon & Spa
Massages – Location: Airside, Concourse A, A20
Showers – Showers can be found in the Air France-KLM and British Airways Lounges. [ see Airport Lounges above ]
Spa & Salon Services – Manicures, pedicures, facials, massages and more are available at Be Relax. Location: Gate A32 • B Concourse. Hours: 7:00AM – 9:00PM.
Smoking
Smoking – Smoking lounges are located near gates B37, B73, C2 and D30.
Airport Hours
The airport is open 24 hours.
Keep in mind that airline check-in and baggage drop hours vary according to the flight schedule. Check these hours with your airline. If you are in the public area of the terminal (landside) you will not be able to get through to the secure area of the terminal (airside) until the morning. The TSA security screening checkpoint hours vary according to location:
East Checkpoint: 4:00AM – 10:00PM
West Checkpoint: 3:45AM – 10:00PM
Airlines
Washington Dulles airport is served by the following airlines: Aer Lingus • Aeroflot • Air Canada • Air China • Air France • Air India • Alaska Airlines • Alitalia • American Airlines • All Nippon Airways • Austrian Airlines • Avianca • British Airways • Brussels Airlines • Cathay Pacific • Copa Airlines • Delta Air Lines • Egyptair • Emirates • Ethiopian Airlines • Etihad Airways • Frontier Airlines • Icelandair • KLM • Korean Air • Lufthansa • Porter • Qatar Airways • Royal Air Maroc • SAS • Saudia • South African Airlines • Southwest Airlines • Sun Country Airlines • TAP • Turkish Airlines • United Airlines • Virgin Atlantic • Volaris.
Airport Transportation: Getting To/From The Airport
Bus
The Silver Line Express provides bus service between Washington-Dulles Airport and the Wiehle-Reston East Metrorail Station, a stop along the silver line of Washington DC's Metrorail system. Buses run every 15 to 20 minutes from 6:00AM – 10:40PM on weekdays (reduced hours on weekends). At the time of this update, the fare is $5 each way. Both cash and credit card are accepted.
In addition, the airport is served by at least 4 additional bus connections delivering travellers to a variety of destinations. For fares, routes and schedules, visit the Washington Dulles Airport website.
Car Rentals
The following agencies provide on-site car rental service: Advantage • Alamo • Avis • Budget • Dollar • Enterprise • Hertz • National • Thrifty.
Hotel Shuttles
Several area hotels offer free airport shuttle service as a convenience for their guests. Contact your hotel of choice for shuttle service availability and information. Here are a few hotels that offer airport shuttle: Best Western Dulles Airport Inn   •   Comfort Inn & Suites Airport Dulles-Gateway   •   Country Inn & Suites By Carlson  •   Embassy Suites by Hilton Dulles Airport   •   Fairfield Inn & Suites Dulles Airport   •   Hilton Washington Dulles Airport   •   Homewood Suites Dulles International Airport   •   Hyatt Dulles at Dulles International Airport   •   Hyatt House Sterling/Dulles Airport-North   •   Hyatt Place Herndon / Dulles Airport – East   •   Sheraton Herndon Dulles Airport Hotel   •   Staybridge Suites Dulles   •   The Westin Washington Dulles Airport   •   TownePlace Suites Washington Dulles Airport   •   Washington Dulles Airport Marriott
Inter-Terminal Train
Aerotrain – Automated trains move passengers between the terminal and the midfield (A, B, and C) gates for domestic and international departing flights and domestic arriving flights. The travel time between stations is less than 2 minutes.
Shared-ride Van
SuperShuttle and Supreme Airport Shuttle offer 24-hour shared transfer service from the airport to your destination of choice. No prior reservation required. The shuttles can be found down the ramps from Arrivals Doors 2 or 7 at the Dulles Airport Ground Transportation Center.
Taxi
Washington Flyer Taxis provide 24 hour service exclusively between the airport and the DC metropolitan area. Reservations are not required for service from the airport, but are highly recommended for service to the airport. Cash, credit cards and airline-issued vouchers are accepted as payment.
Train
At the time of this update, construction is underway for an elevated rail line from Wiehle-Reston East metro station to Dulles Airport. This new rail line will extend Metrorail Silver Line service all the way to the airport. Construction on the Metrorail extension is expected to be completed by Summer 2020.
Last updated: 2021-10-20
This guide is for informational purposes only to assist with your planning.  All information, including rates and hours, are subject to change at any time without notice.   The information in this airport guide is based on information collected and/or received from the airports, lounges, hotels, transportation providers and their web sites. We are not representatives of any of the above mentioned service providers. To report errors or to add/update any items mentioned in the guide: update the airport guide or  write a review.