If you have found yourself with a layover at Washington Dulles Airport, you may now be wondering what to do with your time….besides sleep! Like layovers at most US airports, one must keep expectations low. Amenities and services aren't too impressive considering the volume of domestic and international flights connecting here. There is probably enough to do for a short layover if you don't mind spending some money. To help you plan your visit, here are seven things to do on a layover at Dulles Airport:
Good to know: IAD has a main terminal divided into Concourses A, B, C, and D. Getting around is easy enough; just plan on a lot of walking and occasionally hopping on the automated people mover.
1. Eat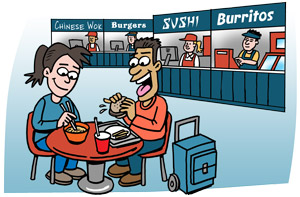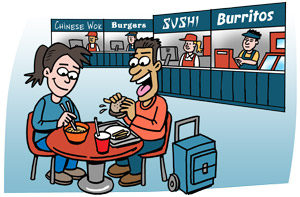 Though Washington, DC, offers a wide array of cuisine, the airport could be much better. You'll find several Starbucks and Dunkin Donuts to fuel your layover, well-known chains like Five Guys for burgers and Potbelly for sandwiches and subs. For a leisurely meal, head to sit-down restaurants like the Firkin & Fox, American Tap Room, Bistro Atelier, and a couple of restaurants from Wolfgang Puck. You will find several options which stay open 24 hours!
2. Lounge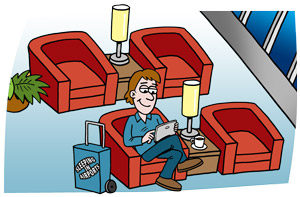 If you're willing to pay a flat fee, an airport lounge may be just the place to spend your layover. A relaxing environment with included food and drinks plus WiFi is worth the price for many travellers – and you don't have to fly First or Business Class to take advantage. A few lounges here offer access to any traveller, regardless of airline or class flown. Pre-book a pass online or use a lounge membership program to gain entry—details and locations in our Washington Dulles Airport Guide.
3. Shop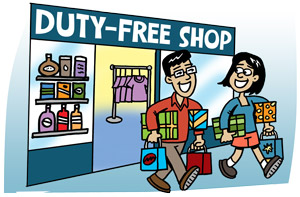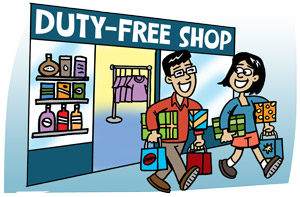 Window shopping is a great way to pass the time between flights. The IAD is pretty spread out, so you can get your steps in, but the shopping is pretty tame for an airport of this size. Plenty of newsstands/bookstores and stores sell technology and travel goods to cover anything you forgot to pack. Souvenir store AMERICA! (of course) has several shops, and there's a duty-free shop in each terminal. To really window shop – or maybe splurge on something special – head to Concourse B.
4. Spa
Give yourself some time to relax before your next flight. The Be Relax Spa in Concourse B offers salon and massage services to pamper yourself – choose from manicures, pedicures, facials, and massages.
5. Explore the Washington DC area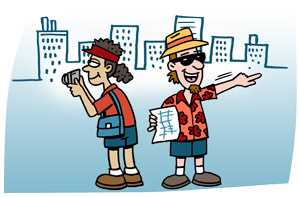 If you are travelling light, a long layover at Washington Dulles is a perfect opportunity to explore Washington, DC. And it can be if you play it right. The airport is in Chantilly, Virginia, approximately 30 miles west of the city. Notoriously bad traffic and complicated public transit mean getting into DC can be challenging. But, if you've got the time and commitment, we've got some suggestions. You'll want a layover of at least 7 hours.
The easiest way to reach the heart of DC is to hop on the Silver Line Express bus to the Wiehle-Reston metro station, and from there, you can ride the Silver Line metro into the city. Buses also connect but can take longer. Parting with some cash will get you a taxi into the city in about 35 minutes, assuming no traffic, but it can quickly get closer to an hour with traffic.
Long Layover?
Once in town, you're treated to world-class museums and attractions, and plenty are free. Head to the National Mall for free entry to the numerous Smithsonian museums, including the Air & Space Museum and the National Gallery of Art. Ride to the top of the Washington Monument and stroll along the Tidal Basin to pass other famous monuments, including the Jefferson Memorial and the WW2 Memorial. If you'd rather get a feel for the city, stroll around iconic neighbourhoods like Georgetown, Adams Morgan, or Dupont Circle.
Short Layover?
If your layover is shorter or you don't want to wander too far from the airport, head to the Steven F. Udvar-Hazy Center, an outpost of the National Air & Space Museum just 5 miles from the airport. Reston Town Center and Dulles Town Center are a few entertainment options. Reston is closer, with plenty of shops, restaurants, and a movie theatre. The Dulles Town Center is about 8 miles from the airport and offers about three times as many shops!
Note that there is no luggage storage inside the airport, so plan and check your bags. Wherever you head, remember to return in plenty of time to get through Security and make your next flight!
6. Get Connected
Stay connected to friends and family, update your social media accounts or surf the internet using the airport's free WiFi. You must enter an email address and a postal/zip code to access the network; international travellers can type "YES" into the postal/zip code field.
7. Sleep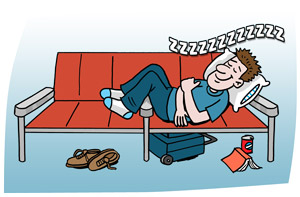 With so many flights coming and going, you shouldn't have an issue catching up on sleep here; just be prepared with an extra layer and earplugs or noise-cancelling headphones to handle the chilly, noisy surroundings. If you're inside of Security, Concourse C/D has a lot of seating with no armrests – plus a lot of unmanned gates, perfect for hiding out for a long nap. If you're pre-Security, you should expect most seats to have armrests. Also, keep in mind that Security closes overnight, from approximately 10:00 p.m. until 3:45 a.m. If you're not inside Security before then, you'll have to wait until morning to get through.
Would you rather splurge on a more comfortable sleep? The Sleepbox Lounge offers 16 rooms (Airside), and a few hotels are located within a 15-minute drive of the airport. Most provide free shuttle service, and some rent day rooms. Take a look at our Washington Dulles Airport Guide for locations and details.
These are just a few things to do on a layover at Washington Dulles Airport. Visit our Washington Dulles Airport Guide for more information about the services and facilities available, such as food, WiFi, mobile charging, luggage storage, nearby airport hotels, and much more.