A long layover is never fun, but if you're stuck at Guayaquil Airport, you're getting the best airport in South America! This modern, brightly-lit, well-organized airport is popular for its free Wi-Fi, affordable eateries, and welcoming staff. Enjoy your time with these 7 things to do on a layover at Guayaquil Airport:
1. Enjoy a meal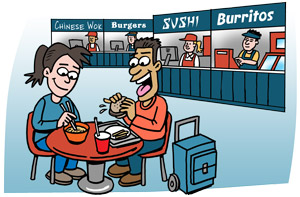 Start your layover with a meal. There aren't too many dining options, and most tend towards food court kiosks, casual dining, and cafes, but you should be able to find something that hits the spot. International chains like KFC, Cinnabon, and McDonald's have outposts here. Many eateries stay open until 9:00PM or later, and several are open 24-hours.
2. Head to a lounge
Sometimes an airport lounge is just what you need during a long layover: a one-stop-shop offering food and drinks, WiFi, news and TVs, and comfortable seating for working or relaxing, all for a single entry price. You don't even have to be Business or First Class flyer to get in to a few of the airport lounges here – simply pre-book a visit or use your lounge membership program to gain entry. Locations are available in our Guayaquil Airport Guide.

3. Shop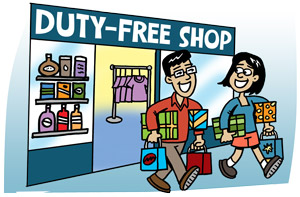 The small range of shops here means you can find what you need in no time — or simply browse them all to kill time. Craft stores like Hecho en Ecuador and Britt Shop sell locally-sourced crafts, coffee, and chocolate, and the Ecuadorian craving for sweets is evident in its many candy shops (see how many samples you can try!). As usual, you'll also find a pharmacy, bookstore, technology shops, and a Duty Free area.
4. Get a massage
Relax or work out those neck kinks. Fly Massage in the International Terminal offers a variety of massage services.
5. Go sightseeing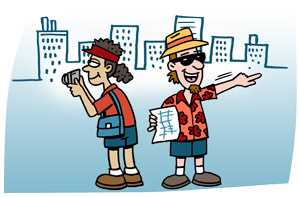 Can't stand another minute inside the airport? If you've got at least six hours till that next flight, head out for some city explorations.
With limited public transit, your best bet is to hire an official taxi outside the Arrivals Hall. The airport is located just a few miles from the city center, so it's a quick ride. The Arrivals Hall offers luggage storage, if you want to store any bags while you're out and about.
In the city center, see impressive architecture at the San Francisco Church, then head to the Iguana Park for an up-close peek at the local wildlife who are used to human visitors. The hilltop town of Cerro Santa Ana is colorful and offers great city views, if you can make it up the 444 stairs to the lighthouse! Stroll along the Malecon for restaurants, shops, and a Ferris Wheel ride all along the Rio Guayas.
However you spend your free time, don't miss your next flight! Leave plenty of time to get back to the airport and clear through Security.
6. WiFi
Free WiFi is available, so you can catch up on work or chatting with friends during your layover.
7. Sleep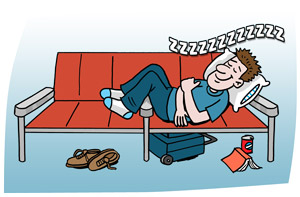 You shouldn't have any problem catching up on Z's here, as the airport staff are pretty tolerant of nappers and travellers camping out overnight. The modern airport has plenty of benches, some without armrests, and some travellers report particularly comfortable couches in the Arrivals Hall. The spaces are generally quiet, safe, and clean, though a bit chilly, so bring an extra layer. If a hotel is more your style, several are within a few minutes' drive of the airport, and some offer shuttle service. Locations and details available on our Guayaquil Airport Guide.
These are just a few things to do on a layover at Guayaquil Airport. Visit our Guayaquil Airport Guide for more information about more services and facilities available, such as food, WiFi, mobile charging, luggage storage, nearby airport hotels, and much more.