Whether you planned for your long layover or a flight delay has you stuck, there comes a point when you don't know how to keep yourself entertained any longer. Luckily, the small but well-appointed Halifax Airport offers a few ways to stay busy. Enjoy your time here with these ten things to do on a layover at Halifax Airport.
1. Get a bite to eat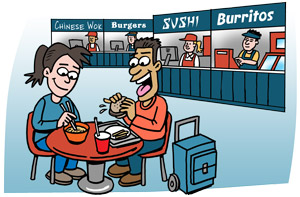 Start your layover with a meal – you don't want to get hungry! The airport has an excellent range of cafes and restaurants, located both pre- and inside Security. For a leisurely vibe, visit sit-down spots like Maritime Ale House, Vino Volo, and Spirit of the Maritimes. Or, turn your layover into a pub crawl and try out Nova Scotia beers and wines. Popular chains include Subway, Tim Hortons, Starbucks, and A&W. For late-night dining, a Tim Hortons is open 24-hours.
2. Relax in the lounge
Are you looking for a bit more comfortable away from the noisy gates? If you are flying on Air Canada, you can pay to use the Maple Leaf Lounge, which offers food and drink, WiFi, TV, and a quiet, calm vibe perfect for working or relaxing. See our Halifax Airport Guide for more information.
3. Shop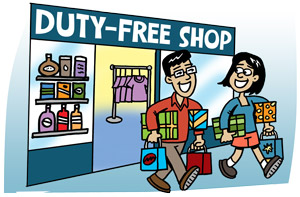 The number of shops here won't wow experienced shoppers, but casual travellers will find everything they need, from bookstores, souvenir and convenience shops, and last-minute technology needs. Pick up fresh seafood at Clearwater Seafood or browse for locally-made crafts and booze at the Nova Scotia Store and Liquid Assets.
4. Get a massage
A relaxing back massage might not speed up your layover, but it may help you enjoy it more! Head to Classic Backrub inside Security near Gate 20.
5. Take in some art and music
The airport schedules musicians for live performances and rotates the art on display often.
6. Airport tours
Kids and adults both appreciate this behind-the-scenes airport tour, which might include visiting the ticketing areas, Security screenings, Customs, and even a visit with the drug-sniffing dog! Tours are available on Wednesdays between September and June, lasting 1.5 – 3 hours.
7. Explore aviation history
If you're an air travel buff, take a 10-minute taxi ride to the nearby Atlantic Canada Aviation Museum. Make sure you've got at least a couple of hours before your next flight. Open daily (seasonally); adults are $8, and children are free.
8. Go sightseeing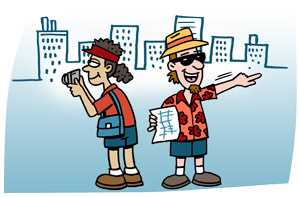 It's one thing to kill a couple of hours during a layover, but when you're looking at a day-long layover, leaving the airport for some fresh air and exploring might be the best way to spend the time. Because the airport is a decent distance from the city center, we only recommend this option if your layover is at least 8 hours.
Getting there
First up, getting into the city. The MetroX bus route 320 is cheap ($3.50 one-way) and departs every 30-60 minutes, depending on the time of day. This option takes about 1 hour to reach the city center. Or, get there in about 30 minutes with a taxi or airport shuttle, which offers service starting at $22 one-way. Store bags you don't want to tote along in the Security Office in the Arrivals Hall.
Things to see
Once downtown, get some culture at the Art Gallery of Nova Scotia or the Maritime Museum of the Atlantic. Stroll through the Halifax Public Gardens. The Halifax Citadel is an important historic site with great city views. Enjoy a meal or pop into the local bars and pubs that line the Halifax Waterfront, where ferries come and go. Feeling lucky? Gamble at Casino Nova Scotia. Whatever you do with your time away from the airport, don't forget about that next flight! Leave plenty of time to get back and process through Security.
9. WiFi
WiFi is free and unlimited, so you can catch up with friends or work during your layover.
10. Sleep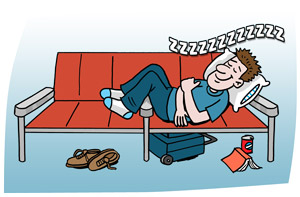 You shouldn't have a problem spending the night here, but you'll likely be moved to the pre-security area while inside Security closes for the night. The best spot for some shuteye is the observation deck on Floor 2 above the main hall, known for its quiet, dimly-lit environment. If you are inside Security, there's a decent amount of seating, but you'll have to keep your eyes peeled for the rare 4-seater armrest-free leather benches. Feel like splurging for a hotel? ALT Hotel is connected to the terminal by a walkway. Otherwise, a few hotels are within a 5-minute drive, offering free shuttle service. Our Halifax Airport Guide lists locations and details.
These are just a few things to do on a layover at Halifax Airport. Visit our Halifax Airport Guide for more information about the services and facilities available, such as food, WiFi, mobile charging, luggage storage, nearby airport hotels, and much more.