A long wait at the sprawling Moscow Sheremetyevo Airport doesn't have to be a slow, boring, or frustrating experience. Instead, make the most of your time here with these 8 things to do on a layover at Moscow Sheremetyevo Airport.
1. Grab a bite to eat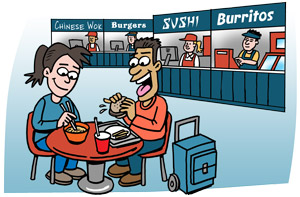 Start your layover with a meal. You'll find the most variety in Terminals D, E, and F, with cafes, bars, and restaurants serving Russian fare, plus Irish, Italian, Japanese, German, Uzbek, and American options. For a good beer or two, visit the Guinness Irish Pub, Spaten, and Schoffer. International chains include Starbucks, McDonald's, Costa Coffee, and Subway. A couple eateries are open 24-hours.
2. Visit a lounge
Always wanted to check out an airport lounge? A layover of a few hours is the perfect time to do it – even if you're not First or Business Class flyer. More than a dozen lounges here offer are open to any traveller willing to pay, no matter your airline or flight class. Simply pre-book a pass online or use your lounge membership program to access food, drinks, unlimited WiFi, and a comfortable, relaxing environment. Several lounges also offer shower facilities. See our Moscow Sheremetyevo Airport Guide for locations and details.

3. Shop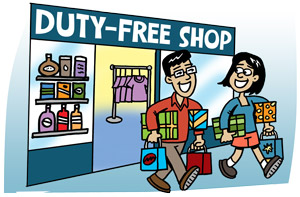 Get your steps in with some window shopping or give your credit card a workout instead. There are dozens of shops here, mostly in the South Terminals of D, E, and F. You'll find several versions of the typical airport shops, like convenience and technology shops, stores selling books and magazines, jewelry and watches, and Russian souvenirs, plus a few international boutiques and Duty Free areas.
4. Freshen up with a shower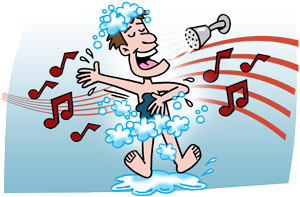 A shower is always a welcome treat after a long flight!
Shower facilities are located pre-Security in Terminal D, Floor 2, near the Baikal Lounge. A fee of 400 rubles includes 30 minutes of time, plus towels and toiletries. Open daily, 9:00AM – 9:00PM. Several pay-to-use lounges also have shower facilities.
5. View the art
Several permanent and rotating art exhibits are on display – see how many you can spot during your layover.
6. Go sightseeing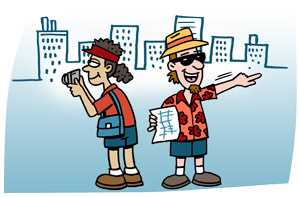 Travellers with a particularly long layover may be tempted to leave the airport altogether. If you've got at least 8 hours till that next flight, and you have a Visa to enter Russia, public transit makes this a viable and fun option.
Opt for the Aeroexpress, a high-speed train that connects the airport with Belorussky Station in the city center in just 35 minutes. From Belorussky Station, you can switch to the Moscow Metro line or explore on foot. (Taxis and buses are also available, depending on your plans, but these aren't much speedier than the Aeroexpress.)
Visit Red Square, the iconic plaza situated between the Kremlin, the Presidential residence, and St. Basil's Cathedral. View art at the State Tretyakov Gallery or the Art Gallery of Europe and America. For a quirkier bit of culture, head to the Museum of Soviet Arcade Machines. For some fresh air, head to Gorky Park where you can bike or skate with locals, or the Tsarytsino Open-Air Museum of History and Architecture, though you'll want to hire a taxi for this location.
Don't forget your next flight! Leave plenty of time to get back to the airport and clear Security.
7. WiFi
Travellers with a Russian mobile number can access free airport WiFi. Those without a Russian number will have to resort to WiFi provided in cafes and restaurants.
8. Sleep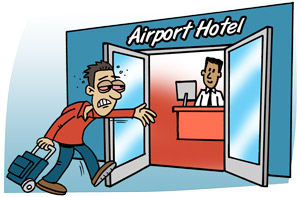 Normally, catching up on sleep isn't too problematic here, but thanks to the 2018 World Cup, the airport imposed fees of up to 500 rubles for travellers who use the airport for accommodations (aka sleeping). How long these rules will stay in place is unclear, but if you want to risk it here's what to know: seats are plentiful (some without armrests) insides Terminals D, E, and F. Most flooring is tiled, but the intersection of Terminals D and E is carpeted. The airport is cold and bright, so eyeshades and earplugs come in handy. If you'd rather avoid any airport penalties, you have a few hotel options. Inside Terminal E's transit area, the V Express offers private, compact rooms equipped with bed, bathroom, TV, and WiFi; available 24-hours with a 4-hour minimum. GoSleep Capsules in Terminal E also offers 12 sleep pods, rent by the hour. A Radisson Blu Hotel is located on airport premises, and a couple more hotels are located within a 5-minute walk, with shuttles and day rooms available. See our Moscow Sheremetyevo Airport Guide for locations.
These are just a few things to do on a layover at Moscow Sheremetyevo Airport. Visit our Moscow Sheremetyevo Airport Guide for more information about more services and facilities available, such as food, WiFi, mobile charging, luggage storage, nearby airport hotels, and much more.