Layovers don't have to be boring or frustrating, especially at Mumbai Airport, which was recently voted one of the best in Asia thanks to its modern architecture and beautiful design, countless shops and eateries, and a relaxing vibe. Enjoy your time here with these eight things to do on a layover at Mumbai Airport.
1. Enjoy the food scene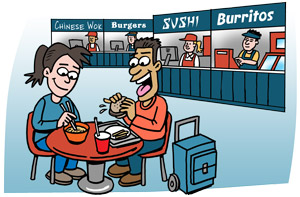 India is a foodie culture; lucky for you, the airport is no exception! You'll have plenty of quick eats or leisurely dining options regardless of location. Choose from traditional Indian food like veggie meals, kebabs, curries, desserts, and chai, or opt for Middle Eastern, European, and Asian instead. Sample Indian and international brews at the Beer Cafe. Western chains include Starbucks, Subway, Baker Street, and Burger King. One Cafe stays open 24 hours.
2. Hang out in a lounge
Airport lounges are an excellent way to pass the time, especially if you want to relax or work in a quiet environment. For a single fee, you get food and drinks, WiFi, and TV and news in a comfortable lounge. Any traveller, no matter airline or flight class, can pay to enter several airport lounges here. The Aviserv Lounge also offers private sleep pods and shower facilities. Pre-book online or use your lounge membership program to gain entry. See our Mumbai Airport Guide for details and locations.
3. Shop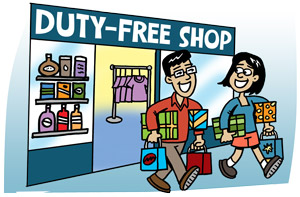 Get your shop on here! Whether you're a big spender looking for the perfect souvenir or want to pass the time and get your steps in, the dozens of shops have you covered. You'll find all the airport staples, like convenience stores, newsstands, pharmacies, and shops selling technology, sunglasses and jewelry, and local specialties. Duty-free areas and many boutiques, particularly in Terminal 2, round out the experience.
4. Spa
Treat yourself to a manicure, pedicure, facial, or massage at the Heaven on Earth Express Spa (two locations) or the O2 Spa.
5. Visit the museum
Terminal 2's Jaya HE GVK New Museum offers cultural and artwork exhibits worth visiting.
6. Go sightseeing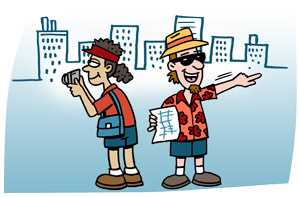 Are you feeling adventurous? Is airport patience dwindling? Need some fresh air? If you've got a long layover of at least 6 hours, head into Mumbai to explore!
The airport is located a quick ride from the city center. Several bus routes connect to the East and West railway stations. Trains are available, but you'll have to walk or take a taxi to the nearby stations. Or, hire a cheap, metered taxi to take you into the city center.
In Mumbai, start at the Gateway of India, built in 1911 to welcome England's King and Queen. Next, stroll over to the CSMVS (short for Chhatrapati Shivaji Maharaj Vastu Sangrahalaya), a museum that provides an excellent overview of Indian art and history. Swing by Bombay University to snap a picture of the Rajabai Clock Tower, a prime example of Bombay Gothic architecture. The Victoria Terminus train station (aka Chhatrapati Shivaji Terminus) is a UNESCO World Heritage Site known for its architecture, stained glass, and thousands of daily commuters. Sample the delicious, cheap street food that Mumbai is known for.
Leave plenty of time to return to the airport, clear Security, and make that next flight!
7. WiFi
Free WiFi is available. You'll need an Indian mobile number to receive an access code, or you can visit an Information Desk to get a WiFi voucher.
8. Sleep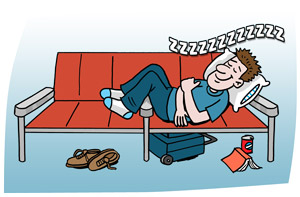 Catch up on your Z's during your layover. Pre-security areas don't have much seating, but travellers report safe conditions. Inside Terminal 2, comfortable chairs, benches, and even bed-like couches are located near Gates 85 and 86. Travellers who prefer a more traditional sleeping experience can check into the transit hotel inside Terminal 2 or rent a private sleeping pod hourly inside the Aviserv Lounge, located pre-security. Otherwise, several hotels are located within a few minutes of the airport, and airport transfers are available. See our Mumbai Airport Guide for details.
These are just a few things to do on a layover at Mumbai Airport. Visit our Mumbai Airport Guide for more information about the services and facilities available, such as food, WiFi, mobile charging, luggage storage, nearby airport hotels, and much more.