A long layover in an unfamiliar airport can be a real drag. Lucky for you, New Delhi is voted one of the best in Asia, thanks in large part to its brand new Terminal 3. We put together this guide of 9 things to do on a layover at New Delhi Airport so you can get the most out of your time:
1. Enjoy a meal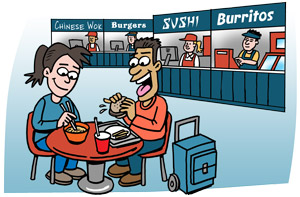 Choose from dozens of restaurants, cafes, and bars for a meal to start your layover.
The most variety is located in the newly-built Terminal 3, but you won't hurt for options in the other 2 terminals. Choose from a range of Indian cuisine, plus Chinese, French, and Italian options. Sample traditional chai at one of several Indian tea cafes, or opt for Western chains like Starbucks, Subway, McDonald's, KFC, and more.
2. Relax in a lounge
Wishing for a one-stop shop that offers food, drink, WiFi, and a quiet environment?
Look no further than an airport lounge! Many lounges here offer access to any traveller, no matter your airline or flight class – which means you can fly Economy Class and pay to enter. Simply pre-book your visit online or use your lounge membership program – some locations even offer private day rooms and showers. Locations and details are available in our New Delhi Airport Guide.

3. Go shopping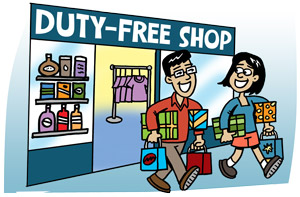 Whether you browse the shops or spend big, you won't run out of places to check out.
Convenience stores, Duty Free areas, and shops offering technology, travel needs, souvenirs, and more are spread across all three terminals, though you'll find the most splurge-worthy boutiques in Terminal 3.
4. Freshen up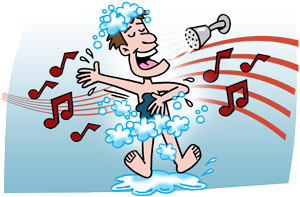 A shower after a long flight is always a welcome treat!
Terminal 3's Arrivals area has shower facilities available 24-hours, though prices are unknown. Look for the WH Smith and find signs for "Shower and Massage Lounge". Additional showers are located in some pay-to-enter airport lounges.
5. Get pampered at a spa
Relax with a spa or massage treatment from Heaven on Earth Spa Express in Terminal 1D and Terminal 3's O2 Spa.
6. Pretend to be a pilot
The Cockpit flight simulator offers the chance to pilot your own Boeing 737! Sign up for a 15- or 30-minute option and see what the cockpit looks and feels like for real pilots. The Cockpit is located in Terminal 3's International Departure area, and recommends making a reservation.
7. Go sightseeing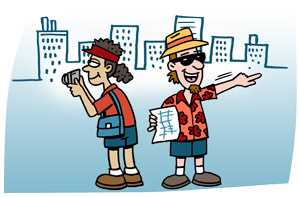 Thanks to the airport's in-city location, it's easy to leave the airport behind in favor of exploring New Delhi. We recommend at least 7 hours between flights for this option, which will leave you plenty of time to see a sight or two and high-tail it back to the airport.
Buses and trains aplenty connect the airport with Old Delhi in the city centre. Buses are cheap and a cultural experiences, but the Delhi Metro Airport Line gets you downtown a little faster. Taxis might save a little time. Once you're in the city, try out a tuk-tuk for a traffic experience like no other – not for the faint-hearted!
Start at the Qutub Minar, a UNESCO World Heritage Site known for its well-preserved architecture, including the main minaret, which was built in the late 12th century. Swing by the India Gate, dedicated to the Indians who fought and died in World War I, then explore the Red Fort, a castle for Mughal emperors that dates to the 1600s. Head to Connaught Place for shops and restaurants.
Make sure you leave plenty of time to navigate back to the airport and process through Security for your next flight.
8. WiFi
Hop online thanks to free, unlimited WiFi.
9. Sleep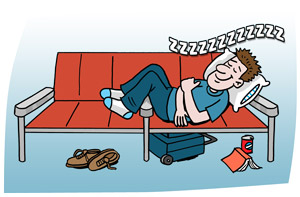 Thanks to round-the-clock departures, travellers should have little issue napping or camping out overnight. Terminal 3 inside Security is the most comfortable spot, with couches in the main shopping area, plenty of armrest-free seating, and carpeting for stretching out (though some travellers have reported being asked to stay off the carpet). The airport is fairly noisy and brightly-lit, so bring along earplugs and eyeshades. Travellers who want to pay for a more traditional sleep experience can head to the Holiday Inn Express or in-transit sleeping pods, both in Terminal 3, or one of three Plaza Premium Lounges that rent private day rooms. A few more hotels are located at or near the airport. See our New Delhi Airport Guide for details and locations.
These are just a few things to do on a layover at New Delhi Airport. Visit our New Delhi Airport Guide for more information about more services and facilities available, such as food, WiFi, mobile charging, luggage storage, nearby airport hotels, and much more.