A long layover doesn't have to be a boring or frustrating ordeal or simply a pit stop before your next flight. Travel smarter with these 8 things to do on a layover at Newark Airport.
1. Grab a meal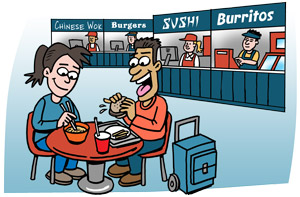 No matter which terminal you're in, there are plenty of eating options. You'll find a range of cafes, to-go markets and kiosks, and sit-down restaurants. In Terminal A, you're limited to mostly speedy options, but Phillip's serves up solid seafood. In Terminal B, foodies like Sora Sushi and the Belgian Beer Cafe. Terminal C offers the most diversity, including Wabi Sabi, Caps Beer Garden, and Nonna's Meatball Kitchen. For a true New Jersey experience, visit the Garden State Diner. Overnight travellers can visit the 24-hour Subway or Dunkin Donuts for mid-night snacks.
2. Lounge
No matter your airline or flight class, you can pay to enter the Art & Lounge for unlimited food, drinks, and WiFi. Pre-book a visit online or use a lounge membership program. A few other lounges are open only to lounge program members and to travellers of Air Canada, American, Delta, or United. See our Newark Airport Guide for details.

3. Shop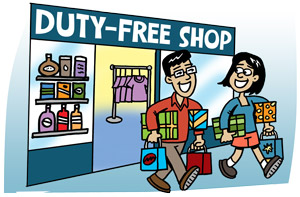 Go window shopping or give your credit card some exercise at the various shops. While the quantity of shops is pretty high, the quality isn't anything special. You'll find the usual airport staples, like convenience stores, booksellers, Duty Free, and shops offering travel goods, technology, and souvenirs. Head to terminal C to browse the boutiques. The Metropolitan Museum of Art's shop is a nice break from typical airport stores.
4. Relax at the spa
D_parture Spa has two locations in Terminal C, so you can relax with a chair massage or get your nails done with a manicure or pedicure.
5. Sightseeing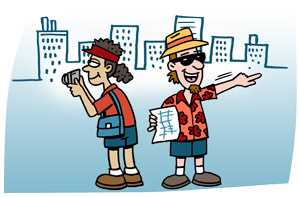 Adventurous travellers with long layovers can opt to leave the airport altogether, thanks to the array of public transit options linking nearby Newark and New York City.
Head into Newark if you've got a shorter layover, around 6 hours. Taxis can have you downtown in under 20 minutes, and the bus route 62 only takes about 25 minutes. Explore art and science at the Newark Museum, the largest museum in New Jersey, which has a Planetarium and a lovely outdoor sculpture garden. Get some fresh air at Branch Brook Park, or visit Ironbound, the Portuguese neighborhood known for its great restaurants.
Of course, New York City is the bigger draw, and for obvious reasons. But, a taxi into nearby Manhattan will take about 40 minutes, depending on traffic, and the Newark Airport Express bus into Midtown Manhattan takes about 1 hour. To head into the Big Apple, you'll want an layover of at least 8 hours. In the city, pick just one or two things to explore: the art scene at the Museum of Modern Art (MoMA), the Met, or the Guggenheim. Stroll through Central Park and imagine who lives in the towering penthouses. Visit the Empire State Building for great views or stroll along the High Line, a landscaped walkway on a former elevated trainline. Depending on your time, head downtown to tour the Freedom Tower and get a bite to eat in Chinatown.
Whatever adventures you seek, leave plenty of time for traffic and airport Security lines before your next flight.
6. WiFi
WiFi is now free and unlimited, so you can catch up with your social media accounts, text your friends and stream the latest episodes of your favourite shows.
7. Sleep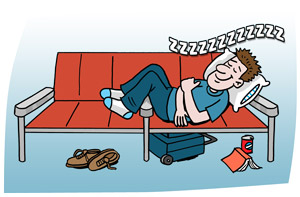 Catch up on sleep during your layover. Daytime nappers will have to cope with seats with armrests, though some armrest-free benches can be found inside Security in Terminal B. The Secure area closes for the night, so overnight campers will be relocated to pre-Security areas, where your options include sleeping on the floor or creating a bridge across rows of seats. A designated Quiet Room is located pre-Security in Terminal B, near the British Airways ticketing counter. Wherever you are, the airport can be chilly, so bring along an extra layer. Note that some travellers have reported instances of homeless people or non-travellers milling about. If you prefer a hotel, a Marriott is located on airport premises, and several others are located within a 5-minute drive – and they all run airport shuttles. Locations and details available in our Newark Airport Guide.
These are just a few things to do on a layover at Newark Airport. Visit our Newark Airport Guide for more information about more services and facilities available, such as food, WiFi, mobile charging, luggage storage, nearby airport hotels, and much more.