Long layovers often bring up feelings of boredom, frustration, or just sheer insanity. You can skip all that and make the most of your time with these eight things to do on a layover at Orlando Airport.
1. Enjoy a meal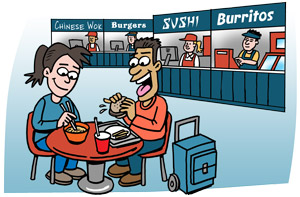 With over 50 eateries at the airport, there's something for just about anyone. Look for to-go options like Burger King, Chick-fil-A, Chipotle, Dunkin Donuts, delis, bakeries, and casual cafes. For a more leisurely sit-down, you'll find chains like Macaroni Grill, Ruby Tuesday, and Outback Steakhouse. The Hyatt's restaurant Hemispheres offers excellent runway views. Cask & Larder provides a farm-to-table experience, a rarity for an airport! Are you staying overnight? Dunkin' Express, McDonald's and Starbucks are open 24 hours in the main terminal.
2. Hang out in a lounge
Two lounges here are open to any traveller, no matter your airline or flight class. Economy class travellers can pay to enter and take advantage of food, drinks, WiFi, shower facilities and a designated rest area, all in a comfortable setting. You can pre-book your visit online or use a lounge membership program to gain entry. Details and locations are listed in our Orlando Airport Guide.
3. Go shopping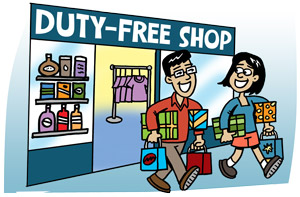 With over 60 shops, you can kill significant time window shopping or do some severe damage to your credit card. You'll find all the airport staples like convenience shops, Duty-Free areas, and stores selling books, technology, perfumes, and sunglasses. A few trendy boutique brands are here, but in general, the airport shops are more reasonably priced. In a nod to the local area, Universal, Seaworld, Disney, and NASA's Johnson Space Center have shops here.
4. Get pampered
Treat yourself to some pampering! Terminal Gateway Spa and XpresSpa offer salon services like manicures, pedicures, facials, and various massage options.
5. Take in some art
The airport offers a range of permanent and rotating art exhibits, so see how many you can spot during your layover.
6. Go sightseeing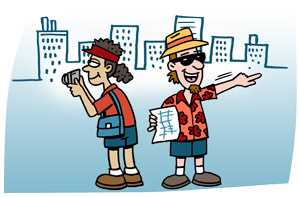 If you've reached the end of your airport patience, it might be time to get some fresh air. With a layover of at least 7 hours, you can explore downtown Orlando. More extended layovers may make a visit to a nearby theme park possible, but you'll want to plan, as tickets often sell out in advance – or you'll have to wait in line, which defeats the purpose altogether.
To head downtown, hop on the Lynx public bus route 11, offering service from Terminal A to downtown for $2 one-way. The ride takes about 50 minutes. Opting for a taxi will cost you money, but will cut the time to downtown in half.
Once downtown, stroll through the Harry P. Leu Garden. Beat the heat with a visit to the Orlando Museum of Art, which predates Mickey Mouse, or swing by the interactive Orlando Science Center. Wander around Lake Eola, then visit the cool, quiet cafes of the Thornton Park neighbourhood. For dining and shops, Church Street is the place to be.
For something closer to the airport, a nearby bowling alley is a good option and perfect for shorter layovers of 4 or 5 hours. Take a taxi to Three Points Bowling, a 10-minute ride from the airport.
However you choose to spend your layover, leave plenty of time to get back to the airport and process through Security for that next flight.
7. WiFi
Get online thanks to free, unlimited WiFi.
8. Sleep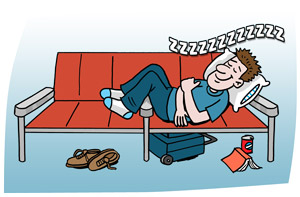 Catch up on some sleep on your layover. If you're in the pre-security area, expect hard benches, armchairs and smaller couches. Some reviewers report that the Departures level is colder than the Car Rental level. Inside Security, there are wooden benches and padded armchairs. It is possible to stay overnight inside Security. Still, you'll have to process through before Security checkpoints close for the night – otherwise, you won't be able to get through until early morning. No matter the time of day, the airport is usually noisy, so bring earplugs. If a hotel is more your style, a Hyatt Regency is inside the airport, with day rooms available. Several hotels are within a 5-minute drive of the airport, with free shuttle pick-up and drop-off. See our Orlando Airport Guide for details.
These are just a few things to do on a layover at Orlando Airport. Visit our Orlando Airport Guide for more information about the services and facilities available, such as food, WiFi, mobile charging, luggage storage, nearby airport hotels, and much more.