Flying through Osaka's Kansai Airport? A layover here doesn't have to be boring or frustrating! In fact, travellers often vote this airport one of the best in Asia for its food and shopping scene, amenities, and efficient design. Enjoy your time here thanks to these 8 things to do on a layover at Osaka Kansai Airport:
1. Enjoy the food scene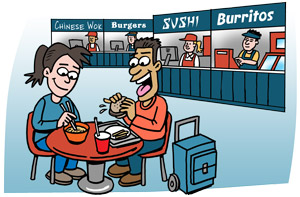 Both picky and adventurous eaters will find something to like here. More than 50 dining options offer a range of cuisine from traditional and modern Japanese and sushi to Chinese, Italian, French, and Western chains, including Starbucks, Subway, Burger King, and McDonald's. To sample local and international drinks, head to Yebisu Bar for beer or the World Wine Bar.
2. Chill in a lounge
Airport lounges are no longer the exclusive enclave of First and Business Class flyers. In fact, a couples lounges here cater to all travellers, regardless of your flight class or airline. Simply pay an all-inclusive fee to gain access to unlimited food, drinks, solid WiFi, and comfort and quiet. Once lounge even offers shower facilities! Pay at the door or use your lounge membership program to gain entry. See our Osaka Kansai Airport Guide for details.

3. Browse the shops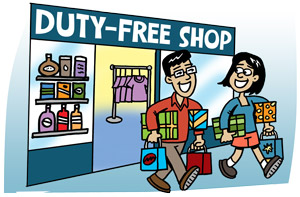 If the number of eateries surprised you, then you'll be really impressed by the 100+ shopping options. Kill time by window shopping, get your steps in, or give your credit card some exercise by splurging at some great international boutiques. You'll find all the airport staples, like countless Duty Free areas, convenience shops, and souvenir stores. For something handmade, head to Kyoto Craft Mart or Kyoto Tachikichi. The One Village, One Product Market specializes in locally-made from developing countries, particularly in Asia and Africa.
4. Freshen up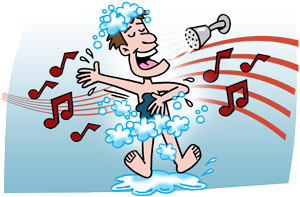 A shower after a long flight is always a welcome treat!
Coin operated showers can be found in these locations: Terminal 1, International Gate Center, North (Hours: 24 hours) • Aeroplaza, 2F (Hours: 6:00PM – 9:00AM). Shampoo, Conditioner, and body soap are provided, though you'll need to supply your own towel. Rates: 500 – 600 yen/ 15 minutes.
5. Get a massage
Terminal 1's Relaxation Forest and Raffine KIX both offer express massage and facial services.
6. Go sightseeing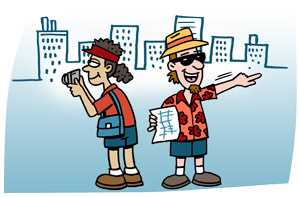 Rather spend your layover out and about in a new city? Public transit makes it easy to get into Osaka for some exploring, but the airport's distance means it takes some time to get there and back – that's why we only recommend this option for travellers with a layover of at least 8 hours.
The train is your best bet, with frequent departures and no traffic to contend with. Both JR West and Kansai Electric run trains from the airport to the Osaka central train station, which takes 60-90 minutes depending on your route. Many bus routes also connect both airport terminals with the city center, and you'll want to budget over an hour. Taxis are available, though they're pricier and they won't save you much time, if any. Both baggage storage and self-service lockers are available for storing any bags you don't want to drag along.
Once you're in town, head to Osaka Castle Park. Stroll the beautiful park (especially vibrant during early spring's cherry blossom season), then head inside to the Osaka Castle, built in the 16th century and full of cultural and history displays. The Sumiyoshi Taisha Shrine is the one of the oldest in Japan. Depending on your interests, the Osaka Aquarium Kaiyukan, Museum of Oriental Ceramics, and the National Bunraku Theatre are all worth a visit. Head to Dotonbori, a canal neighborhood popular with locals and tourists for its cheap food scene.
Keep an eye on the time, so you can make it make to the airport and through Security before your next flight.
7. WiFi
WiFi is free and unlimited throughout the airport.
8. Sleep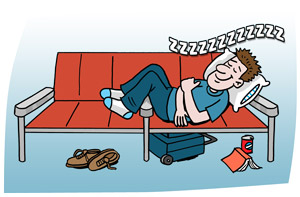 You shouldn't have any issues catching some Z's here, as the airport staff generally don't mind sleepers. Terminal 1 has a lot of armrest-free benches, and the Lawson's store on T1's Floor 2 has padded benches in a low-lit area. A designated overnight Rest Area offers free blankets between 11pm and 6am, and pay-to-use showers are nearby. Overnight campers should expect a security check in the middle of night, simply to confirm your passport and tickets. If sleeping in the airport isn't your style, sleeping in hotels is easy. One hotel is located adjacent to the airport, and you can walk through the JR Nankai train station to get there. A couple other hotels offer free airport shuttles throughout the day. Locations and details available in our Osaka Kansai Airport Guide.
These are just a few things to do on a layover at Osaka Kansai Airport. Visit our Osaka Kansai Airport Guide for more information about more services and facilities available, such as food, WiFi, mobile charging, luggage storage, nearby airport hotels, and much more.