Stuck on a layover at Paris Orly Airport? The much smaller of the two Paris-area airports, Paris Orly isn't super-shiny with a ton of amenities, but there's still plenty to do to pass the time. Make the most of your layover with these 10 things to do at Paris Orly Airport.
1. Enjoy a meal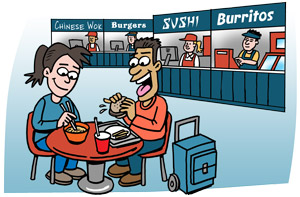 More than 2 dozen eateries are available, including fast-food and to-go, cafes and bars, and sit-down options. If you're in a hurry, Paul, Pret a Manger, and McDonald's are available, plus small grocery stores from Carrefour and M&S Food. Travellers with more leisurely layovers can go to Bellota-Bellota, Cafe Cubiste, or Caviar House & Prunier Seafood Bar. Sweet tooth? Enjoy tea and macaroons at famed French bakery Laduree. No eateries are open past 10:30PM.
2. Lounge
For all-inclusive access to unlimited food and drinks, WiFi, news and TV, comfortable seating, head to one of two airport lounges. These offer access to any traveller, so you don't have to fly a specific airline or First or Business Class to get in. Simply pre-book your visit online or use your lounge membership program to gain entry. Details are available in our Paris Orly Airport Guide.

3. Go shopping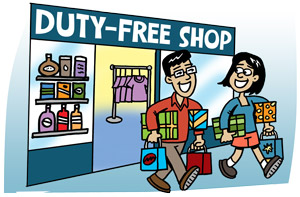 You won't hurt for shopping opportunities here. More than 30 boutiques are available for fashionistas and those who like the finer things. Plenty more options offer more affordable shopping or browsing, too, like convenience shops, Duty-Free areas, and bookstores. For last-minute souvenirs, head to the Disneyland Paris shop or PSG, the official team store of Paris Saint-Germain's football club.
4. Sit for a massage
Located throughout the airport, massage chairs start at €2, so you can work out neck and back kinks from the last flight.
5. Take in some art and culture
Works of Parisian art and culture are on display in rotating galleries at the airport. Currently artwork from the prestigious Conservatoire de Paris along with masterpieces from the Louvre are on display until the end of 2020.
6. Visit the library
A modern library in Terminal 4's Hall B lends out traditional print media and magazines, children's books, and tablets loaded with eBooks. Comfy leather couches and big tables invite you to work or relax with your own book, or any of those on loan.
7. Have fun at the arcade
Pass some time with a visit to the '80s-themed arcade, where vintage video games are available. Two locations.
8. Sightseeing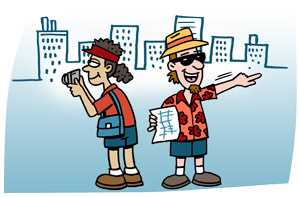 Nearby Paris may tempt you to skip out on your next flight altogether (which is fine by us!). But, if you do have a long layover of at least 8 hours, public transit options make it easy to leave the airport in favor of sightseeing in the City of Lights.
The RER B and C train lines connect the airport with the Paris metro and city center, with departures every few minutes. The trip takes about 50 minutes one way. Several bus lines also connect with other area destinations, including Disneyland Paris. You could also hire a taxi, for more direct service – it won't be cheap but it might save you a little time. Note that no luggage storage is available onsite, so you'll want to pack lightly or plan to bring along your suitcase.
Once you're in the city center, you can hop on a casual boat cruise down the Seine River, taking you past Notre Dame, the Eiffel Tower, and the Tuileries. The Louvre is world-class, but it can make your few hours disappear quickly, so you may want to opt for the more compact Musee d'Orsay for impressionist works or the Pompidou Centre for modern art. Prefer to simply stroll? Montmartre's hilltop locale offers great views and many artsy shops and galleries, and Bastille is a blend of historic sites and parks with modern cafes and bars.
Exploring this city can make you forget all your worries – which is fine, unless you want to make that next flight!
9. WiFi
Free WiFi is available for casual internet use, but if you're trying to work or stream content, you may want to pay to upgrade to the Faster or Stronger internet options.
10. Sleep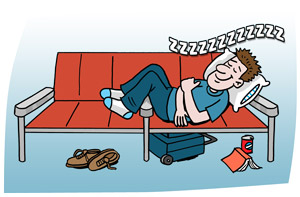 If you need some shuteye, you shouldn't have any problem from tolerant airport staff. (Technically, the airport closes between 12:30AM and 3:30AM, so you may be asked to leave if you don't have proper ticket documentation.) Most travellers stretch out on the floor or wriggle in between the armrests on the seats. You might get lucky with a bench or a couch inside a cafe. Few flights depart overnight, so it quiets down, but do plan on chilly temps and bright lights. Several hotels are located within a 5-minute drive or short walk of the airport, and most offer free shuttle service. For locations and details, see our Paris Orly Airport Guide.
These are just a few things to do on a layover at Paris Orly Airport. Visit our Paris Orly Airport Guide for more information about more services and facilities available, such as food, WiFi, mobile charging, luggage storage, nearby airport hotels, and much more.