Passing time at an unfamiliar airport ranks is a real drag. Lucky for you, we've put together this list of 8 things to do on a layover at Pittsburgh Airport to help you make the most of your time in this well-appointed airport.
1. Enjoy a good meal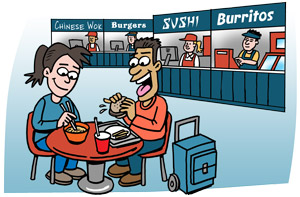 You should have no problem finding a meal here, with restaurants, bars, cafes, and to-go spots serving up a variety of cuisine. Quaker Steak & Lube is a local institution, and Bar Symon is a cool full-service bar by celeb chef Michael Symon. For fancier meals, check out Bellfarm Kitchen, in the attached Hyatt Regency hotel. Lighter and faster options include Starbucks, Dunkin' Donuts (2 locations are open 24 hours), Cinnabon, and several delis and markets. The Strip Market is open 24-hours, with to-go salads, sandwiches, and snacks available.
2. Go on a bar crawl
Pittsburgh is gaining major traction in the craft beer world, and you can actually sample local brews right here at the airport. Check out Local Craft, Penn Brewery and Voodoo Brewery. Beer not your style? Martini serves up cocktails with house-made liquors, and Vino Volo is an airport go-to for good wine.

3. Visit the lounge
Got a long layover? Try out an airport lounge. More lounges are beginning to move behind the exclusive practice of serving just First or Business Class Flyers. Instead, travellers of any class or airline can head to the Club at PIT, where, for a single price, you get unlimited food and drinks, WiFi, news and TV, and a quieter, comfier environment than the main Concourse. Simply pre-book online or use your lounge membership program to gain entry. Locations and details are in our Pittsburgh Airport Guide.
4. Go shopping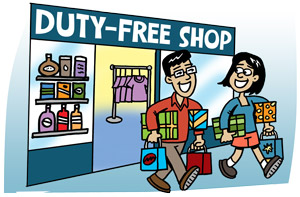 While away your layover with a good old fashioned shopping spree. Sports fans can pick up any Pittsburgh sports merch at Black and Gold, named for the colors of all of Pittsburgh's professional sports teams. Prefer souvenirs of the edible kind? Visit Bottega dei Sapori, which specializes in Italian cuisine, coffee, and wine. Bikers can pick up a t-shirt at the Three Rivers Harley-Davidson. High-end shops include Furla, ECCO, and Lacoste. Of course, you'll find a fair share of bookstores and shops touting last-minute travel and technology needs.
5. Treat yourself
After flying, you deserve some pampering! The XpresSpa offers manicures and pedicures, facials, massages, and a range of other relaxing services (three locations). Or, head to the Massage Bar, in Concourse A, for express foot and chair massages.
6. Browse the art and history exhibits
The airport plans a lot of rotating art exhibitions, and live music performances take place on Thursdays. Fraley's Robot Repair Shop is a fun, interactive-art experience, and Paint Monkey offers supplies and inspiration for you to paint your own (carry-on friendly) masterpiece! A photography exhibit is dedicated to the history of the Tuskegee Airmen.
7. Sightseeing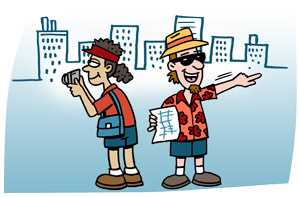 Can't stand another minute in an airport? Get out and explore! As long as your layover is 8 hours or more, head into Pittsburgh for some fresh air and adventure.
The public bus route 28X Airport Flyer connects the airport with downtown Pittsburgh and several neighborhoods, departing from Door 6 every 30 minutes, though the ride takes close to 1 hour. For speedier service, hail a taxi or opt for a shuttle service, which will get you downtown in about half an hour. (Unfortunately, luggage storage options aren't available, so you'll have to bring your carry-ons along.)
Once downtown, stroll through the beautiful Phipps Conservatory and Botanical Gardens. Sports fans will love the stadium and the view from PNC Park, home of the MLB's Pittsburgh Pirates. On the Carnegie Mellon University campus, visit the Carnegie Museum of Art and the Museum of Natural History. Nearby, see the Cathedral of Learning on the University of Pittsburgh campus. For big skyline views, go to Grandview Overlook, then pop over to the nearby bars and restaurants for a bite to eat.
However you pass your layover, leave plenty of time to make that next flight!
8. WiFi
Hop online for chatting with friends or catching up on work thanks to free airport WiFi.
9. Sleep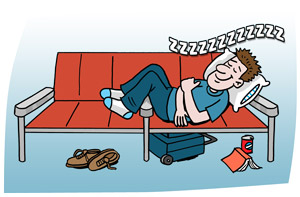 You shouldn't have any problems getting some shut-eye here. Travellers report that the pre-Security benches near the main Security checkpoint are good for stretching out at night. Inside Security, the Southwest area of Concourse A is reportedly comfortable. Day or night, noise can be an issue, so wear earplugs or noise-cancelling headphones if you're serious about your sleep.
Rather splurge for a hotel? An indoor walkway connects directly to the Hyatt Regency. Other hotels are within a 10-minute drive of the airport, with several offering airport shuttles. Locations and details are listed in our Pittsburgh Airport Guide.
These are just a few things to do on a layover at Pittsburgh Airport. Visit our Pittsburgh Airport Guide for more information about more services and facilities available, such as food, WiFi, mobile charging, luggage storage, nearby airport hotels, and much more.