Regularly voted one of best airports in North America, Portland Airport is a perfectly pleasant place to pass a long layover. Enjoy its friendly vibe, cool atmosphere, and local shops and eateries, and make the best of your time with these 10 things to do on a layover at Portland Airport:
1. Enjoy some good cooking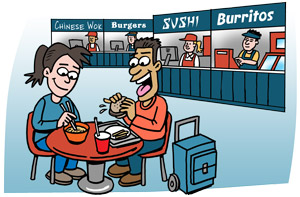 The dining scene here at Portland is well curated.  While there aren't dozens of options, you will surely find some classic food options and unique high-quality dishes.  Several restaurants are also locally-owned, focused on locally-sourced food and lots of craft beers, including Capers Cafe et Le Bar, the Country Cat, and Laurelwood Public House and Brewery. The many TVs at Henry's Tavern are perfect for catching the big game during your layover. Mexico, sushi, Vietnamese, and even farm-to-table delis are also available. Oregon chain Burgerville serves up fresh burgers and shakes, but you'll also find Starbucks, Mcdonald's, and Peet's Coffee and Tea.
2. Hang out in a lounge
A long layover is the perfect opportunity to try out an airport lounge. If you are an economy class traveller flying on Alaska, Delta or United, you can purchase a day pass to use one of their lounges. For a single price, take advantage of unlimited food and drinks, WiFi, comfortable couches and seating, and TV – in a quiet setting conducive to work or relaxation. Our Portland Airport Guide lists locations and details.

3. Go shopping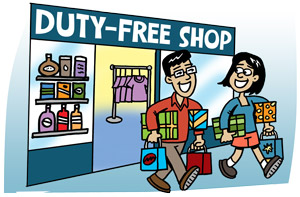 Similar to the dining scene, the shops aren't endless, but they do offer a good range of products, particularly those with ties to the area. You'll find outposts of locally-owned, internationally-known brands like Columbia, Nike, and Pendleton. Everyone's favorite independent bookstore, Powell's Books, has a shop here. And Made in Oregon is perfect for souvenirs or gifts (we won't judge if you keep them all for yourself). You'll also find stores selling travel goods, last-minute items, and locally-made spirits and wine. Shopping in this airport comes with two major bonuses: Oregon has no sales-tax, and the airport maintains a pricing policy, which means shops can't price-gouge – something we'd love to see more airports adopt!
4. Pamper yourself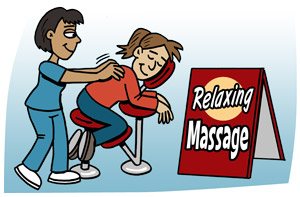 Sometimes a manicure or a massage is all you need to feel more like yourself after air travel.
The Dragon Tree Spa in Concourse C offers a range of spa services, including manicures, pedicures, and chair, foot, and full-body massages.
5. Get a haircut or shave
Freshen up with a clean haircut or old-fashioned shave at The Barbers, open daily.
6. Watch a movie
Chill out in the small, 17-seat theatre, which plays short films about the Pacific Northwest that are entertaining, educational, and kid-friendly. Located in Concourse C, the theatre runs films in a 1-hour loop; entrance is free. Rather watch on your own laptop or mobile device? Visit a Digiboo kiosk to download your own movies (multiple locations).
7. Take in some art
Seek out the rotating art exhibits or check the airport schedule to see if any live music performances are going on while you're there.
8. Go sightseeing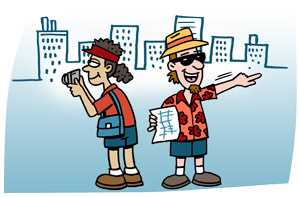 If you've got a long layover, you might just be over hanging out in any airport, no matter how cool it is. Instead, head into Portland for some city exploring.
Make sure your layover is at least 6 hours long – a taxi or shuttle ride to the city center takes about 30 minutes, and the public transit MAX Red Line lightrail, which departs every 15 minutes, takes about 50 minutes.
Ready to explore? Head towards the nearby Pearl District, known for great shops and dining. Powell's City of Books, their largest store, is located here, and several great breweries are nearby, like Deschutes and Rogue. Near, the Portland Art Museum and Oregon History Museum are smaller museums with world-class exhibits. Stroll along the Williamette River Waterfront, a nice promenade that shows why one of Portland's nicknames is Bridge City. For a cultural experience, head to the Portland Japanese Garden, known for its dense greenery, zen gardens, and traditional teahouse. If you want to explore more of Portland's art districts, ride a bike or hire a taxi to reach Hawthorne, Alberta, or Mississippi.
However you spend your layover, make it back to the airport in time for that next flight!
9. WiFi
Spend your layover catching up with the internet thanks to free WiFi.
10. Sleep
You shouldn't have any problem catching up on sleep during your layover, thanks to the friendly staff and the endless amount of arm-free benches (which are curved, so it's not the world's perfect situation, but then again, you are sleeping in an airport). Look for rows of seats that are situated behind ticket counters, like at Gates C19 and C21: lighting is lower and there's a bit of privacy. If you are camping out overnight in the public, pre-Security area, head to the benches in the International area's baggage claim, but do expect security guards to ask for ID and proof of your next flight. Prefer to splurge for a hotel? One hotel is located on airport property, while two others are located within a 2-minute drive; free shuttles are available. See our Portland Airport Guide for details and locations.
These are just a few things to do on a layover at Portland Airport. Visit our Portland Airport Guide for more information about more services and facilities available, such as food, WiFi, mobile charging, luggage storage, nearby airport hotels, and much more.