One of two airports serving Shanghai, Pudong Airport is sprawling and modern. While it lacks the world-class amenities common to other major Asian airports, a short layover should be tolerable.  Make the most out of your time with these 7 things to do on a layover at Shanghai Pudong Airport:
1. Grab a bite to eat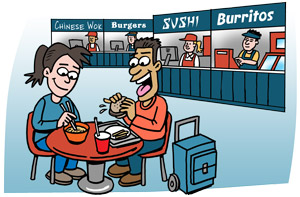 Start your layover with a meal, but keep your expectations in check. Most of the airport's 5 dozen eateries are comprised of multiple outposts of the same few chains: Yonghe King, Ajisen Ramen, Chatime, Chez Choux, and Hope Kaweh, plus many cafes and Western options. A few Starbucks and Burger Kings stay open 24-hours. Many travellers have reported expensive prices, even at the fast-food kiosks, so be prepared.
2. Hang out in a lounge
For an all-inclusive layover experience, you might want to check into an airport lounge. Several lounges here cater to all travellers, so even if you're an Economy Class flyer, you can pay to enter. Take advantage of unlimited food and drinks, WiFi, newspapers and magazines, and a comfortable, quieter atmosphere. (Some even offer shower facilities.) Simply pre-book a pass online or use a lounge membership program to gain entry. Locations and details are listed in our Shanghai Pudong Airport Guide.

3. Browse the shops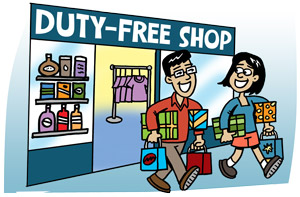 Though there are more shops here than eateries, there's nothing super unique or local. Aside from convenience stores, most shops are located in the dedicated shopping area of both terminals. Visit the Duty Free areas for some Chinese goods and discounts on alcohol and makeup. Qitai Tea Shop offers good ready-to-travel souvenirs, and the international boutiques are great places to browse without spending (unless you've got cash to burn!).
4. Visit the spa
Treat yourself with a manicure or pedicure from Yongqi, open daily in Terminal 2.
5. Sightseeing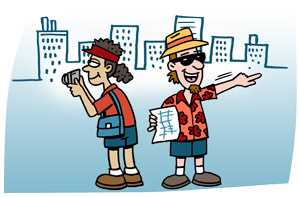 If you've got a particularly long layover, you might want to venture into Shanghai for some exploring. Choose from public transit options (high-speed Maglev train, metro, or bus), which can take up to 90 minutes one-way, or hire a taxi, which may have to content with intense traffic. Because of the significant travel time, we only recommend leaving the airport if you have at least 8 hours before your next flight.
Once you're in the city center, there's plenty to explore! Definitely pick one or two highlights to focus on instead of trying to cover them all. Culture buffs will want to spend time at the Shanghai Museum, which blends history, art, and culture across 11 exhibition rooms – plan for at least 1-2 hours here. Stroll the Bund, the popular shopping and dining district that you'll probably recognize from any tourism photo of Shanghai. For panoramic city views, head to the 88th floor of the Jin Mao Tower or the 100th floor of the Shanghai World Financial Center.
However you spend your quick city trip, leave enough time to get back to the airport before your next flight!
6. WiFi
WiFi here is free and unlimited, but you need to have a Chinese phone number to get the access code via SMS. If not, machines inside Security print out access codes.
7. Sleep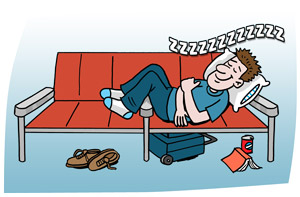 Planning on catching up on Z's or spending the night here? The good news is that airport staff generally have no problem with overnight travellers. The not-so-good news is the airport isn't exactly comfortable. Pre-Security areas are bare, with few benches and very little in the way of eateries or amenities. Inside Security, benches are plentiful but tend to be cold and fitted with armrests. The air conditioning can be cold no matter the time of day or year, so plan for extra layers. Headphones or earplugs will help you combat the chaos and noise. Rather spend for a hotel? An hourly rate hotel is located inside Terminal 2. Otherwise, several hotels are located within a few minutes' drive, and one's in walking distance. See our Shanghai Pudong Airport Guide for details.
These are just a few things to do on a layover at Shanghai Pudong Airport. Visit our Shanghai Pudong Airport Guide for more information about more services and facilities available, such as food, WiFi, mobile charging, luggage storage, nearby airport hotels, and much more.