Spending a lot of hours inside an unfamiliar airport can really take the fun out of travel. Luckily, Taipei Taoyuan Airport, the larger of two Taipei airports, offers plenty of ways to pass the time in a modern, comfortable setting.
Here are our recommendations for 13 things to do on a layover at Taipei Taoyuan Airport:
1. Sample the cuisine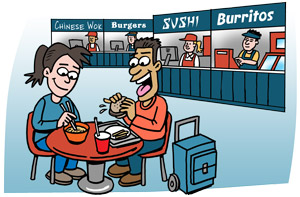 Taipei is a haven for foodies, and the casual but delicious dining experience extends to the airport. Food courts and casual eateries serve up Taiwanese specialties like dumpling soup and beef noodles, and you'll find plenty of Chinese and Japanese options, too. Other cuisine includes Thai, halal Malay, and Middle Eastern. Order a milk or bubble tea at one of several to-go kiosks, or go with illy or Starbucks if you're a coffee person. While most places close by midnight, there are a few options (7) in both Terminals, which stay open 24/7, and three convenience shops.
2. Hang out in a lounge
If you want to get work done or simply relax in an all-inclusive setting, an airport lounge is just the thing! No longer serving only First and Business Class flyers, several lounges here allow any traveller, no matter your airline or flight class. Pre-book your visit or use your lounge membership program to gain entry. Take advantage of unlimited food and drinks, WiFi, news and TV, and maybe even shower facilities — all in a calmer, quieter environment. See our Taipei Taoyuan Airport Guide for locations and details.
3. Go shopping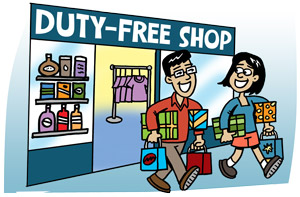 This airport doesn't have quite as many shops as some other major Asian airports, but it is well-curated, so you can find gifts or just browse. You'll find several pharmacies, travel shops, bookstores and Duty-Free areas. International brands like Adidas, Puma, and Bulgari are available. At the craft and souvenir shops, beautifully packaged local teas and pineapple cakes make great souvenirs.
4. Take a shower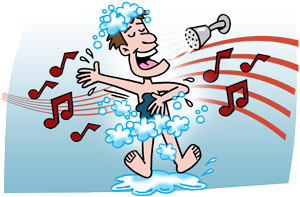 Make your layover much more tolerable by freshening up at the shower facilities. Available in several locations in both terminals, the showers are free and open 24 hours, but you'll want to bring your own towels and toiletries. (Otherwise, towels can be rented from Terminal 2's Salon Shop.)
5. Get a massage
Relax with a good upper-body and back massage, thanks to expert massage therapists at the Visually Impaired Friend Massage Service Center in Terminal 2.
6. Experience Taiwanese traditions
The airport has set up several cultural areas for travellers to experience traditional Taiwanese culture throughout Terminal 2. The Cultural Experience Area focuses on Chinese calligraphy and the zodiac, and other areas are dedicated to Taiwanese teas, puppet theatre, and locally-made crafts.
7. Take in some history and art
Get a peek into the local history with mini-museums and exhibits on loan from the National Museum of History. Open daily; locations in Terminal 1, South Departure Corridor, and Terminal 2, Floor 3, Departure Hall, north and south sides. Terminal 2 also houses a small art gallery with rotating exhibits.
8. Explore the themed lounges
Several public lounges/waiting areas here are themed, offering fun glimpses into Taiwanese culture. Some of the best ones are the Hello Kitty Wonderland lounge, with a shop and cafe next to the seating area, the Unforgettable Yummy lounge, which serves local tea samples, and the e-Library lounge, which partners with the National Museum of Taiwan Literature to offer books, tablets, and e-books for free.
9. Watch a movie
A small theatre in Terminal 1 shows recent feature films.
10. Take a free transit tour
Transit passengers with a 7-24 hour layover can join a free 4-hour tour. The morning tour visits Sanxia, known for its Daoist temple and ornate high street, and Yingge, the pottery capital of Taiwan that 800 artists call home. The afternoon tour heads into the heart of Taipei with stops at Ximending, a pedestrian neighbourhood, and Tapiei 101, one of the tallest buildings in the world. Sign up at the Tourist Service Center in the Arrivals area of Terminals 1 and 2. For details on visa requirements or to pre-register, please take a look at the official tour website.
11. Sightseeing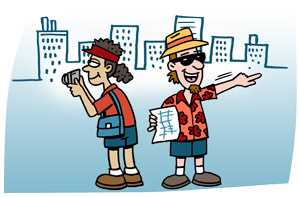 Are you feeling adventurous? Check out Taipei on your own! Public transit makes it easy to reach the city center, but it is a bit far, so we recommend leaving the airport only if you have at least 8 hours between flights.
If you have carry-on luggage you don't want to haul around all day, store it in the lockers in the Arrivals Hall of both terminals. During the day, the purple MRT line runs frequent trains between both Terminals to the central train station, getting you there in about 50 minutes for TWD 160 one-way. Buses connect to other city areas, and taxis are available for more direct service.
From the Taipei Main Station, you're within walking distance of Liberty Square, where the National Concert Hall, National Theatre, and the Chiang Kai-shek Memorial Hall are located. Head to Yongkang Street near the Dongmen MRT station to sample well-known Taiwanese dishes like beef noodles, dumplings, and mango smoothies. Farther afield, you can hop on the MRT red line east to Taipei 101, the former world's tallest building, and nearby modern shopping malls. Or, ride the red line north to the Shilin Night Market.
Whatever you do in Taipei, leave plenty of time to return to the airport for your next flight!
12. WiFi
Need to spend your layover working or catching up? Free WiFi is available throughout the airport.
13. Sleep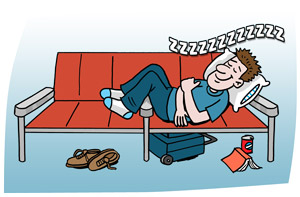 The airport's friendly staff welcomes daytime nappers and overnight sleepers, so there is no need to worry if all you want to do is nod off for a bit. The terminal layouts provide some corners and nooks for privacy, and much of the seating is comfortable. A public lounge between T1's Gates A and B has a lot of sleep space. Recliner chairs are located at various gates, so keep your eyes peeled (rumour has it Gate B7 has them). Hotels might be more your speed, though, and if that's the case, you can rent rooms in 6-12 hour blocks inside the Plaza Premium Lounge in T2. Otherwise, a hotel and a hostel are located within a 5-minute drive of the airport. See our Taipei Taoyuan Airport Guide for details.
These are just a few things to do on a layover at Taipei Taoyuan Airport. Visit our Taipei Taoyuan Airport Guide for more information about more services and facilities available, such as food, WiFi, mobile charging, luggage storage, nearby airport hotels, and much more.