Stuck on a layover at Montreal Trudeau Airport? Playing the waiting game is no fun, especially in an unfamiliar airport, but you can make the most of your time with these 8 things to do on a layover at Montreal Trudeau Airport.
1. Enjoy a meal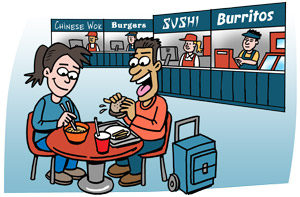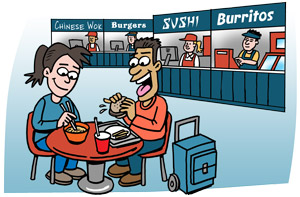 Start your layover with a meal. There are plenty of options here, running the gamut from standard airport eatery to more inspired outposts of local restaurants. Local foodies head to Trinity, Pork & Pickle, and Wienstein & Gavino's. Sample local and international adult beverages at Six Pints, or pop into Ryu for surprisingly good sushi. Well-known chains include Tim Hortons, Subway, Burger King and Starbucks. A few options stay open 24-hours in the pre-Security area.
2. Hang out in a lounge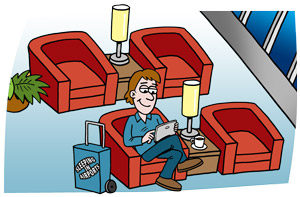 Need to catch up on work? Wanna hang out in a quieter spot? An airport lounge may be exactly what you need. The National Bank Lounge provides access to any traveller, regardless of your airline or flight class. That means even if you're flying Economy, you can enjoy the unlimited food and drink, WiFi, TV and news, and comfy setting included in the entry fee. Simply pre-book online or use your lounge membership program. A few more lounges cater to travellers flying Air Canada. See our Montreal Trudeau Airport Guide for details.

3. Shop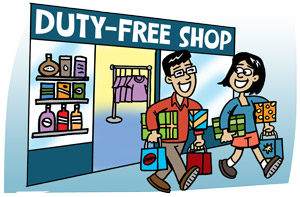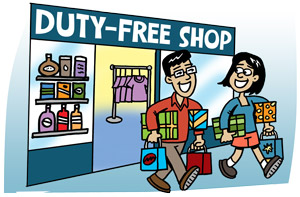 Pass some time by browsing – or treating yourself – at the airport shops. You'll find a round-up of traditional airport stores, including Duty Free, convenience stores, and shops selling electronics, technology, and travel needs. For unique, ready-to-fly souvenirs, head to Delices Erable & Cie, a combination cafe-and-shop, or David's Tea, an outlet of the popular Canadian chain.
4. Relax at the spa
BALNEA Spa Voyage is the place to be for some pampering. Get a manicure/pedicure, facial, or massage or browse their other services at their 3 locations.
5. Eye some art
The airport displays permanent and rotating art exhibitions. Take a break from your smartphone and see how many you can spot on a stroll through the terminal.
6. Go sightseeing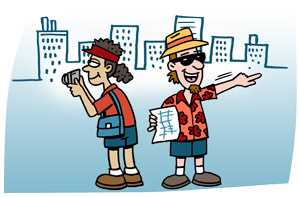 Can't stand another minute inside an airport? This airport's location makes it easy to head into Montreal for some explorations! You'll want at least 6 hours between flights to make this option worthwhile and fun.
First up, store any bags you don't want to carry along at the cloakroom in the Domestic pre-Security area. Then, head for the 747 Express bus route, which connects the airport and the central bus station 24-hours a day. The trip takes up to 60 minutes. Taxis are available around the clock if you're willing to pay more and be downtown in about 25 minutes.
Once in the city centre, stroll the cobblestone streets and alleys of Old Montreal, situated right on the St. Lawrence River. Swing by the majestic Notre Dame Basilica, visit the Bonsecours Market, and pop into the many shops and cafes. For great views, hightail it up to Mount Royal Park – the hill that gives the city its name. In need of a challenge? Hike or bike to the top! If you're looking for some culture and history, visit the Montreal Museum of Fine Arts or the Montreal Museum of Archaeology and History. The free Barbie Expo serves up nostalgia, fashion, and whimsy.
Head back to the airport with plenty of time to spare before that next flight.
7. WiFi
Free WiFi is available in 60 minute blocks. Once your hour is up, you'll have to watch another commercial to get another 60 minutes.
8. Sleep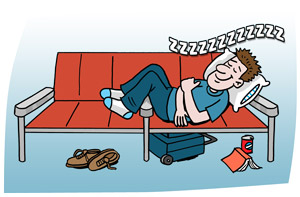 You shouldn't have any issue catching up on Z's here, but if you're planning to stay overnight for your next flight, you'll have to relocated to the pre-Security area, as all areas inside Security close for the night. Armrest-free seating is scarce, so grab it when you see it. Otherwise, you best bet is probably to pull up some carpet and stretch out. Earplugs, an extra layer, and maybe even a sleeping bag will help combat the airport noise and chilly temps. For those who prefer a proper bed, a Marriott is located on-site, across from the US Departures area. Free shuttles are available to a few more hotels, within 3 minutes of the airport. See our Montreal Trudeau Airport Guide for details.
These are just a few things to do on a layover at Montreal Airport. Visit our Montreal Airport Guide for more information about more services and facilities available, such as food, WiFi, mobile charging, luggage storage, nearby airport hotels, and much more.