If you have found yourself with a layover at Bangkok Suvarnabhumi Airport, you may now be wondering what to do with your time….besides sleep! This airport is repeatedly voted one of the best in Asia, and while it doesn't have super unique amenities like some regional neighbors, it does really well with all the traditional airport activities, like eating and shopping.
The larger of two Bangkok airports, BKK serves many international and some domestic destinations. This modern airport is one of the largest passenger terminals in the world, all housed in one building, so it isn't your fault if you get a little lost while navigating it. Use your layover to experience delicious cuisine and popular activities like shopping or Thai massages.
Here are 7 things to do on a layover at Bangkok Suvarnabhumi Airport.
1. Eat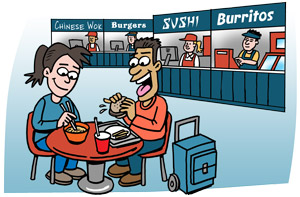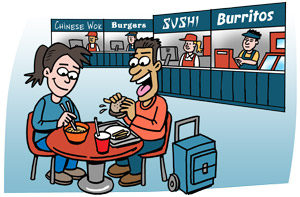 The Thai culture's appreciation of good food extends to its airports, so eating your way around the airport is a perfectly acceptable way to spend your layover. There are plenty of food options, including Thai and Asian to-go counters and sit-down restaurants, convenience shops with ready-made options, and Western standbys like Burger King, Subway, and Starbucks. There's a 24-hour food court located near Ground Transportation (Pre-Security) that seemingly caters more to locals, with cheap prices and a whole gamut of Thai food. Note that it's cash-only, and you purchase coupons to exchange at the food stalls.
2. Relax in an airport lounge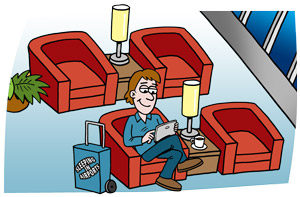 Airport lounges are a good option if you want some tasty food, WiFi, and a quieter area than the main terminals – and you don't have to fly Business or First Class to hang out in them! Many lounges allow travellers of any flight class or airline to spend a few hours. To gain entry, purchase a one-time pass online or use a lounge membership program. Locations and amenities for lounges are available on our Bangkok Suvarnabhumi Airport Guide.

3. Shop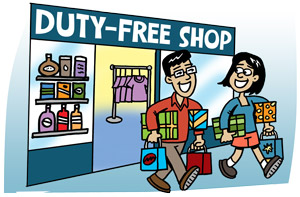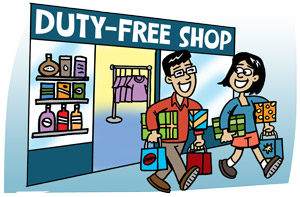 Pass your time by shopping for friends and family – or splurge on yourself! The airport shops are generally affordable, with many souvenir shops, bookstores, and pharmacies. Floor 4 seems to have the most options, with a large duty free outpost and some fancier shops like Lacoste. Our favorite is Jim Thompson Thai Silk, which offers beautiful, locally-made silks at reasonable prices.
4. Head into Bangkok for sightseeing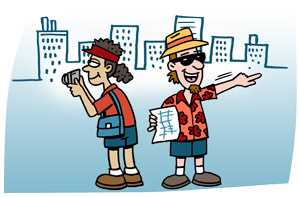 The airport is located about 30 km east of Bangkok, but it's a quick trip if you've got 6 or more hours between flights. There's two ways to do it: join a tour or do it yourself.
Bus tour operators take travellers into the city center for city highlights or a focused theme, like temples, shopping, or cultural experiences. Book ahead of time or visit the booking desk at the Arrivals Floor where Concourses C, D, and E intersect.
If you'd rather do it yourself, taxis connect to the heart of the city pretty quickly and cheaply. Metered taxis are located at Level 2 Arrivals, entrances 3-4, 7-8). Our must-see spots include the Grand Palace, the ornately designed home of the Thai King, which dates to 1782, and Wat Pho, one of Thailand's most famous Buddhist temples, particularly known for its 15-meter high gold-coated Reclining Buddha (try to fit him in one picture!). You can explore both locales at your leisure, though do give at least 1 hour to make it worthwhile. If you'd rather check out the backpacking scene, head to the Khao San Road, a busy place where street noodles, beer buckets, and Thai massages are cheap and available any time of the day or night. If the humidity and heat are getting to you, Bangkok's massive malls are a cool respite: Siam Paragon and CentralWorld Siam are especially popular, both located on the BTS Skytrain. For more ideas, check out our Bangkok Suvarnabhumi Airport Layover Sightseeing article.
5. Unwind in the spa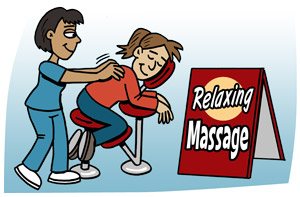 You're in the home of Thai massages, so even if you're not typically a treat-yourself person, consider it a cultural experience. Chang Massage and Spa helps you release the stress of long-haul travel. Two locations offer a range of services, including express and hour-long massage options, manicures and pedicures, facial treatments, aromatherapy, and more. The Miracle Transit Hotel, located on Concourse G, also has a beauty salon and spa.
6. Surf the Internet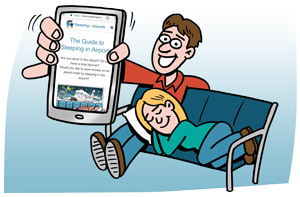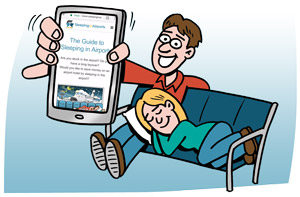 Stay connected to friends and family, update your social media accounts or surf the internet courtesy of the airport's free WiFi.  You'll want to use your time wisely though, as there is currently a 2 hour time limit per device. Boo!
If you don't have a mobile device, look for one of the 100+ internet kiosks in the airport that offer free internet.
7. Get Some Sleep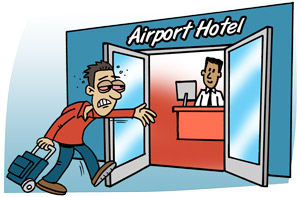 Travellers can typically get away with sleeping in this airport, but you certainly won't be the only one camping out!  There's a decent amount of armrest-free seating, and you may luck out with a more private spot. Overnight sleepers report some of the best spots to hang are the Observation Deck on the 7th Floor, seats near the Subway and 7-Eleven on B Floor, the area around the prayer room in the International Zone, and the basement between Doors 7-10. It can get loud and cold, depending on your spot, so bring a sweater or blanket and ear plugs. If you're more inclined to spend some cash for a good sleep and privacy, the Miracle Transit Hotel (Concourse G, 4th Floor) rents day rooms for 6-12 hours, and the Boxtel (Airport Link, Basement Floor), offers rooms in 4-hour increments. Otherwise, many hotels are located within a few minutes' drive from the airport, and some provide free shuttle service. See our Bangkok Suvarnabhumi Airport Guide for locations and details.
These are just a few things to do on a layover at Bangkok Suvarnabhumi Airport. Visit our Bangkok Suvarnabhumi Airport Guide for more information about more services and facilities available, such as food, WiFi, mobile charging, luggage storage, nearby airport hotels, and much more.