Whether you're here for a couple short hours or have more time to spare, here are 7 things to do on a layover at Barcelona El Prat Airport:
1. Dine like the locals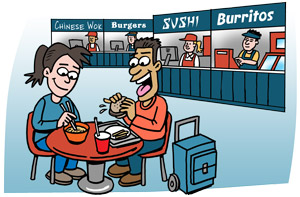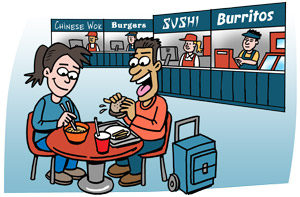 In Spain there's no shortage of quality food, even here at the airport. Most eateries offer tasty food in well-appointed, sunny digs. Traditional Mediterranean cafes are most common, serving coffee and light bites. Of course, there are tapas and beer bars. Sit-down restaurants are mostly Spanish brands, offering seafood, traditional, and modern local fare. To-go options include Burger King, Pans & Co, and McDonald's. Overnight sleepers should note that only a couple options are open 24-hours.
2. Chill out in a lounge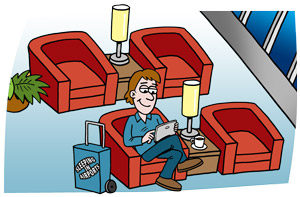 Did you know that many airport lounges allow travellers to hang out for a spell, even if they're not First or Business Class passengers? Several airport lounges here do just that – and it can be the perfect way to pass your layover. No matter your flight class or airline, you can purchase entry to a lounge and enjoy good food and WiFi in a quieter, less hectic environment. Buy a one-time pass online or join a lounge membership program to gain entry. See our Barcelona El Prat Airport Guide for lounge locations and amenities.

3. Experience Barcelona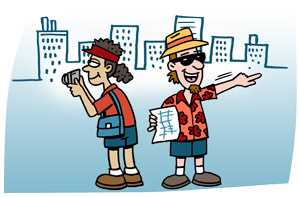 Beautiful architecture, blue Mediterranean Sea, white sands, and lots of greenery, all set against a mountain backdrop – no other city is quite like Barcelona! Luckily, BCN is located just 14 kilometers from the heart of the city, and public transit and taxis can have you downtown in 20-35 minutes. If you've got a layover of 6 or more hours, leave the airport behind and enjoy the fresh seabreeze!
Getting downtown: the AeroBus departs from T1, T2B, and T2C every few minutes for under €6 each way – it's the easiest for travellers, and locals rely on it, too. The metro train connects as well, but not as frequently or directly. Get off at Plaça de Catalunya or Passeig de Gracia for most sights. If you're traveling with others, taxis are very affordable and will drop you right at your destination.
What to do: See the highlights of famous architect Antonin Gaudi: stop by La Sagrada Familia, the iconic cathedral that is still a work-in-progress, Parc Guell for city views, and Casa Batlló for a Modernist home with a unique rooftop – perfect for photo ops. Stroll along La Rambla, the famous pedestrian street that passes quaint squares, great architecture, shops and bars, and the historic La Boqueria market. Wind up along Barceloneta Beach for some sun and surf or pop into the casual but bustling tapas bars. Football fans can make a pilgrimage to Camp Nou, home of FC Barcelona and the third-largest football stadium in the world. Even if your layover is later in the evening, you can head downtown – locals don't start heading out for dinner until 9 or 10pm!
For more ideas and transportation details, see our Barcelona El Prat Airport Layover Sightseeing article.
4. Shop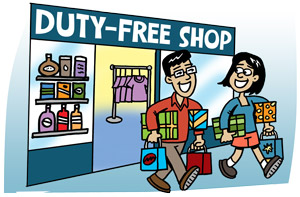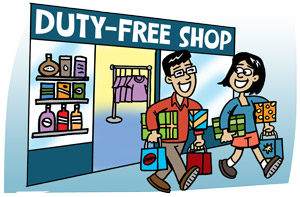 You won't escape the Duty Free options here, with full-service and express outposts located on each floor, in both terminals. Spend some time wandering other shops and boutiques.  At BCN, you'll find shops focused on fashion, natural and organic goods, body treatments, and chocolate. Popular Spanish brands Desigual, Mango, and La Botiga del Barca (FC Barcelona's gear shop) all have three airport locations.
5. Get rejuvenated
If that last flight put a crick in your neck, maybe you need a massage! Heaven on Earth Spa Express has three airport locations offering a range of services including hair and nail care, massages, facials, and Asian and Indian therapeutic treatments.
6. Surf the Web
Stay connected to friends and family, update your social media accounts or surf the internet courtesy of the airport's free unlimited WiFi.
7. Sleep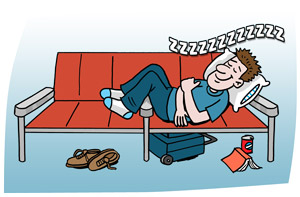 Travellers can usually get away with camping out overnight, but don't be surprised if airport security wakes you to check passports and tickets. T1 is usually crowded with sleepers parked on benches and the floor, though its modern design translates into tiled floors with little carpeting and cold, hard benches, most with armrests. Head upstairs for a quieter space with less harsh overhead lighting – just know you may still wind up on the floor. In T2, travellers head to Gate U where there are a lot of armrest-free chairs, space to sprawl out, and a 24-hour restaurant! It is brightly lit and chilly, though, so bring along a blanket and eye mask. (Note that T2 may only be accessible if your flight landed here; otherwise the terminal may be locked overnight.)
If you're willing to spend some cash on a proper sleeping arrangement, Sleep & Fly in T1 offers rooms with double beds, private bathrooms, and other amenities. Stay for an overnight or book a day room between 10:00AM – 6:00PM. (Shower-only packages, with toiletries, are available for €20.) Several hotels are located within a few minutes' drive of the airport, and most offer free shuttle service. For locations, details, and amenities, see our Barcelona El Prat Airport Guide.
These are just a few things to do on a layover at Barcelona El Prat Airport. Visit our Barcelona El Prat Airport Guide for more information about more services and facilities available, such as food, WiFi, mobile charging, luggage storage, nearby airport hotels, and much more.