If you have found yourself with a layover at Beijing Capital Airport, you may now be wondering what to do with your time….besides sleep! PEK is a sprawling, modern airport that serves as a significant gateway into China.
Here are nine things to do on a layover at Beijing Capital Airport.
1. Sample the local food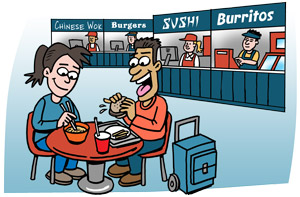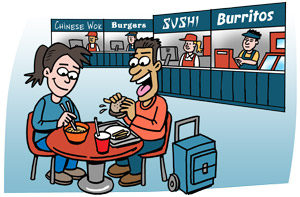 The airport has a lot of food options, with most leaning towards casual settings and to-go kiosks. Enjoy different Chinese cuisines and teahouses – a quick way to gain an appreciation of the local culture. Other Asian cuisines are available, too, including Thai and Japanese. Or, opt for Western standbys like Starbucks, McDonald's, KFC, and Costa Coffee. Plenty of options are open 24-hours.
2. Relax in an airport lounge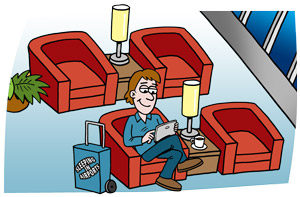 You don't have to fly First Class to enjoy an airline lounge! Many airport lounges are accessible to all travellers, regardless of airline or flight class. Book a single-visit pass online or join a lounge membership program to gain entry to several airport lounges – most even include shower facilities. For locations and amenities, see our Beijing Capital Airport Guide.
3. Go shopping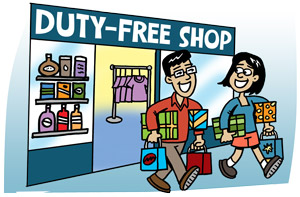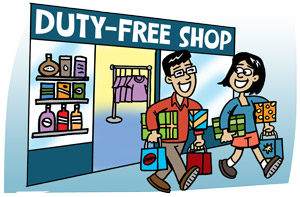 If shopping is your thing, you won't be disappointed here! There are all sorts of shops, starting with airport necessities like bookstores, convenience stores, and Chinese souvenir shops – local teas make perfect travel-friendly souvenirs. Duty-free areas are located in the international areas of T2 and T3. If you're looking to treat yourself to something fancier, the boutiques in T3 make it especially easy.
4. Head into Beijing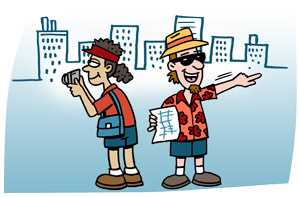 Layovers in Beijing can range from a few hours to up to a day long! So, if hanging in the airport the whole time feels slightly claustrophobic, consider heading out for some sightseeing. We recommend having at least 8 hours between flights if you want to explore – the airport is 32 km from the city center, and with traffic, this can easily take 1 hour each way. There are a couple of ways to do some sightseeing: join a tour group or do it yourself.
Joining a tour group is a cinch – plenty of reputable, well-priced tour operators offer a range of tours, from city sightseeing to panda tours to quick visits to the Great Wall. Sign up in advance, and they'll pick you up at the airport and have you back with plenty of time before your flight.
Exploring independently isn't too tricky, especially if you can navigate the public trains and taxis. The Airport Express train connects to downtown's Dongzhimen and Sanyuanqiao stations in under 30 minutes for ¥25. Or you can get a taxi from the ranks outside each terminal – a ride to the city center in regular traffic is about ¥80. Once downtown, head to Tiananmen Square or the Forbidden City. Explore the ancient alleys in the traditional hutongs at Gulou. Suppose you're not up for a city center experience. In that case, the 798 Art District is a pedestrian-friendly complex that houses studios and galleries for many local artists and is much closer to the airport. Note that security checkpoints to re-enter the airport can be very busy, so give yourself ample time to process through before your flight.
5. Freshen up (for free!)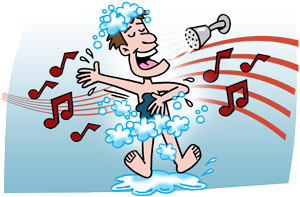 Terminal 3's E Gate has a few free showers tucked into the shopping area: one between the Bally and Montblanc shops and the other between Ferragamo and Hugo Boss boutiques. Both are reportedly spacious, with decent water pressure and a storage locker for safety. Terminal 2 has a pay-to-use shower near Gate D5.
6. Unwind or get some exercise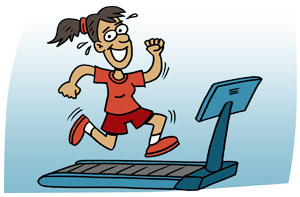 Le SPA in T3 offers traditional Chinese foot massages for a quick pick-me-up. For a full-service spa treatment, you'll have to leave the airport. The Hilton Beijing Airport offers paid entries to their fitness center, indoor heater swimming pool, or full spa. A free shuttle runs 24 hours between the hotel and the airport. See our Beijing Capital Airport Guide for pick-up times and locations.
7. Zen out in the garden
Terminal 3 has two gardens with fish ponds. Both are excellent spots to put down your phone, relax, and take in your surroundings. From 9 a.m.-3 p.m. daily, airport staff offer fish food to anyone who wants to feed them.
8. WiFi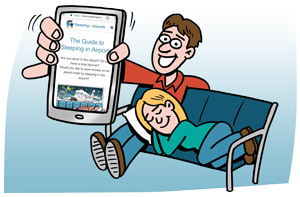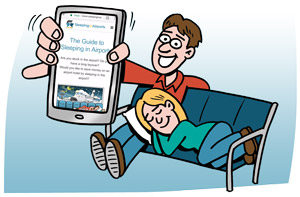 Stay connected to friends and family, update your social media accounts or surf the internet during your layover. Free WiFi is accessible throughout the airport, with a caveat: If you have a Chinese mobile number, you'll get your username and password via SMS. If you don't have one, head to an information desk to scan your passport information and receive your login credentials.
9. Sleep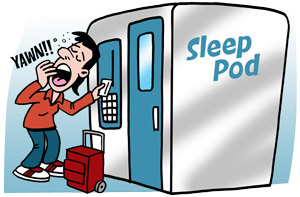 By and large, travellers shouldn't have much issue camping out overnight. For the best spots to stretch out, T3 is recommended. There's a lot of seating here, though most benches are wooden, and any padded chairs most likely have armrests – so get creative. If you arrive early enough, try to snag a full couch inside the Burger King at T3's mezzanine level. If you're pre-Security, head to the A/B and L/K counters for armrest-free benches. No matter where you are, it's probably loud and bright, so bring your earplugs and eye masks. You have a few options if you'd rather spend the cash for better sleep. Inside the airport, Hourly Hotels rent standard hotel rooms in hourly blocks, and GoSleep Pods, with hourly rentals, offer unique sleeping chairs that block the commotion around you, with private underneath storage. For a proper night's sleep, many hotels are within a few minutes' drive from the airport, and some offer complimentary shuttle service. Hotel amenities and locations are located in our Beijing Capital Airport Guide.
These are just a few things to do on a layover at Beijing Capital Airport. Visit our Beijing Capital Airport Guide for more information about services and facilities, such as food, WiFi, mobile charging, luggage storage, nearby airport hotels, and much more.