If you have found yourself with a layover at Berlin Schönefeld Airport, you may now be wondering what to do with your time….besides sleep! The smaller of the two Berlin area airports, Berlin Schönefeld Airport is home to mostly low-cost carriers. This small, old airport will eventually be incorporated into the Berlin Brandenburg Airport, which is supposed to open in the next few years. Don't expect much improvement in the meantime.
If you're spending more than a few hours here, your needs will be met, but you won't exactly be impressed. With that in mind, here are 7 things to do on a layover at Berlin Schönefeld Airport.
1. Grab a bite to eat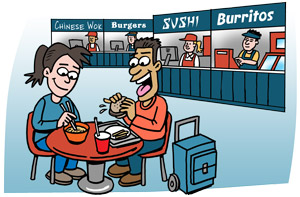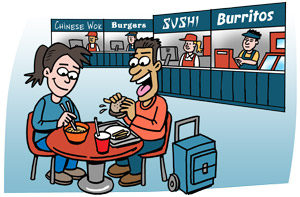 Compared to other small, low-cost carrier airports, Schönefeld has a decent selection of dining options. Several spots offer traditional German fare and local beers. An Irish bar, a Burger King, and a couple Marche Bakerys round out your options. The 24-hour options are located in Terminals A and D.
2. Relax in a lounge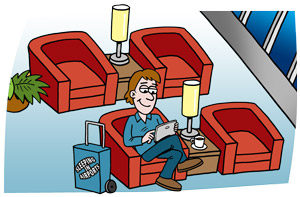 Despite the lack of amenities, there is one airport lounge – Green Wings Lounge in Terminal A, Floor 2. Any traveller, regardless of airline or service flown, can pay for entry. Buy a pass online ahead of time or take advantage of your lounge membership program to get in. See our Berlin Schönefeld Airport Guide for lounge locations and amenities.
3. Watch planes land and take off
An observation deck is open for visitors who like watching the airport traffic as planes come and go. Location: Terminal A, Floor 2. Open daily from 9:00AM – 8:00PM (April-October) and 11:00AM – 4:00PM (November-March); the cost is €3 for adults and €2 for kids.
4. Shop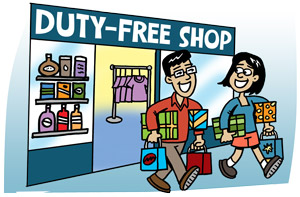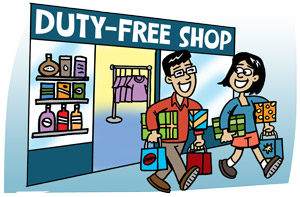 Your shopping options here are pretty limited. Expect a smallish Duty-Free area, a few typical airport shops offering last-minute toiletries, souvenirs, to-go snacks, and magazines and books. Pick up more unique souvenirs at the hip #veryberlin shop.
5. Surf the Web
Stay connected to friends and family, update your social media accounts or surf the internet courtesy of the airport's free unlimited WiFi.
6. Explore Berlin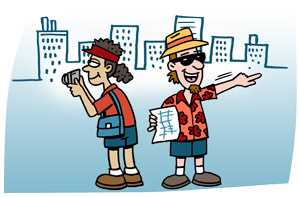 Take advantage of layovers over 6 hours and do some exploring. Popular sites include:
The Berlin Wall, where pieces are kept intact and often covered in art (various locations; Checkpoint Charlie has a large piece).
Brandenburg Gate was ground zero during the cold war, and today it's the symbol of the unified city. Snap a picture, and then head to the nearby Reichstag, home of the Parliament, or the Memorial to the Murdered Jews of Europe for some somber reflection in a unique sculptural setting.
Wander through world-class art and history museums at Museum Island, like the Pergamon Museum and the Neues Museum.
For more ideas, see our Berlin Airport Layover Sightseeing article.
Berlin Schönefeld Airport is located less than 18 km from the city centre, and several bus lines and taxis directly serve the airport. S-Bahn trains S9 and S45 are located at the railway station, a 5-minute walk via covered walkway.
Note that re-entering security is sometimes a slow process, so plan for enough time.
7. Sleep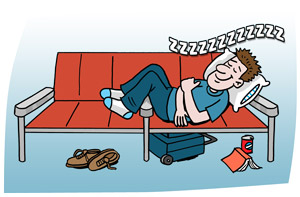 Overall you should be OK getting away with a night here, but between limited seating options and a potential wake-up from security, don't expect you'll get too much sleep. The seating areas are limited, and if you can grab a seat, they're metal and old – though no armrests, so we'll take it. Overall, Pre-Security has more sleeping options than Airside. The Landside eateries are especially popular for their benches. For quiet space, Terminal B's 3rd Floor is pretty quiet as it's rarely used overnight. The entrance of Terminal D has a decent amount of metal benches, and the nearby cafe has some couches so if you arrive early enough, you may luck out. If this sleeping situation doesn't quite cut it, there are a few hotels nearby – some within walking distance – where you can shell out some cash for a proper hotel room. See our Berlin Schönefeld Airport Guide for locations.
These are just a few things to do on a layover at Berlin Schönefeld Airport. Visit our Berlin Schönefeld Airport Guide for more information about more services and facilities available, such as food, WiFi, mobile charging, luggage storage, nearby airport hotels, and much more.