If you have found yourself with a layover at Brisbane Airport, you may now be wondering what to do with your time….besides sleep!  While options are a bit limited, you should be fine for a short visit.  This busy airport is well designed and easy to navigate, with free shuttles connecting the International Terminal and Domestic Terminal.
Here are 10 things to do on a layover at Brisbane Airport
1. Eating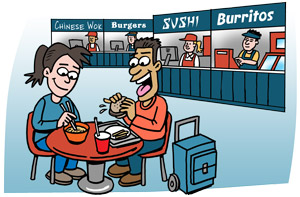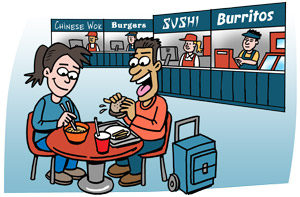 You won't lack for dining options at this airport. Enjoy a long, leisurely meal, or hop around to sample different cuisine. To-go kiosks, casual cafes, and full-service restaurants offer everything from pizza, local brews, seafood, and kebabs to healthier fare like sushi, salads, juices, and vegetarian options. International chains include KFC, Subway, and Hungry Jack's, the Australian Burger King.
2. Lounge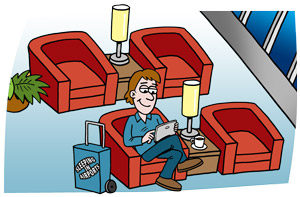 Airport lounges that cater exclusively to First Class flyers are a thing of the past – at least partially. A few airport lounges here allow any traveller, regardless of airline or class of service, to enter for a fee – so you can spend your layover relaxing in a comfortable setting. Pre-purchase a one-time pass online or join a lounge membership program to gain entry. See our Brisbane Airport Guide for locations and amenities.

3. Shop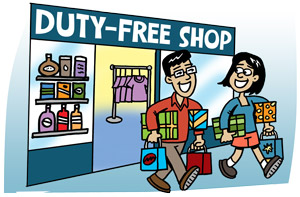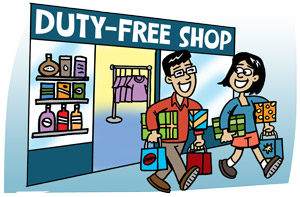 After your last flight, you might be in need of a stroll to get your blood flowing, so why not browse the shops? There are plenty of the must-haves, like Duty Free shops, convenience stores, and newsstands. For local souvenirs, Australian brands include R.M. Williams for leather goods, Australian Produce Store for snacks and sweets, and Seed Heritage for fashion.
4. Freshen up
Free showers are available in both terminals precisely for freshening up before or after a long-haul flight.
5. Pamper yourself
Maybe a shower isn't the relaxation you seek. Luckily there are several spas and barbers in both terminals. Wellness Spa and Chi-Link offer massage services, and a few salons provide hair cut and styles and mani/pedi services.
6. Take in the art and architecture
The airport is breezy and well-designed, especially in the recently renovated International Terminal. Take a self-guided tour and try to spot all the local artwork adorning the walls.
7. Take in some history
Head to the Kingsford Smith Memorial to learn Brisbane's aviation history. Located just across from the International Terminal, you can take a free, self-guided tour 24/7.
8. Go sightseeing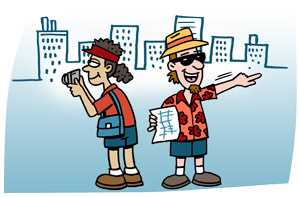 The airport is located a quick 18 km from the city centre, so if you've got a reasonably long layover of 6+ hours, it's easy to check out some local sights. The Con-x-ion bus and Airtrain both operate frequently, connecting the airport with the Brisbane city centre and other nearby destinations.
Here are a few suggestions on what to do:
Head to the city centre and check out the iconic Story Bridge. The truly adventurous can join a professionally-led tour to actually climb the bridge, offering panoramic city views.
Cruise Brisbane River. CityCat runs ferries along the river, stopping by Brett's Wharf if you want to pop off. Since it's run by Brisbane city, it's quite affordable.
A bit further afield, Lone Pine Koala Sanctuary is the place to go for some Australian wildlife. The chance to see koalas, local birds, kangaroos, and Tasmanian devils makes it worth the trip!
A little closer to the airport, Eat Street Northshore is the place to be in the evenings. This market houses food stalls and entertainment in old shipping containers, with cuisine from around the world.
9. Stay connected
Stay connected to friends and family, update your social media accounts or surf the internet courtesy of the airport's free WiFi. You will need to supply an email address in order to connect.
10. Sleep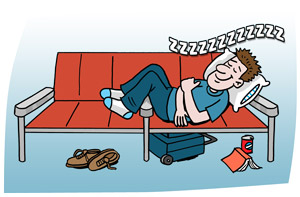 If you're looking to camp out overnight or just catch some Z's between flights, the International Terminal is far cozier than the Domestic Terminal, with plenty of comfortable couches both pre- and post-Security. The best spot might just be on Level 4 in Departures, near the prayer room. Wherever you sprawl out, it's probably chilly and a bit noisy, so bring an extra layer and some earplugs or heavy-duty headphones. If you'd rather skip the airport and splurge for a real bed, several hotels are within a few minutes' drive of the airport, and most offer a pick-up for a fee. See our Brisbane Airport Guide for details.
These are just a few things to do on a layover at Brisbane Airport. Visit our Brisbane Airport Guide for more information about more services and facilities available, such as food, WiFi, mobile charging, luggage storage, nearby airport hotels, and much more.