Layovers can suck the life out of a trip, but it doesn't have to be that way at Brussels Airport.
If you have one of those awkward three-hour layovers, consider refuelling at any of the cafes and restaurants in the airport. If you need a retail fix, there's a wide assortment of duty-free stores from high-street, local, and luxury brands. And if you have a long stopover, hop on any of the trains that run six times an hour to the Brussels city centre.
Keep reading to discover what else you can do on a layover at Brussels Zaventem Airport!
1. Enjoy a meal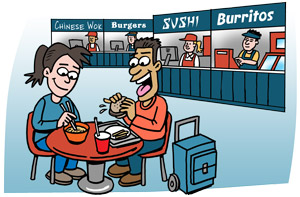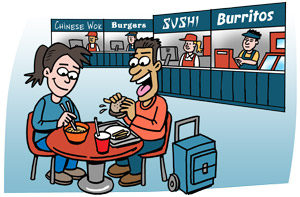 Start your layover with a bite to eat. There's a decent amount of eateries here, though Pier A does have more options. Cafes, bars, and to-go options serve up Belgian, French, and European fare, plus some healthier options. Head to Leffe Bar or Beers & Cheers for a good local brew, and the Hendricks Gin bar serves up a quality cocktail. A Starbucks does stay open 24-hours, in the pre-Security Arrivals area.
2. Check out a lounge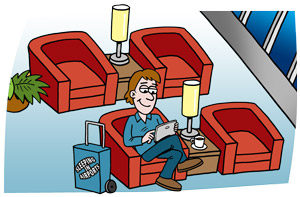 If you've always wanted to check out an airport lounge, now is the time! A couple lounges here are open to all travellers, no matter the airline or flight class. That means us Economy Class travellers can pay the entry fee to enjoy a comfortable environment, included food and drinks, WiFi, and TV and news. The Diamond Lounge even offers shower facilities. Pre-book a pass online or use your lounge membership program to gain entry. See our Brussels Zaventem Airport Guide for details and locations.

3. Shop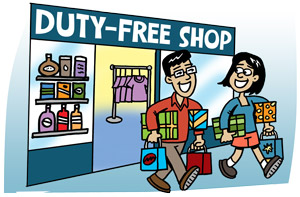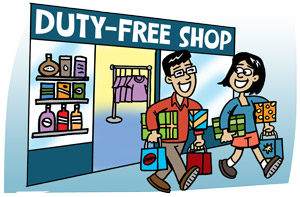 The shopping scene here is a bit limited, with Pier A having double the shops of Pier B. Still, it's a good way for big spenders and window shoppers alike to pass the time. Swing by the Louis Delhaize market for some local gourmet snacks, r pop into the Belgian Chocolate House for great souvenirs (if the treats last that long!). Of course, there are convenience stores, bookshops, Duty Free areas, and a few high-end boutiques, including three outposts of Antwerp Diamonds & Jewelry.
4. Get your hair done
A hairdresser is open during the week, Mondays through Fridays, so you can have your hair cut or styled en route to your next destination.
5. Go sightseeing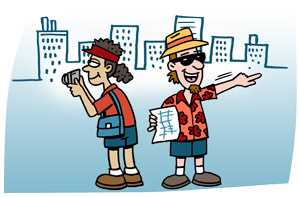 Brussels Zaventem Airport is located northeast of the city center, close enough that popping into this world-class city for a layover is not too difficult at all. In fact, if your layover is at least 7 hours long, we think spending your layover in the city is a great option!
Public buses connect the airport (Platform 1) with the city center regularly during the day, and the trip takes 30-35 minutes, depending on traffic. Taxis can be speedier, reaching a city-center destination in 25 minutes.
Start your visit at Grand Place, the cultural and commercial heart of the city. Stop by Jeanneke-Pis and Manneken-Pis, among the most well-known – and funniest – sculptures in Europe. Tour the Royal Palace, complete with well manicured lawns. Pop into the Magritte Museum, then the Belgian Brewers Museum. From there, visit the many large and small brewers to truly taste what you've just learned!
Head back to the airport with plenty of time to navigate traffic, process through Security, and make that next flight.
6. WiFi
Pass your layover online thanks to free, unlimited WiFi – you will have to connect with an email address or social media account.
7. Sleep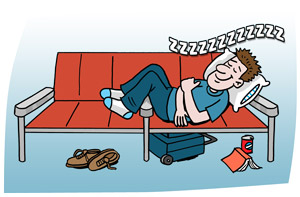 Catching up on some shuteye will be a lot more comfortable in Pier A, with plenty of benches and even some large couches for sprawling out. If you're using a sleep mat or air mattress to knock out on the floor, head up to Floor 4 for some quieter, dimly-lit corners. If airport sleeping isn't your thing, several hotels are within a quick 8-minute drive of the airport, including one directly opposite the airport terminal, which offers day rooms between 8:00 AM – 6:00 PM. See our Brussels Zaventem Airport Guide for details and locations.
These are just a few things to do on a layover at Brussels Zaventem Airport. Visit our Brussels Zaventem Airport Guide for more information about more services and facilities available, such as food, WiFi, mobile charging, luggage storage, nearby airport hotels, and much more.