Found yourself stuck in the airport? Here are eight things to do on a layover at Bucharest Henri Coandă Airport!
1. Grab a bite to eat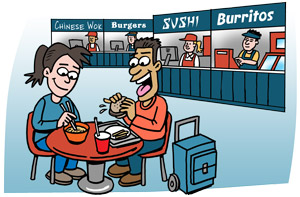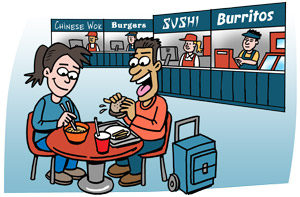 Start your layover with a bite to eat. It won't be difficult to pick a place, as only about a dozen options exist. Most are casual, serving coffee, sandwiches, pizza, and baked goods. A Billa Supermarket is open in the Arrivals Hall – a good place for snacks and local souvenirs. International chains include Brioche Doree, Gloria Jean's, Coffee, and Burger King. The good news is that many eateries are open 24 hours, both pre-and inside Security.
2. Relax in a lounge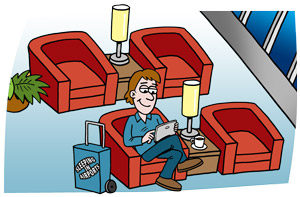 Are you catching up on work or searching for a quiet, comfortable spot? Check into one of three lounges. You can take advantage of WiFi, unlimited drinks and food, news and TV, and a quiet environment for a single fee. The nice thing about these lounges? All travellers can take advantage of them, not just First or Business Class travellers. Pre-book your visit online or use your lounge membership program to get in. Locations and amenities are listed in our Bucharest Henri Coandă Airport Guide.
3. Shop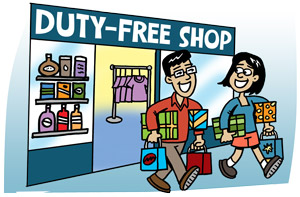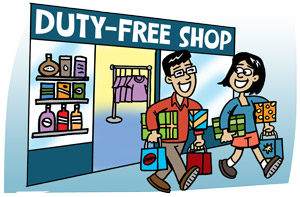 Browsing the airport shops will help you pass the time, but don't expect too many options. All the usual airport stores are here: newsstands, a flower shop, Duty-Free areas, and convenience stores selling snacks, last-minute needs, and electronics. Pop into Art & Craft Express for local handicrafts and gourmet food items, or pick up a bottle of the local vino at Romanian Wines.
4. Get your hair done
Pop into the hair salon before Security for a haircut or blowout to ensure a stylish arrival at your next destination. Open 9:30 AM – 5:30 PM Monday-Friday, 9:00 AM – 2:00 PM Saturday, and closed Sunday.
5. Tour the airport
Air travel enthusiasts will love the variety of tours available for guests, though they only occur on the 2nd Friday and last Saturday of each month. Tours are themed: passenger terminals (90 minutes), inside Security (2 hours), passenger terminals and inside Security (3-4 hours), and airport operations (4 hours).
6. Go sightseeing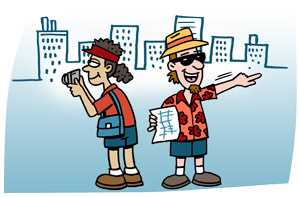 If the idea of one more minute in an airport has you bored and frustrated, explore Bucharest! To make it worthwhile without risking your next flight, we only recommend this option if your layover lasts more than seven hours.
The 780 Express bus route departs every 20-40 minutes (24/7) and has you at the Gara de Nord railway station in the center in about 45 minutes. Just so you know – trains are also available, but you will need to take a quick bus ride to the airport station. For the most convenience, hire a taxi using the touchscreen devices in the Arrivals Hall – you'll get a receipt and be directed to your taxi, all to prevent taxi scams.
Once downtown, view the massive Palace of Parliament, one of the world's most significant buildings, then contrast it with a visit to the ornate Stavropoleos Church. Tour the Ceausescu Mansion, the former home of the Romanian dictator, which was so gaudy and expensive he kept it a secret for decades. Check out the Romanian Kitsch Museum or stroll through Cismigiu Garden for something lighter. The food scene here is buzzing, so check out a local restaurant, visit a hip cafe, or pop into a garden bar for an afternoon or evening cocktail.
Keep your eye on the time! Return to the airport and pass through Security for that next flight; otherwise, your layover will be even longer.
7. WiFi
Surf the net to your heart's content thanks to free, unlimited WiFi.
8. Sleep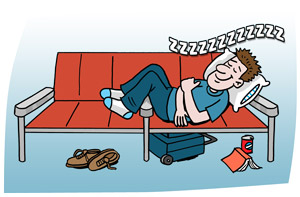 Catching up on sleep is a fine way to pass any layover, but be prepared for limited armrest-free seats. If you're lucky, grab a bench inside the Secure zones. The only couches are located in smoking lounges. Your best bet for comfy sleep is to spread out on the floor, but bring a sleeping mat or extra layers for some cushion. If you're willing to pay for your room, several hotels are within a short drive of the airport, and some offer complimentary airport shuttle service. See our Bucharest Henri Coandă Airport Guide for details and locations.
These are just a few things to do on a layover at Bucharest Airport. Visit our Bucharest Airport Guide for more information about services and facilities, such as food, WiFi, mobile charging, luggage storage, nearby airport hotels, and much more.