If you have found yourself with a layover at Calgary International Airport, you may now be wondering what to do with your time….besides sleep! While options are a bit limited, as YYC is not a huge transit hub, you should be fine for a short visit.
Here are 7 things to do on a layover at Calgary Airport.
1. Grab a bite to eat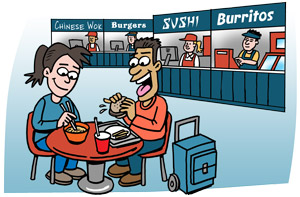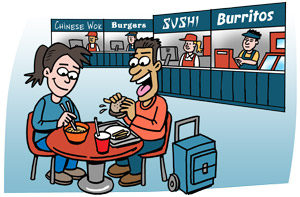 You'll have a decent amount of dining options, though most are casual, food court situations, with Subway, Chick-Fil-A, Starbucks, fast Thai and Japanese options, plus Canadian staples like Tim Hortons and Swiss Chalet Express. Experience Canadian beer culture at the Molson Brewhouse and Belgian Beer Cafe. For a leisurely sit-down meal, your best bets are The Kitchen by Wolfgang Puck, Yakima Social Kitchen + Bar, and Bubbles Tapas and Wine Bar.
2. Hang out in a lounge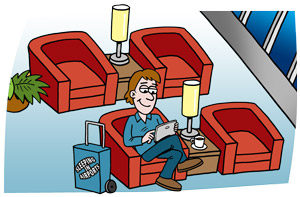 Passing your layover in a relaxing airport lounge isn't just for First Class flyers these days. A few lounges here are open to any traveller, no matter their airline or flight class flown. Simply pre-book a pass online, use your lounge membership program, or pay at the door to gain entry. Locations and amenities available in our Calgary Airport Guide.

3. Go shopping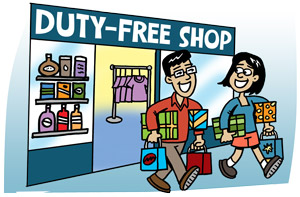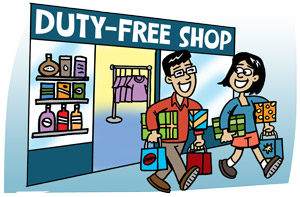 Get your steps in while browsing the shops on your layover. You'll find airport staples like convenience stores, travel shops, and the Duty-Free, plus a few international brands. The airport does a good job at providing local culture. Shop at Lammle's Western Wear and the Heritage Trading Post for art and goods from area artisans, plus delicacies like salmon and maple syrup from across Canada. Locally-made chocolates from Cococo Chocolaterie Bernard Callebaut make perfect souvenirs.
4. Relax at the spa
Recenter yourself between flights with a spa treatment. The OraOxygen Wellness Spa has two locations that provide massage treatments, oxygen therapy, nail and waxing services, and more.
5. Explore Calgary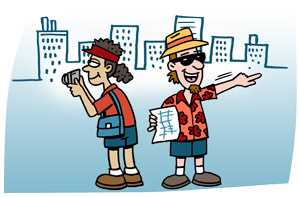 Calgary Airport is located only 11 miles north of downtown, so if you want to stretch your legs and get some fresh air about town, it's an easy option. Just make sure you have at least 6 hours between flights.
Local bus route 300 BRT connects the airport with downtown in about 40 minutes, and it departs every 30 minutes from Bus Bay 8. For speedier service, opt for a taxi, which will get you downtown in about 25 minutes for about $45. If you need to stash your bags before heading out, stop by the Information Booth in Arrivals, on the public side of the airport.
Once downtown, head to Calgary Tower for panoramic views from 525 feet high in the sky! Heritage Park Historical Village is fun for everyone, with an antique midway, a stream train, a skating rink, and the unique Gasoline Alley Museum.  A reader recommends visiting one of the art galleries in town or the nearby Cross Iron Mills shopping center.
Remember to get back to the airport with plenty of time to pick up your stored luggage and process through security before your next flight.
6. Get connected
Stay connected to friends and family, update your social media accounts or surf the internet courtesy of the airport's free WiFi.
7. Sleep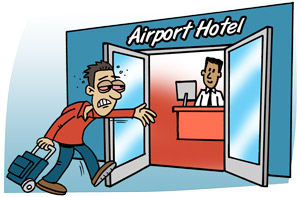 We don't blame you at all if you want to spend your layover just catching up on sleep. The good news is that airport staff are generally OK with folks sleeping, even if it means camping out overnight. The even better news is that there's plenty of space to spread out. Travellers particularly recommend the Starbucks on Floor 2, which has cushioned seats and benches and is pretty secluded. Banff Hall also has comfortable leather chairs. Wherever you're sprawled, bring an eye mask and earplugs to keep out any airport chaos. Sleeping in an airport isn't quite your thing? The Marriott In-Terminal Hotel and the Delta Calgary Airport In-Terminal Hotel are located on premises. Plus, several hotels within a few minutes' drive of the airport offer free shuttle service. For details, see our Calgary Airport Guide.
These are just a few things to do on a layover at Calgary Airport. Visit our Calgary Airport Guide for more information about more services and facilities available, such as food, WiFi, mobile charging, luggage storage, nearby airport hotels, and much more.