If you have found yourself with a layover at Dallas-Fort Worth Airport, you may now be wondering what to do with your time….besides sleep! Overall, DFW is pretty comfortable with a decent amount of things to do, especially if you like eating and shopping.
Here are 10 things to do on a layover at Dallas-Fort Worth Airport.
1. Enjoy the food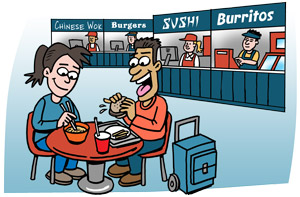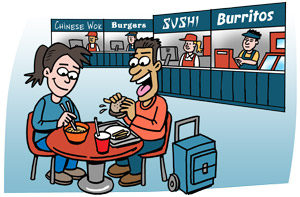 You won't have any problem finding a good meal at DFW – this is Texas after all! Plenty of eateries are in every terminal, serving up barbeque, sandwiches, Southern cooking, fast-food, frozen yogurt, Tex Mex, American classics, and more. Head to Terminal D for more options for leisurely sit-down restaurants with international flair. Foodies in-the-know head to Whitetail Bistro by Kent Rathbun, Banh Shop, Love Shack, Stampede 66 Express, and Cousins Bar-B-Q. Fans of American football may want to seek out the Dallas Cowboys Club or avoid it altogether depending on their allegiance. If you're a breakfast-any-time-of-day person, Cereality is a cereal bar that's open all day long. Staying the night at DFW? Plan ahead, as it seems only the Airside 7-Elevens stay open 24-hours.
2. Spend time in a lounge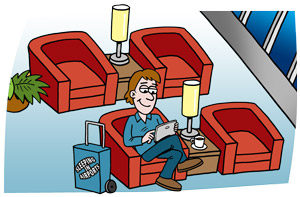 You may be surprised to learn that several airport lounges allow entry to any traveller, no matter their airline or flight class. Sure, you'll have to spend a few bucks, but it may be money well spent to pass your layover in upgraded comfort, with food, WiFi, and other amenities typically included in your entry fee. Gain entry by pre-booking online or using your lounge membership program. See our Dallas Fort Worth Airport Guide for details and locations.

3. Go shopping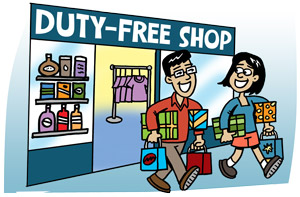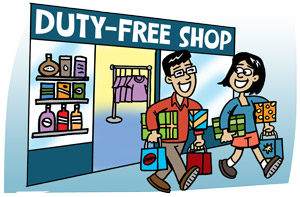 Get your steps in between flights by browsing the many shops! Expect plenty of airport staples in each terminal, like convenience stores, travel and technology shops, and specialty stores offering candy, souvenirs, and skin care. Texas Marketplace, The Range, and similarly-named stores offer Texas goods like local leather and cowboy hats and buckles. You can give your credit card a workout, too, at splurge-worthy boutiques in Terminal D, like Longchamp, Coach, and Michael Kors.
4. Take a shower
If you want to freshen up, Minute Suites and the DFW Lounge offer shower facilities, but you'll need to pay for entry.
5. Unwind at the spa
After your last flight, you may be in need of some TLC. XpresSpa has several locations in the airport for manicures and pedicures, massages, facials, hair styling and other relaxation services. Not every location offers all services.
6. Stay connected
Stay connected to friends and family, update your social media accounts or surf the internet courtesy of the airport's free WiFi.
7. Browse the art
DFW takes public art seriously, with more than 30 artworks installs, including terrazzo floors, an outdoor sculpture garden, and paintings. Join an airport tour or see how many you can spot on your own stroll through the terminals.
8. Explore Dallas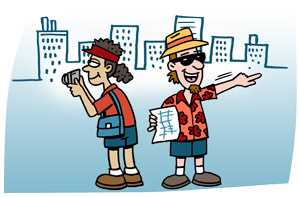 If you've got a layover of at least 6 hours, consider leaving the airport behind altogether!
The DART public transit network provides cheap connections to downtown Dallas. The easiest option is the DART Rail Orange Line, which has a station at Terminal A. Bus route 408 and Trinity Railway Express also connect with the city, but are a little limited in service. Plan about 75 minutes one-way. Taxis are also available.
You can also head to Fort Worth, but Dallas closer and easier to reach by public transit.
(If you are leaving the airport, know that luggage storage isn't available at DFW, so pack light or plan ahead.)
The DART connects to these Dallas neighborhoods, so pick one or more to explore, depending on your flight itinerary:
The Pearl/Arts District is the spot to be for art and culture aficionados. Pop into the Dallas Museum of Art, the Nasher Sculpture Center, or the Perot Museum of Nature and Science. Architectural walking tours are a fun and affordable way to explore this neighborhoods.
The West End District is home to plenty of shopping and eating establishments, though its particularly known for its place in history: Former U.S. President JFK was assassinated at Dealey Plaza here, and the Sixth Floor Museum memorializes the event.
The Main Street District is the heart of downtown Dallas. Stroll through the gardens and art exhibits at Thanks-Giving Square or look out for live music performers. This is a good neighborhood to explore if you're not in the mood to head to museums or historic attractions.
Other options for exploring Dallas include the George W. Bush Presidential Library and the Dallas World Aquarium, but these require even more time. You'll need to shell out for taxis, too.
As always, head back with plenty of time to process Security and reach your gate before that next flight!
9. Catch up on your sleep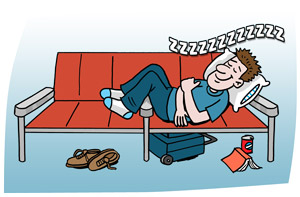 Generally, overnight travellers shouldn't have many issues camping out overnight. The airport is pretty sleep-friendly, but plan to walk a lot if you're searching for a decent spot to spread out. Travellers particularly enjoy the leather footrest chairs in the lounge near Gates B10-11. The Relax Lounge in B28 isn't well-lit, but is said to provide a calm sleep environment. In Concourse C, seek out the rest zones that tend to be dimly lit. One near Gate C27 has two large couches plus a few comfortable chairs, good for a few hours' rest. Terminal E has a yoga area that's quiet, even during the day. No matter where you hang out, bring an extra layer and earplugs to block out airport AC and noise. As a U.S. transit hub, Dallas-Fort Worth Airport sees alot of stranded passengers thanks to mass flight cancellations and the airport is prepared with eco-friendly biodegradable blankets and pillows. If your flight has been cancelled and you are stuck in the airport overnight.
If you would rather spend the cash to ensure better quality sleep? Terminal D has a couple options: Minute Suites rents private suites with daybed sofas by the hour or overnight, and when they're full, they'll rent air mattresses. Or head to the Grand Hyatt DFW for a traditional hotel room, with day rooms available from 9:00AM – 5:00PM daily. Plenty of hotels are located off airport premises, some with free airport shuttles; see our Dallas Fort Worth Airport Guide for details.
These are just a few things to do on a layover at Dallas-Fort Worth Airport. Visit our Dallas-Fort Worth Airport Guide for more information about more services and facilities available, such as food, WiFi, mobile charging, luggage storage, nearby airport hotels, and much more.