If you have found yourself with a layover at Denver Airport, you may now wonder what to do with your time….besides sleep! The airport's official code is DEN, but locals call it DIA. Many airlines have hubs here, including Southwest, United, and Frontier, so it's a standard connection. The airport is laid out efficiently, so catching your next flight is easy. Once you're inside Security, a free underground train connects Terminals A, B, and C so that you can explore them all on a long layover.
Here are 13 things to do on a layover at Denver Airport:
1. Eat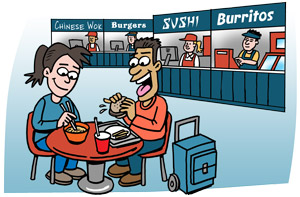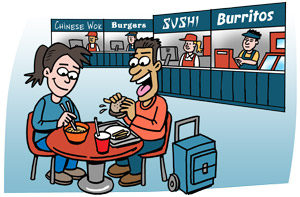 Root Down is the first local restaurant to expand to the airport, and everyone loves it. You can skip the line and find a spot at the bar. The décor is fresh, with Mad Men-era suitcases lining the bar and luminescent globes hanging from the ceiling. The trendy comfort food is delicious and accommodates dietary needs. Their modern cocktails are the best value in the airport. Open from 7:00 AM – 9:00 PM in Concourse C.
Other local spots:
Elway's is the quintessential upscale Colorado steakhouse experience. Stop in and feel fancy at Concourse B – even if you're not a Broncos fan. Opens at 7:00 a.m.
Mesa Verde gets excellent reviews for being affordable with top-notch, fast service. Southwestern food with green chile and a full bar. Opens at 6:00 a.m. in Concourse A.
Steve's Snappin' Dogs offers great hot dogs with unique topping combinations, most priced between $7-10. Concourse B.
Udi's Bakery provides gluten-free options. Concourse B is open from 6:00 a.m. – 9:00 p.m.
Other food options include Woody Creek, The Magic Pan, Mod Market, Smashburger, and cafes, including Starbucks and Dazbog Coffee.
Are you stuck overnight? The McDonald's in Concourse A and the Burger King in Jeppesen Terminal are open 24 hours.
2. Lounge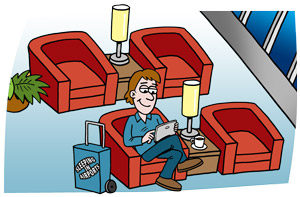 Spending time in an airport lounge feels like something only fancy First or Business Class flyers can do. Not so anymore! You can enter the airport lounges here if you belong to a lounge membership program. Or, if you're flying American or United Airlines, you can purchase a day pass to relax in the comfort of one of their lounges. See our Denver Airport Guide for locations and amenities.
3. Go on a Colorado beer crawl
Colorado is home to hundreds of breweries, and Denver hosts the annual Great American Beer Festival. Good news: you can taste world-class beer without leaving the airport. (Remember, you're a mile above sea level, so take your time tasting and staying hydrated.)
Visit the Boulder Beer Tap House for its legendary hops. Location: Jeppesen Terminal, outside of Security.
New Belgium Brewing's famous Fat Tire is available nearly nationwide, but this brewery is Colorado's 2nd largest and very innovative. Visit the New Belgium Hub in Concourse B for beers you can't get elsewhere.
Several restaurants specialize in local beers, including:
Concourse A: Denver ChopHouse
Concourse B: Lounge 5280 Wine Bar, Colorado Sports Bar
Concourse C: Root Down, Tapas Sky Bar
4. Enjoy the view
The best view of the Rockies is near gates C23 and C24. Colorado boasts 300+ days of sunshine, so your odds for a view are good! As the sun sets, you'll get a whole new meaning for "purple mountain's majesty."
5. Shop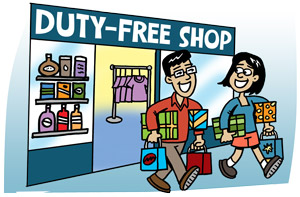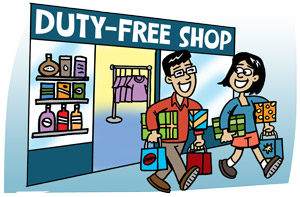 The size of this airport means you'll have plenty of shops to explore. You'll find plenty of airport staples, like convenience stores selling magazines, books, and last-minute travel and technology solutions, plus a range of art and clothing shops. Push your luck with a ticket from Colorado Lotto or pick up some local goods at any of the souvenir shops. Many boutiques mean you can try new makeup, clothes, and skincare. Outposts of local stores include:
The Tattered Cover: Denver's most well-known independent bookstore is actually a local chain, and each concourse hosts mini versions of the store. Buy your airport novel here. They also stock great travel and Colorado history books for a unique souvenir.
With kiosks in every terminal, Climax Jerky sells mostly organic jerky directly from the Colorado mountains. Their quirky shirts make a great gag gift, too.
Taspen's Organics, located in the foothills outside Denver, sells natural and organic skincare solutions. Locations in each terminal.
6. Get cultured
The skywalk between Jeppesen Terminal and Concourse A is the only way to get to a Concourse without using the underground train. The skywalk offers a few museum-quality displays that rotate through stories of Colorado aviation. Previous displays included uniforms from the former Pan-Am lines and a history of the original Denver airport.
Anyone who has left DIA by car has likely spotted the giant, bucking blue horse sculpture with its demonic red eyes. Welcome to Broncos Country! Not really – the horse has nothing to do with football, but it is part of 20 permanent art installations at DIA. The rest are inside, so see if you can find the art on your own (turn it into a scavenger hunt with your kids), or check what's available on the Denver Airport website.
7. Become a conspiracy theorist
Do you think some of the art is bizarre? You're not alone. The murals, sculptures, and signage have inspired substantial conspiracies, from a one-world government to satanic codes. While it's mostly been debunked, explore at your own risk.
8. Get Connected
Stay connected to friends and family, update your social media accounts or surf the internet during your layover. WiFi is free throughout DIA, doesn't require an account, and doesn't expire (great for exploring those airport conspiracies).
9. Get your blood pumping
Denver is the Mile High City, and DIA sits at a slightly higher altitude of 5,431 feet (1,655 meters). Taking a brisk stroll here will get your heart pumping unlike any other, and with three concourses, you'll be sure to hit your steps for the day. Remember to hydrate – each concourse provides four free water bottle filling stations.
10. Ride the rails with your kids
Ride the underground train with your kids – it's free, comes every few minutes, and plays music and audio from the Denver mayor and local sports stars like Peyton Manning. Concourse B's mezzanine has a small play area for kids and a toy store, Kazoo & Company (open 8 a.m.-8 p.m.).
11. Relax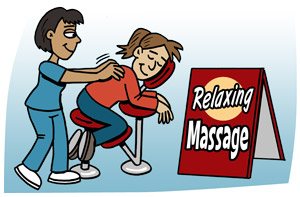 Travelling can be rough on your body – maybe your neighbour wouldn't let you sleep, or your seat didn't recline. Take a few minutes to relax with a massage or manicure/pedicure. Concourses A and B host A Massage, and Xpress Spa is in Concourse C.
Are you feeling a bit stressed? The Denver International Airport Canine Airport Therapy Squad (CATS) program allows travellers to interact with members of the airport's most beloved four-legged volunteers.
For prayer or quiet time, visit the Interfaith Chapel and Islamic Prayer Hall in Jeppesen Terminal, which is open 24 hours.
If relaxing is more about getting your fix, there's still one smoking lounge left: Smokin' Bear Lodge is in Concourse C and requires a $5 minimum purchase. Unfortunately, you're out of luck if you hope to finish your legally purchased marijuana: it's illegal to bring to the airport or smoke in public.
If you're in the airport watching the mountains or wondering which direction the city is, why not check it out for yourself? If you've got a layover of at least 6 hours, you can head into downtown Denver to get some fresh air and explore one of the fastest-growing cities in the U.S.
12. Explore Denver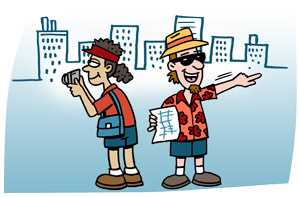 The newly completed RTD A Line connects the airport with downtown, departing every 15 minutes for $9 one way. You'll arrive at Union Station 37 minutes later. Taxis are your best bet if you're heading to a different part of town, though buses will be more economical.
Once you're in Denver, there's plenty to explore. Union Station is the heart of downtown, with plenty of local restaurants, breweries, distilleries, and cafes around. Catch a game or tour Coors Field, home of the MLB's Colorado Rockies. For a fancy afternoon, enjoy high tea or a cocktail at the Brown Palace Hotel, one of the oldest hotels in the state. Take a free tour at the State Capitol or visit the Denver Art Museum. The nearby Clyfford Still Museum is a small, minimalist museum dedicated to one of the first Abstract Expressionist painters – you can easily see it all in about 1 hour. Check out the local Colorado brewery and dining scene with a stroll around the River North (RiNo) or Lower Highlands (LoHi) neighbourhoods.
Don't miss your next flight! Be sure to leave plenty of time to hop back on the train to reach the airport and clear Security.
13. Sleep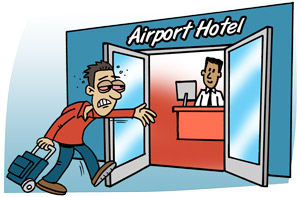 You shouldn't have much problem catching up on sleep here, whether it's a daytime nap or an overnight campout session. Seats and benches are available throughout the airport, though most have armrests. Otherwise, take advantage of the wide-open carpeted floor space. Travellers report particular luck sleeping in these spots: the walkway to the USO Lounge in Concourse A, the mezzanine in Concourse B, and the office level a floor above the train stop in Concourse C. During major delays and flight cancellations; the rumour is airport staff provide cots and blankets. Sleeping inside the airport isn't quite your style? The Westin Hotel is a brand-new hotel attached to the main Jeppesen Terminal. Otherwise, several hotels are within a few minute's drive of the airport and run complimentary airport shuttles. See our Denver Airport Guide for locations and amenities.
These are just a few things to do on a layover at Denver Airport. Visit our Denver Airport Guide for more information about services and facilities, such as food, WiFi, mobile charging, luggage storage, nearby airport hotels, and much more.