Catering to more than 70 million international passengers and connecting 260 destinations in the East and West, Dubai International Airport (DXB) is undoubtedly one of the world's most important transport hubs. It's also one of the best airports for a layover, what with the sheer number of shops, restaurants, and amenities (among them spas, zen gardens, and sleeping pods) within the airport alone.
Sure, you can always catch up on some sleep on your stopover, but with DXB having some of the world's best facilities and the Dubai city centre just 5 kilometres (3 miles) away, we can think of a number of more exciting ways to pass the time. Here are 10 things you can do on a layover at Dubai Airport.
1. Eat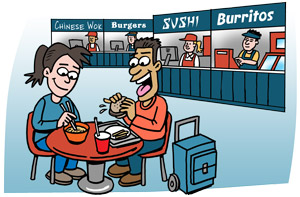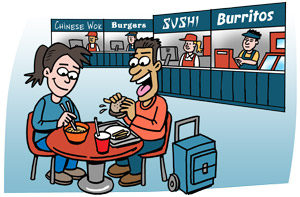 With dozens of dining options, you'll undoubtedly find something yummy to eat. Take your time with a leisurely sit-down meal, or stop by a number of places for a DIY around-the-world foodie tour. Middle Eastern, Indian, Thai, Italian, Irish, Tex Mex, and Japanese cuisine are all available. Popular Western eateries located here include Pret a Manger, Shake Shack, Pinkberry, Starbucks, any many more.
2. Relax in an airport lounge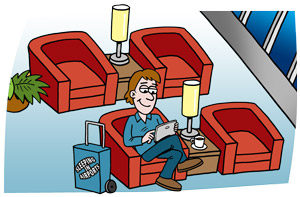 Spend your layover like a First Class flyer – even if you're not one! Many airport lounges here offer access to any traveller, no matter the airline or service class flown. The entry fee may well be worth the inclusive food and drinks, a quieter, comfier space, and decent WiFi speeds – some even have shower facilities. Save by pre-booking an entry pass online or use a lounge membership program. Locations and amenities are available in our Dubai Airport Guide.

3. Shop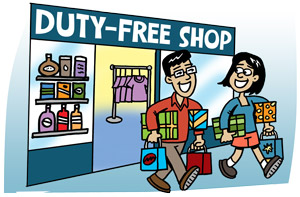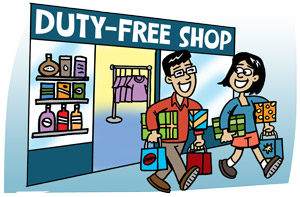 Shopping is a serious activity here, with seemingly endless Duty Free areas and a whole host of international boutiques. Pick up some local goods, like dry fruits or chocolate – they make great souvenirs for friends, or just a yummy snack for yourself. A unique shopping opportunity is buying raffle tickets. The airport regularly raffles off cash, gold, and luxury cars, so try your luck!
4. Go sightseeing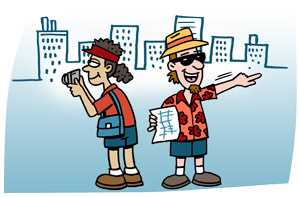 DXB is located just a few minutes from the Dubai city centre. Combined with easy transit options and a layover of at least 5 hours, checking out the city may be the best way for your to pass the time until your next flight. You have a couple options for sightseeing:
Tours
Join a tour. Plenty of tour operators offer half- or full-day excursions in and around the city. City highlight tours stop by the Burj Khalifa and other top attractions.
Independent
Do it yourself. The Dubai Metro has two lines that service T1 and T3 at the airport, connecting with the city centre. Opt for the Gold Class front-row carriage for a panoramic view of the city's vast architecture. Taxis and buses are also readily available.
Once in the city centre, there's plenty to explore. Dubai offers many attractions with descriptions like "the largest of its kind" or "first in the world". A visit to the top of the Burj Khalifa, the tallest building in the world, takes about 1 hour. The Dubai Mall is an outrageous and impressive mall with over 1,000 shops, plus skating rinks, interactive arcades and playing areas, and countless restaurants. Even if you're not a shopper, it's a must-see. With a little more time, head to Old Dubai to see the traditional souks, marketplaces that sell a bevy of local goods.
Our Dubai Airport Layover Sightseeing article provides more ideas and details.
A couple things to note: pay to store your bags for up to 12 hours in T1 and T3, and be sure to leave enough time to pick up your bags and process through Security en route to your next flight.
5. Freshen up with a shower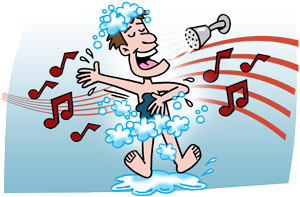 If you've just stepped off a long-haul flight, a shower may be just what you want. Free showers are located in Terminals 1 and 3, though their cleanliness may be debatable. If you're springing for entry to an airport lounge, look for ones with shower facilities included. The Health Club between Terminals 1 and 3 also provides a shower-only package if you don't want to pay for a fuller-service package.
6. Unwind at the spa
You've got the time, so why not treat yourself to some between-flight pampering? Many spas are located across all terminals, providing massage services, aromatherapy, body scrubs, reflexology, hair cut and styles, and mani/pedis.
7. Relax or work out at the Health Club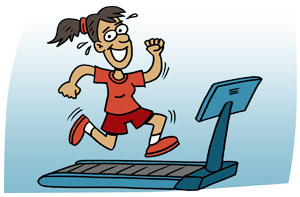 There are worse ways to spend a layover than hitting the sauna or jacuzzi for some relaxation. The Health Club located near the Dubai International Hotel is accessible from both Terminals 1 and 3. The club has a swimming pool, jacuzzi, steam room and sauna, gym, and full shower facilities available for a fee. Packages vary, starting at the shower- or gym-only options all the way up to the full experience.
8. Stop by the indoor gardens
Take a moment for yourself. Zen Gardens is an indoor oasis perfect for some quiet time or meditation. Located near Gates B7 and B27 in Terminal 3.
9. WiFi
Stay connected to friends and family, update your social media accounts or surf the internet courtesy of the airport's free WiFi. For those without mobile devices or laptops, pay-to-use internet kiosks are available.
10. Sleep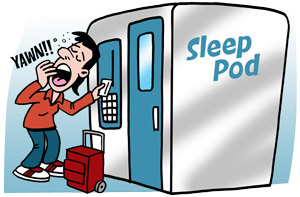 We don't blame you for using your layover to catch up on sleep! You shouldn't have much problem camping out, what with so many flights departing in the middle of the night. Travellers say it's pretty common to see folks spread out on the floors. Thanks to the airport's open layout, you'll have a tough time finding much privacy. There are plenty of chairs, but most come with armrests. If you see an unoccupied reclining chair in one of many Rest Zones, don't think – just grab it! Wherever you land, pull out an extra layer and earplugs to stave off the cold and noise.
If you'd prefer to spend the cash for better quality sleep and a bit of privacy, you do have some options. In Terminal 1, Snooze Cube rents 13 compact rooms by the hour, minimum 2 hours. The Sleep n' Fly Lounge in Terminal 3 has igloo-style sleep pods for 1-2 adults. Guests can also take advantage of their shower facilities. Dubai International Hotel is a full-scale transit hotel in Terminal 3 (all concourses), offering rooms in 6-, 12-, and 18-hour packages. Other hotels are located within a quick two-minute drive of the airport, with free shuttle service. For more information and locations, visit our Dubai Airport Guide.
These are just a few things to do on a layover at Dubai Airport. Visit our Dubai Airport Guide for more information about more services and facilities available, such as food, WiFi, mobile charging, luggage storage, nearby airport hotels, and much more.