Passing time at an unfamiliar airport can be a real drag. That's why we put together this list of 8 things to do on a layover at Düsseldorf Airport to help you make the most of your time.
1. Enjoy a meal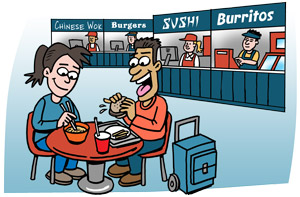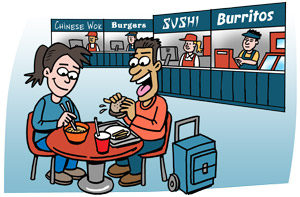 Choose from over 30 eateries here to start your layover on the right note. You'll find plenty of cafes, bars and sit-down restaurants serving German, Italian, and American, plus sushi, deli sandwiches, and baked goods. The Rewe City Market sells groceries and fresh produce in the Arrivals Hall. For overnight campers, one eatery inside Security and two pre-security are open 24 hours.
2. Hang out in a lounge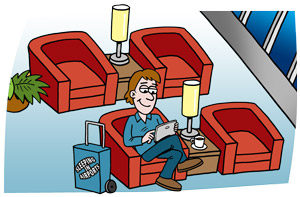 Plan on eating, drinking, relaxing, and getting online during your layover? Make it easy and do it all in one place! Three airport lounges here are available to any traveller, no matter your airline or class flown. For a single fee, you can access food, drinks, WiFi, news and TVs, and maybe even shower facilities – all in a peaceful environment. Pre-book your visit online or use your lounge membership program to gain entry. See our Düsseldorf Airport Guide for locations and details.
3. Shop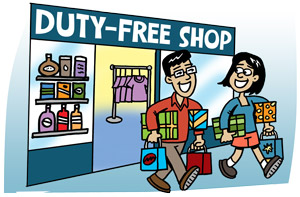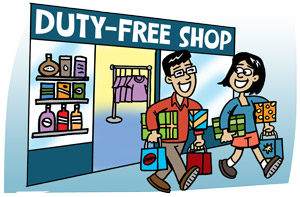 Nearly 40 shops here can help you while away significant time. Window shoppers and big spenders will like the many high-end boutiques here, including the German brand van Laack. Of course, you'll find plenty of usual airport shops, like tech stores, convenience shops and newsstands, and Duty-Free areas.
4. Tour the airport
Flying fanatics will enjoy a tour of the airport, with behind-the-scenes views and entrance to the observation deck and the SkyTrain. Tours are offered four times/day, Mondays through Fridays: 9:00 a.m., 11:30 a.m., 2:30 p.m., and 5:00 p.m., and twice on Saturdays: 10:30 a.m. and 1:00 p.m. Tours last for 90-120 minutes and the rate is €9.50 for adults and €6 for children.
5. Watch the flights take off and land
Head to the Observation deck's visitor terrace for great views of the airport action from Pier B. The terrace is open daily, with entrance fees of €2.20 per person. (Bonus for summer travellers: on July weekends, the OpenAirportCinema event plays outdoor movies on a large screen against the backdrop of the airport.)
6. Go sightseeing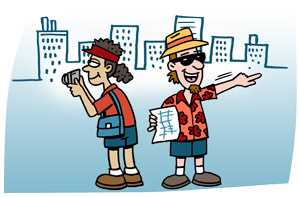 The airport is just a few kilometres north of the Düsseldorf city center, so your best option for passing time during your layover may be leaving the airport behind. If you have at least 6 hours before your next flight, exploring the city is doable and fun!
The most affordable way to the city is by S-Bahn train, which departs from the airport's train station frequently, and the S11 route will have you downtown in 17 minutes. Taxis will cost a bit more, but do provide door-to-destination service. Other trains and buses serve area destinations.
Once in the city center. Head to the Rheinufer, the historic city centre that contrasts against the city's modern, innovative architecture. Stroll along the Rhine River or take a short ferry ride for pleasant views. Do some high-end window browsing along the tree-lined Koningsallee. Take in both classic and local artwork at the Kunstsammlung Nordrhein-Westfalen. Auto enthusiasts will love visiting Classic Remise Dusseldorf, a small, free museum with a range of historic cars. Farther afield, tour the Schloss Benrath, a Baroque castle built in the 1760s and capped with lovely gardens. Visit Tripadvisor for more things to do in Düsseldorf.
Don't forget to leave plenty of time to return to the airport, pass through Security, and reach your next flight.
7. WiFi
WiFi is free, but you may also pay for upgraded/premium options.
8. Sleep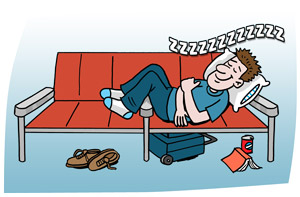 Rather spend your layover napping? Airport staff here are generally tolerant of sleepers, whether day or night. If you're inside Security, you should be able to find some seats without armrests. Pre-security, travellers report that the check-in areas are more comfortable than the Arrivals Hall. A few hotels are located nearby, including two within walking distance that offer day rooms. See our Düsseldorf Airport Guide for details and locations.
These are just a few things to do on a layover at Düsseldorf Airport. Visit our Düsseldorf  International Airport Guide for more information about more services and facilities available, such as food, WiFi, mobile charging, luggage storage, nearby airport hotels, and much more.