If you have found yourself with a layover at Edinburgh Airport, you may now be wondering what to do with your time….besides sleep! While options are limited, you should be fine for a short visit.
Here are nine things to do on a layover at Edinburgh Airport.
1. Grab a bite to eat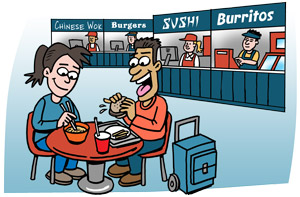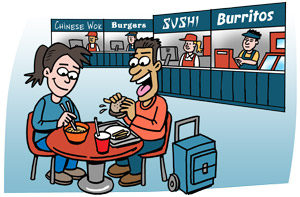 Start your layover off with a bite to eat. Leisurely sit-down spots include the Flutes & Tails Champagne Bar and the All Bar One. More casual places include a Mexican-style BarBurrito, Yo!Sushi (of conveyor belt sushi fame), and a couple of outposts each of The Gathering and Wetherspoon Bar and Restaurant. Krispy Kreme, Starbucks, and Caffe Nero serve up coffee and snacks. The pre-Security Costa Coffee is open 24 hours, and an M&S Simply Food is good for more affordable on-the-go bites.
2. Hang out in the lounge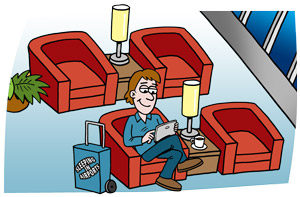 An airport lounge might be just what you need during your layover – a one-stop shop for food, drinks, WiFi, and comfortable seating, all for one price. Luckily, two airport lounges provide access to any traveller, regardless of your airline or class flown, so you don't have to be a First or Business Class flyer to take advantage. Pre-book a visit online or use your lounge membership program to gain entry. See our Edinburgh Airport Guide for locations.
3. Go shopping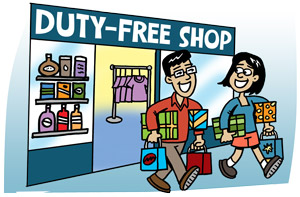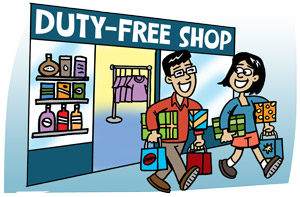 Pass the time, get some steps in, and give your credit card a workout. The shops here are well curated, offering the quintessential Scottish souvenir shops, travel accessory stores, Duty-Free, and booksellers. Tartan Weaving Mill, Scottish Fine Gifts, and Brora are perfect for local artisan gifts. The airport also has popular boutiques like Huge Boss, Jo Malone, and MaxMara, though the £3 lottery at BOTB might be the best money you'll spend, as they give away a dream car every week.
4. Treat yourself
You've got the time, so why not treat yourself? The AeroSpa (open daily) offers beauty treatments, including hair styling, manicures and pedicures, facials, and massage services to work out the new crick in your neck, thanks to your last flight.
5. Browse some art
Head to Gate 13 to browse the airport's Art Gallery, which rotates exhibits by Scottish artists – and some are for sale.
6. Observe the airport traffic
Airport enthusiasts can watch the traffic come and go on the tarmac and runway. Head to the cafes or restaurants near Gate 12 for the best views.
7. Check out Edinburgh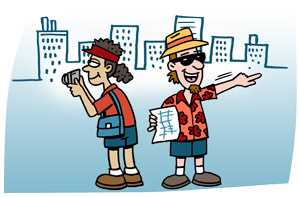 If you'd rather observe the city of Edinburgh than the airport traffic, you're in an excellent position to do so, as long as you've got a layover of at least 5 hours. The airport is located about 9 miles west of the city centre.
Check your bags in the arrivals area, then head to the bus or tram for transit into the city. The Airport Link 100 bus departs every 10 minutes and takes about 30 minutes to reach Waverley Bridge, in the heart of the Old Town. Edinburgh Trams depart every 7 minutes and take about 30 minutes, and you can purchase one-way fare or a discounted round-trip. Taxis are available, too, and they're probably just as economical if you're travelling with one or two other people.
Once at Waverley Bridge, stroll to the Princes Street Gardens for lush park space at the foot of Edinburgh Castle. You'll want at least two hours dedicated to touring the Castle itself since you'll be snapping pictures along the way. Duck into the free Scottish National Gallery if you need to hide from sudden rains. Nearby, stroll amidst the college students at the University of Edinburgh. Warm up with a local scotch at any pubs that line the Royal Mile. Or, spend your layover wandering through the charming streets and alleyways, past pubs, cafes, shops, and art galleries.
Leave plenty of time to return to the airport, pick up your luggage, and process through Security before your next flight.
8. Get Connected
Stay connected to friends and family, update your social media accounts or surf the internet using the airport's free WiFi. You'll want to use your time wisely, though, as there is a restriction to a 2-hour time limit. Boo! Once your time limit is up, you can purchase additional time.
9. Sleep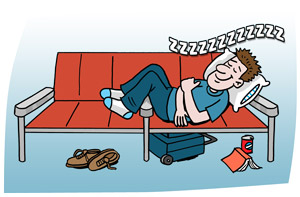 You should have no problem catching some sleep during busy days or quieter nights. Just know that any overnight campers may be asked to relocate to a new spot and/or show their passport and flight itinerary. The Secured area does close for a few hours overnight, so if you arrive during that window, you'll have to hang out pre-security. Your best bets for a comfortable sleep spot are the armrest-free benches in the arrivals area (near baggage claim), though you'll need to arrive early to stake your claim. Some travellers report that the can rental centre is perfect for napping, with armrest-free chairs, nearby bathrooms, and a quiet atmosphere at night. If you opt for the floor, it is tiled, so bring an extra layer to combat the chill. The airport's notoriously bright and loud, but nothing an eye mask and earplugs can't cure. If sleeping in the airport isn't quite your style, several hotels are located within a few minutes' drive of the airport – some are within walking distance, and some provide shuttle service. See our Edinburgh Airport Guide for locations and amenities.
These are just a few things to do on a layover at Edinburgh Airport. Visit our Edinburgh Airport Guide for more information about services and facilities, such as food, WiFi, mobile charging, luggage storage, nearby airport hotels, and much more.