If you have found yourself with a layover at Edmonton International Airport, you may now be wondering what to do with your time….besides sleep! While options are a bit limited, as YEG is not a huge transit hub, you should be fine for a short visit.
Here are 8 things to do on a layover at Edmonton Airport.
1. Enjoy a meal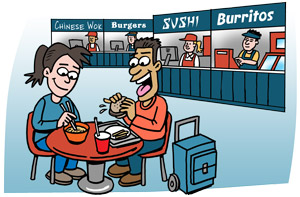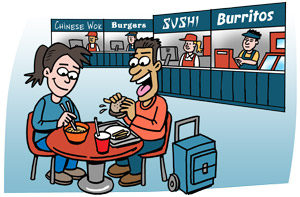 Enjoy a leisurely meal during your layover – you've got the time! There's a selection of food options here, from to-go burgers, Asian cuisine, coffee and baked goods, and healthier juice smoothies. Sit-down restaurants tout local and international beer, burgers and wings, and Italian cuisine. Local favorites include the Belgian Beer Cafe, Edmonton Eskimos Sports Bar, and the Halo Bar & Bistro. For late-night snacks, a 24-hour Tim Horton's and a Circle K Convenience shop are located pre-Security.
2. Hang out in a lounge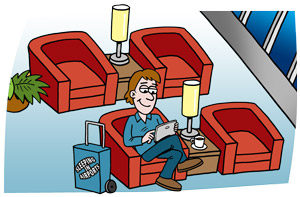 A couple airport lounges here cater to any traveller, regardless of your airline or flight class flown. This means that, for an inclusive entry fee, you can enjoy food, drinks, and good WiFi, all in a comfortable setting – not a bad way to spend your layover. Pre-book online or use your lounge membership program. See our Edmonton Airport Guide for locations.

3. Go shopping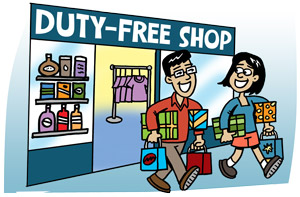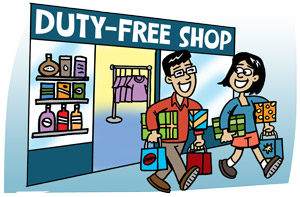 Work off your meal with a nice shop around – a good way to get some cardio in, and maybe even exercise your credit card, too. You'll find the standard airport shops, like Duty Free, newsstands and convenience stores, and shops offering sunglasses, jewelry, and last-minute technology solutions. HBC Trading Post, Outdoor Edmonton, Discover Alberta, and the University of Alberta kiosk offer local goods and Canadian exports.
4. Check out live performances and art exhibits
The airport hosts frequent live performances, plus interactive activities and art displays are accessible year-round.
5. Relax with a massage
Got a crick in your neck from that last flight? Escape Massage & Wellness, located inside Security, offers a range of massage treatments, reiki, and reflexology, with options starting at an affordable $20 for 10 minutes.
6. Head into Edmonton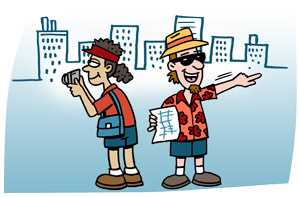 The airport is located about 28 km south of the city center, so if you've got at least 8 hours before your next flight, you could leave the airport altogether and explore Edmonton.
Simply check any bags at the baggage storage options, pre-Security near Doors 5-7 or Door 27. Then, head outside Door 8 to pick up the bus. Route 747 departs every 30 minutes during the day and will have you at the Century Park Transit Centre in about 25 minutes. From there, you can transfer to another option downtown, to explore the Royal Alberta Museum and the Art Gallery of Alberta. Or, head west to explore the huge West Edmonton Mall, featuring hundreds of shops and restaurants, plus a waterpark, skating rink, and amusement park. Of course, taxis are available for more direct service – and may be more economical for your time and money, especially if you're travelling with others.
Remember to leave plenty of time to head back to the airport, pick up your bags, process through Security, and board that next flight.
7. Get Connected
Stay connected to friends and family, update your social media accounts or surf the internet courtesy of the airport's free WiFi.
8. Sleep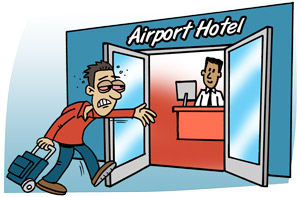 And finally, now is the time to get some decent sleep before you get back on another flight. You'll probably be able to find a spot to sleep here – with plenty of comfortable spots both pre- and post-Security. Travellers say the sofas by Gate 56 and the rest zone near Gate 16 are the best bets. But, do anticipate bright lights and loud announcements, even in the wee hours of the late night and early morning, so bring along an eye mask and earplugs for a chance at some sleep. As always, keep an eye on your bags at all times – airport staff reported instances of in-airport theft. If you'd rather spend the cash for a hotel, the Renaissance Edmonton Airport Hotel is connected to the airport. Otherwise a few other hotels are located within a 5-minute drive of the airport, and free shuttle service is available. See our Edmonton Airport Guide for locations.
These are just a few things to do on a layover at Edmonton Airport. Visit our Edmonton Airport Guide for more information about more services and facilities available, such as food, WiFi, mobile charging, luggage storage, nearby airport hotels, and much more.