Here are 10 things to do on a layover at Frankfurt Airport:
1. Enjoy a meal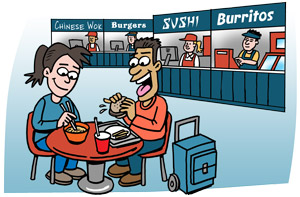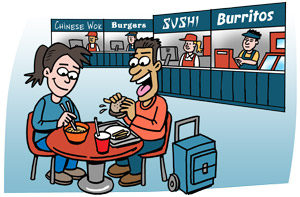 You won't go hungry at this airport, which has dozens of restaurants, bars, and cafes that should please even picky eaters. Reingold Bar is a miniature Bavarian beer garden serving German sausage, pretzels, and local brews.  Goethe Bar is an homage to one of Germany's best-known literati. Caviar House is a splurge-worthy spot for a leisurely meal of seafood and Champagne. Of course, you can choose from Asian eateries, German bakeries, and many Western chains like Kentucky Fried Chicken, McDonald's, and Starbucks.
2. Visit an airport lounge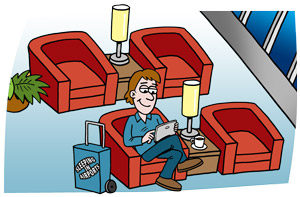 A big airport like this means you are spoiled for options for airport lounges – and you don't have to be flying First or Business Class to check into many of them. Simply pre-book a single visit pass online or use your lounge membership program to gain entry. A flat fee typically includes food, drinks, TVs, WiFi, magazines, and sometimes even shower facilities, all in a pleasant, relaxing environment. Locations and details are available in our Frankfurt Airport Guide.

3. Shop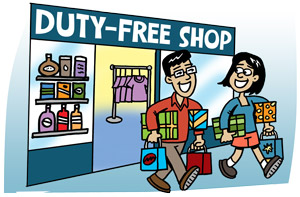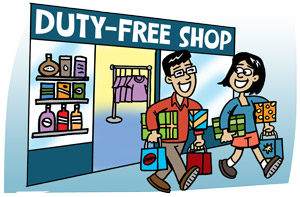 The many shops and boutiques here give you plenty of eye candy to pass the time, and you may even find the perfect souvenir. Terminal 1's Airport City Mall is the place to go, where German brands like Jack Wolfskin and Birkenstock are located, along with many other boutiques. Look for the Coupon Wall, which has deals and discounts on airport eateries and shops. Giant duty-free areas offer the usual array of candy, chocolates, perfume and makeup, and alcohol. We hear there's even a grocery store for affordable snacks.
4. Freshen up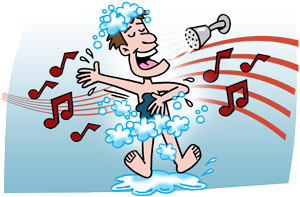 German efficiency is the name of the game here, and we love that this airport makes shower facilities available for a small fee. Five locations in Terminals 1 and 2 offer towels, shower gels, and hair dryers for a refreshing shower experience for only €6. Showers open daily from 6:00AM – 10:00PM.
Enjoy!
5. Get pampered
After you've freshened up with a shower, get pampered with a massage, facial, manicure, pedicure, or time at the oxygen bar. Be Relax Spa has three locations offering a range of spa services. A hairdresser inside Concourse C's Airport City Mall Frankfurt is available for haircuts and styles.
6. Pilot your own flight! Drive a flight simulator
Have you ever wanted to pilot your own plane? The airport has a flight simulator that lets you take off and land a simulated plane at airports around the world. The session costs €79, but you get instructions from an experienced commercial pilot – a pretty cool way to pass your layover at Frankfurt Airport!
7. Use the WiFi
Hop online to chat with friends or browse the internet – WiFi is free and unlimited.
8. Tour the airport
We know the flight simulator is a splurge – but the airport also offers several different airport tours that shows the behind-the-scenes logistics and workings. Tours start at only €8 for a 45-minute experience, with additional tours that take you into the Fire Department or around the runways – these range from €15-25. Make a reservation or stop by the Airport Tours Shop in Terminal 1.
9. Sightseeing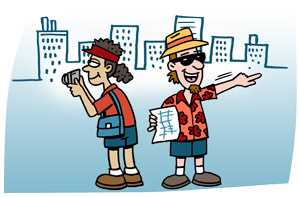 There's plenty to keep you busy inside the airport, but you may be itching to get out for some fresh air. Why not head into the city centre for some exploring? We recommend at least 7 hours between flights if you want to explore.  Luckily you can store your bags in Terminals 1 and 2 while you're out and about!
Trains are your most efficient ways to reach the city centre – head to the Frankfurt Airport Railway Station and purchase a round-trip train ticket to the city center. Many buses depart from the front of Terminal 1. Of course, taxis are ready and waiting if you want more direct service.
In the city center, head to Alstadt, the oldest part of the city with many sites reconstructed after World War 2. Romer, the main square, serves up iconic German architecture. Travellers will be surprised at the city's gastronomy scene – head to Kleinmarkthalle (closed Sundays) for local and fresh food. Along Grosse Bockenheimer Strasse (known locally as Fressgass), you'll find a pedestrian street packed with street food ranging from German to Asian cuisine, plus many shops. Walk off all those calories with a stroll along the Main River – the peaceful river meanders past new skyscrapers and old architecture, showing off how quickly this city is developing. Or, opt for a popular 1-hour cruise along the river.
Be sure to leave enough time to make it back to the airport and process through Security before your next flight!
10. Sleep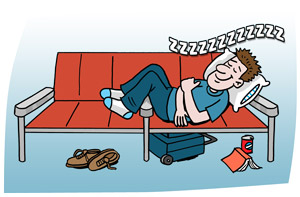 All you wanna do is catch up on much-needed shuteye? Keep an eye out for the reclining lounge seats with food rests, located throughout the airport and in the Rest Zones. Otherwise, much of the gate seats are equipped with metal armrests, so head to the pre-Security areas for armrest-free seating – travellers note that Terminal 2's pre-Security area has comfortable seating on Floor 2. If you're camping out overnight, note that only Concourse B stays open 24-hours. For a nap in a proper bed, you'll have to spend the money. There is now a transit hotel located inside Security in Terminal 1, and you can book a private room hourly, starting with a 3-hour block for €110 (check-in only available from 5:00AM – 10:00PM). Three more hotels are located at the airport, and some offer day room rentals, so stroll or ride the train to them. Other hotels are located nearby, offering shuttle service. See our Frankfurt Airport Guide for details and locations.
These are just a few things to do on a layover at Frankfurt Airport. Visit our Frankfurt Airport Guide for more information about more services and facilities available, such as food, WiFi, mobile charging, luggage storage, nearby airport hotels, and much more.