If you have found yourself with a layover at Glasgow International Airport, you may now be wondering what to do with your time….besides sleep! While options are a bit limited, you should be fine for a short visit.
Here are seven things to do on a layover at Glasgow International Airport:
1. Grab a meal or a pint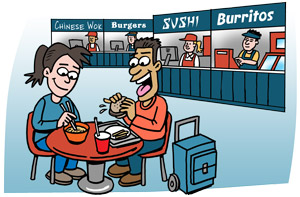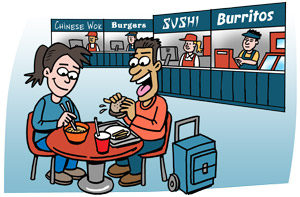 Start your layover on the right note by enjoying a meal outside the confines of a plane. There are only a few options here, but most travellers should find something at the several sit-downs, cafes, and to-go kiosks. Of course, this is Scotland, so you could stop by each pub and try a local brew or whisky – it's your layover!
2. Hang out in the lounge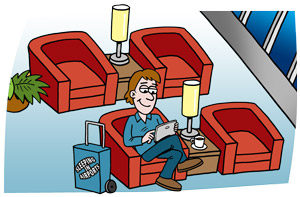 Have you always wanted to check out an airport lounge? A few hour's layover is the perfect way to do it – even if you're not flying First or Business Class. A lounge here offers access to travellers of any airline or flight class. Pre-book a pass online or use your lounge membership program to gain entry for food, drinks, unlimited WiFi, and a comfortable, relaxing environment. See our Glasgow International Airport Guide for details.
3. Go shopping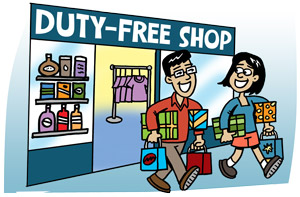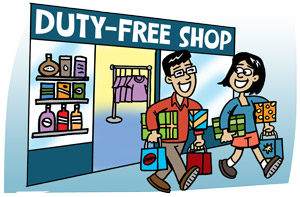 The dozen or so shops here don't offer anything groundbreaking, but you can check them all out to pass the time. After all, when else do you have the time to look at every item in a shop? The Duty-Free offers typical candies, whiskies, and makeup, and there are standard souvenir and travel shops for last-minute items. Your best bets are Celtic Football Club to pick up some original footie gear or Fat Face for comfortable sportswear.
4. Hit the spa
Located inside Security, AeroSpa offers a range of pampering opportunities, from quick chair massages to beauty services for your nails and brows.
5. Go sightseeing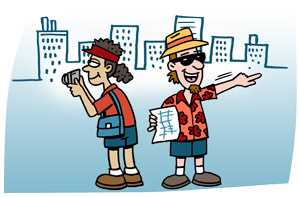 If you're feeling antsy and want to get away from the airport, why not check out the city? Glasgow is about 8 miles away from the airport. Plan on at least 6 hours between flights, so you're not cutting it too close, and consider checking any large bags pre-security while on your day trip around town.
Buses run frequently from the airport to various city points, picking up and dropping off just outside the airport terminal. The 500 Glasgow Express is your best bet, stopping at the Buchanan Street Bus Station in the heart of the city in about 35 minutes. Taxis are available for more direct service.
Once you're downtown, most everything is within walking distance. George Square is the place to go for well-preserved Victorian architecture – check out national heroes, like Sir Walter Scott, on the center column. Pop into Glasgow Cathedral, which dates to the 14th century! Head to the Merchant City neighbourhood to dine and imbibe alongside locals and tourists. Depending on the day, you may hit their craft fair, too. The Kelvingrove Art Museum and the Botanic Gardens are a little farther afield, both well worth the longer stroll to get there.
Don't forget the reason you're here – that next flight! Leave plenty of time to return to the airport, pick up your bags, and clear Security.
6. WiFi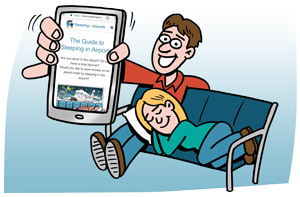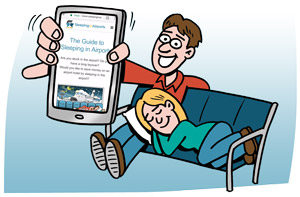 Stay connected to friends and family, update your social media accounts or surf the internet using the airport's free WiFi. You'll want to use your time wisely, though, as there is currently a 1 hour time limit restriction per device. Boo! After that,  you can purchase additional access.
7. Sleep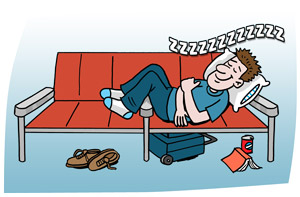 Sleeping is a perfectly good way to spend your layover, and luckily, the airport generally agrees. Some spots offer decent bench seating for spreading out, like outside the pre-Security Tesco Express. If you're spending the night inside the airport, travellers recommend Floor 2 in the dining area – snag a couch while the restaurants are closed. Otherwise, the carpeted floor in Terminal 2 is usually available when ticketing counters close around 11 p.m. If this isn't your idea of sleep, we understand! Several hotels are located within a few minutes walk of the airport. See our Glasgow International Airport Guide for details.
These are just a few things to do on a layover at Glasgow International Airport. Visit our Glasgow International Airport Guide for more information about services and facilities, such as food, WiFi, mobile charging, luggage storage, nearby airport hotels, and much more.