Kuala Lumpur Airport is a major world hub, so there's travellers from all over the world hanging out between flights. It offers modern facilities, though some areas of the airport are a lot more comfortable and welcoming than others.
Here are 10 things to do on a layover at Kuala Lumpur Airport.
1. Eat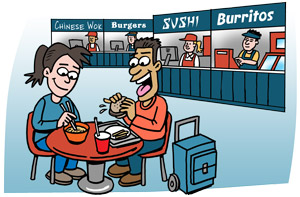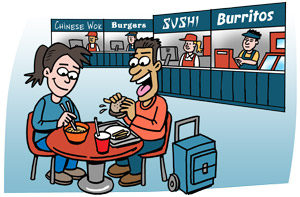 You won't have any problem finding a decent bite to eat here. There's a range of local and international eateries, from quick and easy to bars and cafes to full-service restaurants. Asian cuisine includes various Malaysian food plus Indian, Chinese, and Japanese options. Well-known Western spots include Starbucks, Dunkin' Donuts, McDonalds, KFC, and 7-Eleven. Many eateries stay open 24-hours.
2. Lounge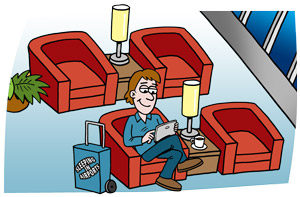 One way to pass your layover is to head to an airport lounge – even if you're not a fancy First or Business class flyer. Many airport lounges here offer access to any traveller, no matter the airline or flight service flown. Want to spend your time in relative quiet, relaxing in nice digs and enjoying the inclusive amenities like food and drinks? Pre-purchase a visit online or use your lounge membership program to gain entry. Our Kuala Lumpur Airport Guide provides locations and details.

3. Shop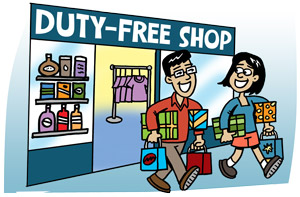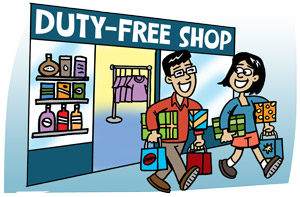 Like other modern and massive Asian airports, Kuala Lumpur feels more like a shopping mall than an airport – in fact, the Gateway Mall in KLIA2 is a mall! You'll find at least some shops worth your time, and maybe your money. Expect plenty of airport staples like bookstores, convenience shops, and pharmacies. The Duty Free options are vast, and the many international fashion brands are worth a peek. We particularly like the Lonely Planet store to read up on our next destination. Or, you can simply stop by all the candy and chocolate boutiques, vying for samples.
4. Go to the movies
Catch a movie in a comfortable setting, all without leaving the terminal! Did we mention it's free? Two movie lounges (Main terminal and KLIA2) offer couches and reclining seats and displays popular movies on large TV screens.
5. Visit the rainforest
Get a feel for the Malaysian jungle when you step inside the Jungle Boardwalk, located in the Main Terminal. This indoor rainforest feels like the real thing because it is: you'll notice the steamy humidity and quieter, natural noises as soon as you walk in. Spend a few minutes strolling along the boardwalk. It's a nice break from all the busy-ness and modern facilities of the airport – after all, they say that green color promotes calmness and reduces stress.
6. Get pampered at the spa
Wellness Spa has several locations that offer a range of beauty and spa treatments, including hair styling, mani/pedi, massage treatments, facials, and more.
7. Sightseeing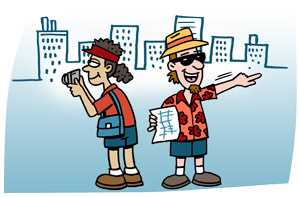 The airport is located 55 km from the KL city centre, but well-connected public transit makes it feel a lot closer. If you've got a layover that's at least 6 hours long, why not head into the city for some fresh air and exploring?
First up, store your luggage before leaving the airport; two storage locations are available. Next, you have a few options for getting downtown. The easiest is the KLIA Ekspres high-speed train that connects the airport to the KL Sentral train station in under 30 minutes. KLIA Transit trains are slower, and buses are available too. If you're traveling with a group, a taxi may be the way to go, but there are two kinds: pre-paid luxury taxis and limousines (arrange one at the Airport Limo counter) or metered budget taxis, available outside the terminals.
Once you're in the city centre, check out the world-famous Petronas Towers. Take a picture of their iconic bridge or head to the top for sweeping city views. Nearby Kuala Lumpur Tower is another perfect photo op. Stroll the central business district and you'll come across diverse cultures, including a Little India, a Chinatown, and of course Malay neighborhoods. Do an informal food tour along Jalan Alor Street, sampling cuisine at various kiosks, or opt for a super-affordable massage. For a strong dose of greenery and nature, head to Eco Forest Park, a literal jungle in the middle of the city. Stroll the high-rise walkways for treetop views of the jungle and surrounding architecture. For more ideas, see our Kuala Lumpur Airport Layover Sightseeing article.
Don't forget to plan enough time to get back to the airport (especially if there's traffic). You'll need to pick up your stored luggage and clear Security before your next flight.
8. Get Connected
Stay connected to friends and family, update your social media accounts or surf the internet courtesy of the airport's free WiFi. If you have a long layover, you'll want to use your time wisely, as there is currently a 3 hour time limit. Boo!
9. Sleep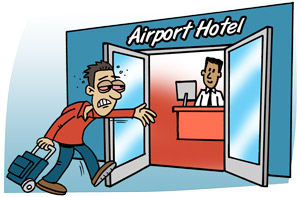 As a bustling international hub, you probably won't have any problems camping out overnight here — you certainly won't be the only one! In the main terminals, there's a good amount of chairs and benches but they can fill up quickly, so snag one as soon as you can. Travellers recommend the food court on Floor 2; it quiets down in the evening, so it's a decent spot for overnight sleeping. Fewer seats and benches and hardly any amenities make KLIA2 much less desirable for overnight travellers. If you'd rather ante up for some better quality sleep, you have plenty of options nearby. The Sama-Sama Express KLIA is a transit-only hotel that offers day rooms in 6-hour increments. The Capsule Transit (Landside), in KLIA2's Transportation Hub, offers private capsules (or sleep pods) plus showers and library/reading lounge, starting with 3-hour intervals. Several more traditional hotels are located on airport premises, often connected by covered walkway. See our Kuala Lumpur Airport Guide for details.
These are just a few things to do on a layover at Kuala Lumpur Airport. Visit our Kuala Lumpur Airport Guide for more information about more services and facilities available, such as food, WiFi, mobile charging, luggage storage, nearby airport hotels, and much more.