Lisbon Airport may be a relatively small transport hub compared to other airports in the region, but as far as layovers go, you could do a lot worse. If it's a short one, you can always catch a bit of shut-eye or shop at any of the airport's duty-free stores. But if you have a more extended stopover, we can think of several creative ways to kill the time in the city. Whatever the case, check out this list of six things to do on your layover at Lisbon Airport.
1. Have a meal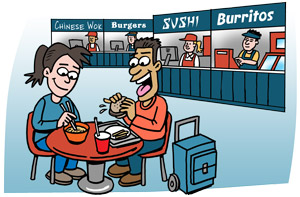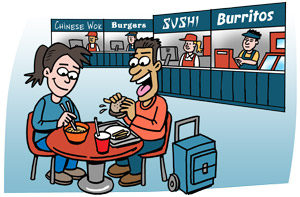 Start your layover with a bite to eat. Most dining in Portugal is casual, so you'll find a fair share of bakeries and cafes/bars serving traditional and modern fare. Confeitaria Nacional, the oldest bakery in Lisbon, has an outpost here. For a leisurely sit-down meal, head to La Pausa. Western chains include KFC, McDonald's, Starbucks, and Pizza Hut. Several 24-hour options are open in Terminal 1, but nothing stays open overnight in Terminal 2.
2. Check into a lounge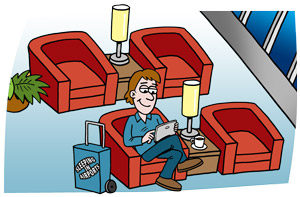 Are you catching up on work between flights? Want a cooler, calmer place to hang out? Check into one of the three lounges here. For a single fee, you can take advantage of WiFi, unlimited drinks and food, news and TV, and a quieter environment than the main terminal. Some even offer shower facilities. The nice thing about these lounges? All travellers can take advantage of them, not just First or Business Class travellers. Pre-book your visit online or use your lounge membership program to get in. Locations and amenities are listed in our Lisbon Airport Guide.
3. Go shopping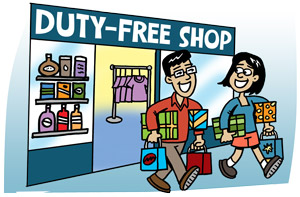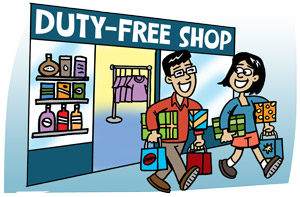 More than four dozen shops here help you pass the time, whether you're a big spender or just a window shopper. You'll find the usual blend of convenience shops, newsstands, Duty-Free areas, and high-end fashion brands. Traditional and local art and souvenirs are available at Portfolio, and Mundo Fantastico da Sardinha Portuguesa is a fun and wacky place to learn about – and shop for – a long-standing Portuguese export: the sardine!
4. Go sightseeing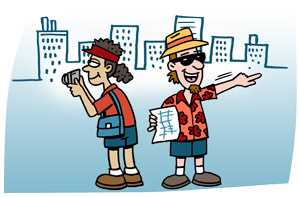 If spending yet another layover wasting time in the airport has you feeling a bit itchy, we've got a recommendation for you – get out and explore! Public transit connects the airport with the Lisbon city center quickly and affordably, so travellers with a layover of at least 6 hours can get out for some fresh air and local eats, and return to the airport in time for that next flight.
The cheapest way is the Metro's red line, which takes you to the city center in about 40 minutes. Buses are available, but won't save you time. Splurging on a taxi might be worth it – the airport to downtown runs about €15, and it shouldn't take longer than 20 minutes.
In town, stroll along the Praca do Comercio, the pedestrian walkway that leads from the Bairro Alto, the central neighbourhood, towards the Tagus River. The tiles and architecture are exemplary of the traditional Portuguese style. Ride the historic tram route 28 to the top of town, where you'll pass popular neighbourhoods like Alfama and Graca and be rewarded with views of red-tile roofs and the deep-blue river below. Tour Castelo de Sao Jorge or the Jeronimos Monastery, where you can sample the traditional Belem pastries.
However you spend your layover away from the airport, leave enough time to make it for your next flight.
5. WiFi
Browse the internet thanks to free airport WiFi. Internet kiosks are also available.
6. Sleep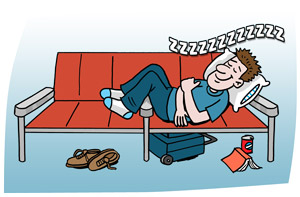 Spend your layover catching up on Z's, but if you're serious about it, you'll want to head to the comfier Terminal 1. Travellers recommend the rest zone near Gates 19-20, plus the couches in the food court. If you're pre-Security for the evening, head to the quiet corner on the upper floor. Bring an extra layer to combat cold temps. Several hotels are within a 10-minute drive of the airport, though only a couple run free airport shuttles. See our Lisbon Airport Guide for locations and details.
These are just a few things to do on a layover at Lisbon Airport. Visit our Lisbon Airport Guide for more information about more services and facilities available, such as food, WiFi, mobile charging, luggage storage, nearby airport hotels, and much more.