Miami Airport is a mix of cultures, languages, and attitudes, with flights coming and going throughout the day. Though the airport can feel chaotic, it's not a bad place to spend a long layover if you are prepared.
Here are 10 Things to do on a layover at Miami Airport.
1. Eat up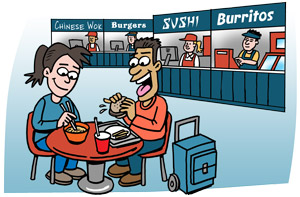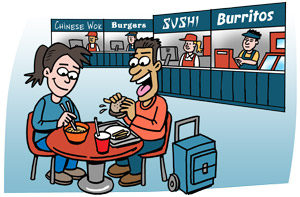 Miami is known for its food and drinking culture, which certainly extends to its airport. You'll have plenty of options to sample great Cuban food – Cafe Versailles and Cafe La Carreta are iconic locales, and they each have a few airport outposts. Plus, they're affordable. Would you prefer something lighter before your flight? Icebox Cafe and its cousin Fig & Fennel offer healthier fare. Other local eateries include Shula's Bar and Grill, Half Moon Empanadas, and Estefan Kitchen Express (as in Gloria Estefan). Of course, you'll find plenty of grab-and-go spots, like Starbucks, McDonald's, Pizza Hut, and Jamba Juice.
2. Head to a lounge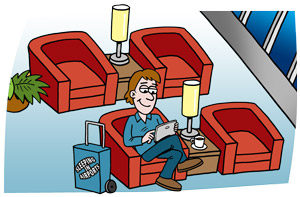 If you've got the money, you can enter an airport lounge – even if you're not a fancy First Class flyer. Several airport lounges here offer access to any traveller, regardless of airline or service class. The entry fee may be worth the inclusive food, drinks, and relative calm between flights – one even has a shower! Pre-purchase a lounge pass online or use your lounge membership program. Details and amenities are included in our Miami Airport Guide.
3. Go shopping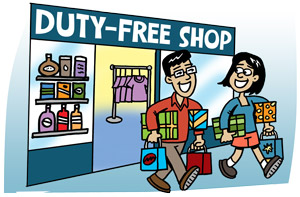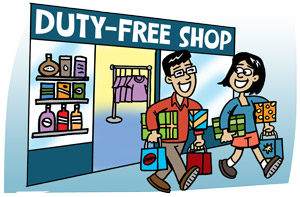 With its interconnected terminals, you can easily bop around to shops in all terminals, getting in your steps and picking up some souvenirs. You'll find airport staples like newsstands, travel stores, and tech shops throughout. Generally, the fanciest boutiques are located in the North Terminal if you want to pick up a designer shirt or handbag. Miami-based stores include Books & Books, Havana Collection, which sells airy tropical clothing, and the Prive Gourmet Market in The Shoppes at Ocean Drive.
4. Relax in a spa
Freshen up between flights at the in-airport spas. Two locations provide beauty treatments like manicures, pedicures, facials, and spa treatments, including massages.
5. Zen out
A (generally) peaceful place to spend a few minutes is the Yoga Room in Terminal H (Pre-Security). Yoga mats are available, so feel free to zen out with some poses, stretches, or simple meditation.
6. View some art
There's a lot of art here – and some of it's very worthy of Instagram. Check out the terminal maps to discover several art galleries and exhibits located both pre- and post-security.
7. Hug a Dog
If you get lucky, you'll cross paths with the airport's trained therapy dog. This golden retriever visits the airport several times a week and loves snuggling with travellers.
8. Explore Miami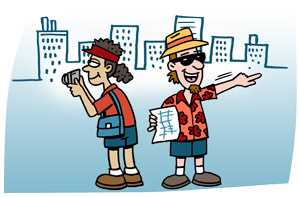 We know it is hard to sit inside an airport for hours when world-class beaches, architecture, culture, and warm weather are just steps away. No one would blame you if you'd rather spend your layover working on your suntan in Miami. This is a realistic option as long as you've got at least 6 hours between flights!
The good news is you can store your luggage at the airport, so you don't have to drag it along on your adventure. The less exciting news is that public transit isn't too impressive. The Miami Beach Airport Flyer is your cheapest option – the bus connects the airport with Miami Beach for $2.65 each way and departs every 30 minutes (except overnight). The Metrorail's Orange Line also connects for cheap, but it takes longer. Taxis, shuttles, and car-sharing options are available – just remember, your layover is limited, so spending some cash to get to the beach faster may just be worth the splurge.
Once you're in the city, there's plenty to check out. Locals and tourists flock to the sand, surf, and fancy hotels that line South Beach. For a more cultural experience, head to Little Havana, the center of Cuban culture in the U.S. – stroll along the main street, Calle Ocho. The Wynwood Arts District is becoming one of Miami's hottest neighbourhoods and is not even near the ocean. The neighbourhood is full of street murals and hip cafes and bars. For more ideas on what to do, check out our Miami Airport Layover Sightseeing article.
Be sure to leave plenty of time to return to the airport (traffic can be prolonged), pick up your bags, and process through Security for your next flight.
9. Get connected
Stay connected to friends and family, update your social media accounts or surf the internet during your layover. Catch up with free airport WiFi – you must cope with some advertisements. Or, upgrade for ad-free and speedier service.
10. Sleep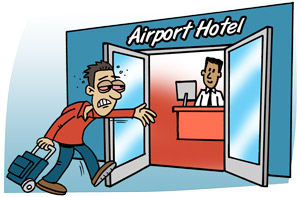 Travellers generally have no problem catching some Z's here. You'll have to get creative since seats and benches are equipped with armrests. Some floors in the North Terminal are carpeted, decent for sprawling out. Be on the lookout if you're stranded – airport staff sometimes roll out cots with blankets in case of significant delays or cancellations. Wherever you wind up, expect chilly temps and lots of noise – a sweater, blanket and earplugs will undoubtedly come in handy. You don't have to go far if you're willing to spend some cash for better sleep. The Miami International Airport Hotel is located in the Central Terminal, and day rooms are available between 10:00 a.m. and 6:00 p.m. Several hotels are located within just a few minutes drive, and most provide free shuttle service. For details and locations, see our Miami Airport Guide.
These are just a few things to do on a layover at Miami Airport. Visit our Miami Airport Guide for more information about the services and facilities available, such as food, WiFi, mobile charging, luggage storage, nearby airport hotels, and much more.