Are you stuck on a layover at Prague Airport? Playing the waiting game is nobody's idea of fun. Instead, make the most of your time with these nine things to do on a layover at Prague Airport.
1. Enjoy a meal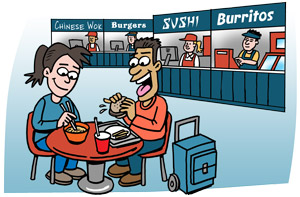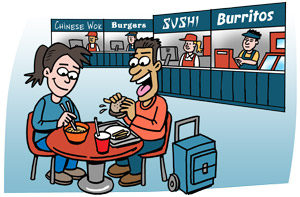 Sit-down restaurants serve up Czech and central European cuisine, Mexican, and classic pours of Pilsner Urquell. Restaurace Praha is a cafeteria-style spot with affordable meals under CZK 100. For to-go options, check out Paul, Fresherie, Bread & Co, and UGO Fresh Bar. Western chains include Burger King and Costa Coffee. Four eateries are open 24 hours: in Terminal 1, you will find two pre-Security and one inside Security, and in Terminal 2, you will find one option pre-Security.
2. Lounge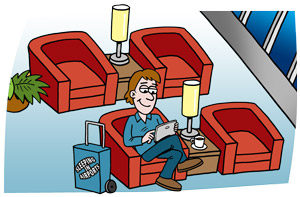 Sometimes, an airport lounge is just what you need during a long layover: a one-stop-shop offering food and drinks, solid WiFi, news and TVs, and comfortable seating for working or relaxing, all for a single entry price. Shower facilities are available in most lounges, too! You don't even have to be a Business or First Class flyer to get in most airport lounges here – simply pre-book a visit or use your lounge membership program to gain entry. Locations are available in our Prague Airport Guide.
3. Shop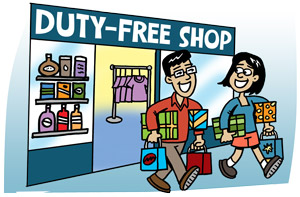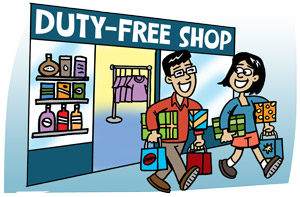 Pass your layover by browsing the few dozen shops here. Many shops focus on Czech traditions, selling Bohemian lead and hand-cut crystal, Prague Old Timer watches and clocks, locally-made natural skincare and makeup at Manufaktura, and Blue Praha's general souvenirs. A few international boutiques offer great window shopping opportunities. A small outpost of the Billa grocery store is great for affordable snacks and edible souvenirs. You'll also find the traditional convenience and Duty-Free areas, bookstores, and last-minute technology shops.
4. Take a shower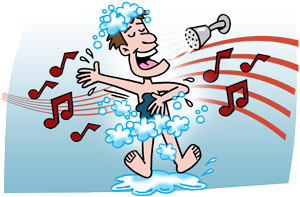 That last flight probably has you ready to freshen up. Pay-to-use shower facilities are in the Rest & Fun Center in Terminal 1's non-Schengen area. A cost of CZK 99 gets you 30 minutes of shower access, plus towels and toiletries. In Terminal 2, a shower is located in Pier D. It is free but requires a deposit for a key and towel. Several airport lounges also have shower facilities included in their entrance fees.
5. Tour the airport
If you've made a reservation beforehand, you can join a behind-the-scenes airport tour, including the cargo zone, lounges, dispatch area, and fire and rescue stations. Tours last two hours and cost CZK 220 per adult. See the tour details here.
Visit the museum and observation deck.
Two observation decks provide great airport views, including aircraft coming and going. In Terminal 2, a free museum accompanies the observation deck, with excellent photographs, maps, documentaries, and historical information on aviation in the Czech Republic.
6. Go sightseeing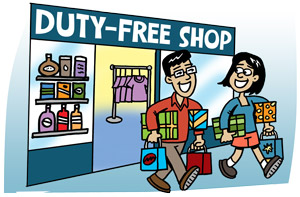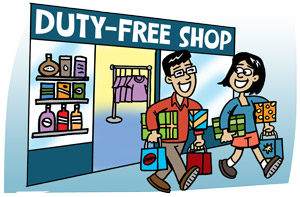 If you have a long layover, why not trade the airport for one of Europe's most compact, charming cities? Prague is easy to access thanks to public transit and taxis, but you'll still want at least 7 hours between flights to make the most of your time out of the airport.
The Airport Express shuttle bus is the most direct route from the airport to Prague's main train station, taking 35 minutes. Taxis are also available outside the main terminal, saving you about 10 minutes in commute time. Other buses are also available, linking to the city's underground Metro system.
Once in the city center, head into Old Town on foot. Wander the twisting alleys and cobblestone streets. Watch the ornate Astronomical Clock strike, then pop into Tyn Church across Old Town Square. Walk across the Charles Bridge, spanning the Vltava River, and explore the cafes, bars, and shops of Mala Strana. Up the hill, visit Prague Castle, a sprawling complex that dates back centuries and today serves as the seat of the Czech government. St. Vitus Cathedral is the crown jewel. Sample a traditional Czech goulash with a locally-made pilsner beer for a meal. Visit TripAdvisor for more things to do in Prague.
Leave plenty of time to travel back to the airport, clear Security, and make that next flight!
7. WiFi
Spend your layover attached to your device thanks to free, unlimited WiFi.
8. Sleep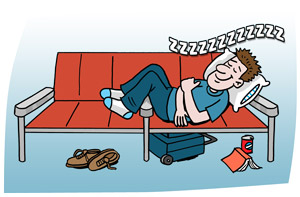 Just want to sleep? You'll find plenty of seating, but most have armrests. Terminal 2's Rest Area has a few seats with footrests, and the area tends to be relatively quiet. You may get away with sleeping on the floor, too, but extra layers, a blanket, and eyeshades will help you combat cold temperatures and bright lighting. Rather ante up for a hotel room? A transit hotel in Terminal 1, called Hotel Aero Rooms (formerly Rest & Fun Center), rents nine rooms – day rooms don't need reservations, but overnight stays do. Otherwise, a few more hotels are located just across from the terminals. See our Prague Airport Guide for details and locations.
These are just a few things to do on a layover at Prague Airport. Visit our Prague Airport Guide for more information about more services and facilities available, such as food, WiFi, mobile charging, luggage storage, nearby airport hotels, and much more.