Stuck on a layover at Rome Fiumicino Airport? Playing the waiting game is no fun, especially in an unfamiliar airport, but you can make the most of your time with these 8 things to do on a layover at Rome Fiumicino Airport.
1. Enjoy a meal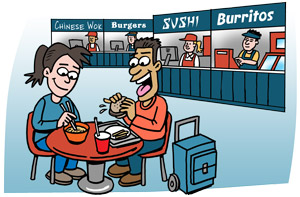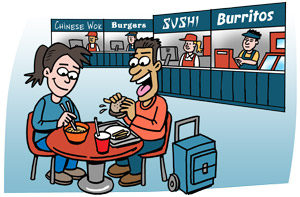 If you're into pasta, pizza, wine, coffee, and aperitivo, you're either in luck – or you're in Rome! Quite a few restaurants, cafes, and to-go bars serve up traditional Italian fare. You'll also find a few spots offering sandwiches, burgers, salads, and seafood. If you're craving something fancier, Attimi in Terminal E's mall area serves steaks. McDonald's also has a location in Terminal 1. The good news is that a handful of eateries stay open 24-hours, including a few inside Security.
2. Hang out in a lounge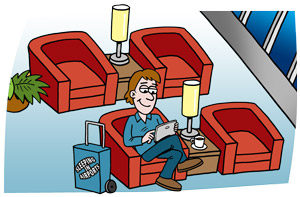 Good news! Airport lounges are no longer the exclusive enclave of First and Business Class flyers. In fact, several lounges here offer access to any traveller, regardless of your flight class or airline. Simply pay a one-time fee to gain access to unlimited food, drinks, WiFi, TV, and comfortable seating. A few lounges even have shower facilities. Reserve your spot online or use your lounge membership program to gain entry. See our Rome Fiumicino Airport Guide for details.

3. Hit the shops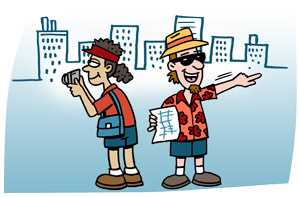 Dozens of shops make it easy to forget what time it is. This is Italy, so if you're expecting some high-end luxury designers, you won't be disappointed. (There are even free personal shoppers, if you're serious about spending some serious cash.) Even if you're not so fashion forward, you may enjoy a visit to the Ferrari Store. For some delicious souvenirs, head to Bongustare Market or Casa del Gusto. Of course, you'll find a range of airport staples, like Duty Free areas, convenience stores, and last-minute technology and travel shops.
4. Take a shower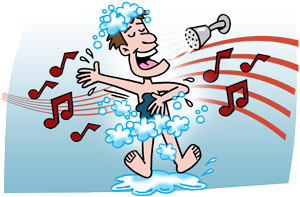 All that flying may have you craving a refreshing shower. Head to Hello Sky in the pre-Security area of Terminals 1 and 3 for shower facilities. For €20, get shower access, toiletry kit, hairdryer, towel, and slippers. Open daily 7:00 AM – 9:00 PM. A few pay-to-enter lounges also offer shower facilities. See our Rome Fiumicino Airport Guide for locations.
5. Relax with a spa treatment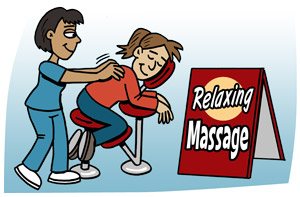 Opt for some pampering with a visit to the Be Relax Spa, which offers manicures and pedicures, salon treatments, and spa treatments. Two locations inside Security: near Gate D4 and and Gates E33-34.
6. Go sightseeing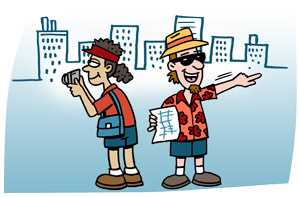 Another long layover in another airport can feel like a waste of time, but if you've got at least 7 hours till that next flight, why not check out the Eternal City? Rome is easy to reach thanks to public transit. The Leonardo Express train is the fastest option between the airport and Rome's Termini Station. With departures every 15-30 minutes, you'll be downtown in 32 minutes. Official city taxis have flat rates to the city, starting at €45-55. Other buses and trains are also available.
Plan on strolling around the city. Public transit is somewhat limited, particularly near the most popular sites, like the Pantheon, the Colosseum, the Roman Forum, and the Trevi Fountain. Or pop over to nearby Vatican City to see exquisite art and the St. Peter's Basilica. Stroll the alleys of Trastevere. For some fresh air and open spaces, visit the Borghese Gallery, home to great art and beautiful gardens. Or simply sample all the food – pick a restaurant filled with locals and you'll be in for a treat.
If you want to leave the airport but don't want to stray far, the town of Fiumicino is located directly on the Tyrrhenian Sea, so you can stroll around the streets, enjoy a bite to eat, and take in the sea breeze. Nearby Ostia Antica is a well-preserved archaeological park with great vistas, too.
However you spend your layover, keep an eye on the time so you make it back and get through Security before your flight!
7. WiFi
Free WiFi is unlimited here, and you can pick up speedier service by downloading the free Rome Airports app to your smartphone.
8. Sleep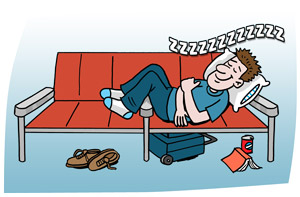 Of course, catching up on sleep is a perfectly fine way to pass a layover! You'll be more comfortable inside Security, particularly near B and D gates where some decent seating options might be available. If you're resting pre-Security, the floor is where you'll likely wind up – extra layers will help you combat cold temps and tile floors, and eyeshades block out bright lights. If you're willing to pay for a hotel room, check out HelloSky opposite Terminals 1 and 3, which rents rooms in 3- or 6-hour blocks, or the Hilton Rome Airport, which connects to all 3 terminals by a moving walkway and offers day or overnight rooms. Several more hotels are located within a 10-minute drive of the airport. See our Rome Fiumicino Airport Guide for details and locations.
These are just a few things to do on a layover at Fiumicino Airport. Visit our Rome Fiumicino Airport Guide for more information about more services and facilities available, such as food, WiFi, mobile charging, luggage storage, nearby airport hotels, and much more.